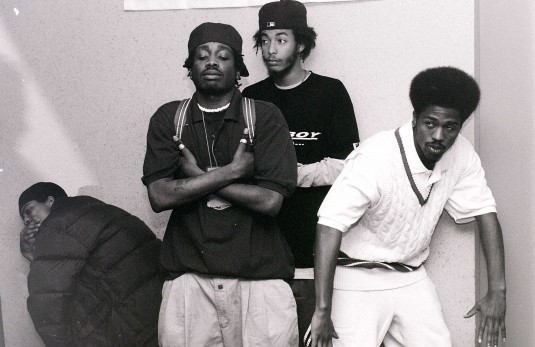 As integral as the four pillars of hip hop, has been the art of collaboration, and the combined work of the collaborator. If you know Let's Be Brief, you'll know that we're big on collabs, so for all the reasons listed above, we've always been big on The Pharcyde.
Before the idea of 'alternative hip hop', came the essential requirement of the superlative talent. Before money became a preoccupation, skills were the currency, and indeed, the hallmark of MCing as an occupation.
It didn't take a genius to mark out Bizarre Ride II The Pharcyde as both an instant classic and immediate collectable, with blue and yellow gatefold vinyl that for many in possession of the gold selling album, will more than likely still have the plastic wrapping on it.
In the context of 2017, The Pharcyde represent a super group of MCing talent and combined musical output. Ahead of their London show at the Jazz Café, we caught up with SlimKid3, K-Natural, and L.A. Jay of legendary alternative hip hop group, for a brief but bizarre ride.
Q) Going back to those years, what was the music game like in the early 90s compared to today?
It was definitely different; it was really energetic. You relied more on labels; everybody was on a record label. The one big difference is that now you can become a celebrity for not really having talent. Well, not to say that there isn't talent involved, but back then, either you had the goods to press play, or you didn't.
Q) What was your relationship like with crews of the same time like Souls Of Mischief, De La Soul and Tribe?
Souls Of Mischief, we kinda came up with them a little bit earlier on and they've always been like close family with us. De La Soul: fam as well. Tribe, Q-Tip and everybody, we just kinda work together. We're kinda like an extended unit.
Q) What do you think of the state of play in Hip Hop now?
What they excel at (L.A. Jay hates this word) but I have to say it, they excel at 'swag'. They pride themselves on having better adlibs than the main verse. And they'll tell you! It's the feeling; they don't give a shit.
I mean there are young kids that… their lyricism is super far. Yeah, like you've got your Kendrick, you've got Future, Joey Badass and it's almost like they take their lyricism even more serious because they have to prove that they need this shit.
Q) How do you think the new generation can be influenced by what you went through in the early 90s?
Don't try to do it [all] yourself. Get a solid team. Believe in the team when you make it and play by teamwork.
I'm talking everything from your little cousins handling your Instagram to being your manager, because you could weigh yourself out trying to do all that shit yourself and being an artist. It'll take away from your creativity.
Music comes easily, that's like breathing. You gotta also remember that labels used to be your daddy, they used to babysit you and take care of you. Now, they want your fan base intact, they want to know where's your crazy following? Where are your 7.5 million YouTube views? You already have to have that shit ready. So just keep the squad tight and try to stay with the same squad you came up with.
Q) What's your creative approach like? What goes into the music making process?
We don't have a set layout at all. But I will say that you have to live life. You have to actually live life to come up with the content for the lyrical stuff. You need to live life to be able to hear a car motor that sounds like a beat. You take all elements of your environment and vibe them.
Q) What other kinds of music do you guys listen to outside of hip hop?
I mean I like rap. I like R&B. I'm just stuck in that new jack swing shit man, I'm about that shit dude. I DJ so I get a chance to hear a whole lot of different stuff when others play. I link up with other DJs like Nu-mark, and I get to hear and see how things trigger crowds. I'm a DJ who DJs via texture. So it don't matter what genre the music is.
Q) What do you mean by texture?
As a DJ, let's just say when you're playing you drop something and the floor clears, texture-wise I know something that has all the elements that I throw in that's gonna bring the crowd back and they don't know why they're jumping on the floor. There's just certain parts about it: it could be the melody, it could be the itchiness of the sound.
Q) How do you guys want to be remembered in the music game?
Just [as] some people that really cared about the craft, no matter how much it changes, they just kept the essence of who they were. That was another thing we were talking about, like what if we did some trap shit? It's nothing wrong if we did some trap shit. But we would have to do trap shit in our perspective. With us they would really feel it, they were feeling this beat that came off. There was a time when we didn't do hip hop. We fell in love with hip hop and then started making hip hop.
::
Special thanks to Babou at Grand District for the connect.