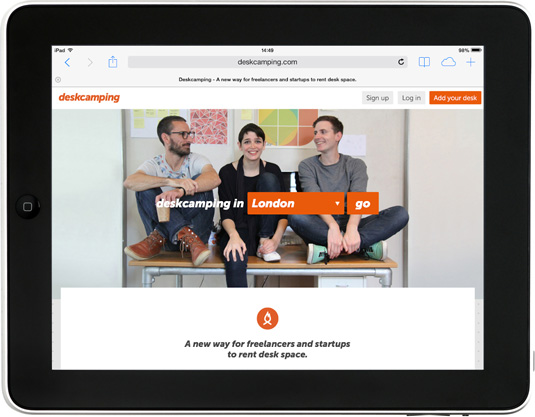 The future of work's landscape is changing fast. Just like everything else around us. The current UK's self-employment statistics are the highest they have ever been, with individuals mapping out their career trajectory on a project-by-project basis fast becoming a norm. Obviously these stats are to be taken with a pinch of salt, yet they reflect the necessary adaptation to an economy that has not been able to facilitate previous levels of full time employment.
The creative industry has probably been one of the sectors that has embraced the self-employment model more than most. Sectors such as film have always worked in more fluid capacity; upscaling and downsizing per production. But as the practice has become more widespread, it too, has affected the way we actually work, with independent freelancers nomadically working in coffee shops and shared work spaces.
Former Creative Director at Figtree and now founder of startup Deskcamping Nick Couch, has recognised the trend, setting up a business that enables freelancers to find new creative homes: a listings site for desk space.
We caught up with Nick to find out more about Deskcamping, creative communities, and his advice for those looking to make the leap into self-employment.
Q) What was the impetus behind setting up Deskcamping? [What is the perceived problem you are trying to solve].
I set up Deskcamping because more and more people are freelancing. The Design Council reported a 40% increase in freelancers between 2005-10. I thought there needed to be a better alternative to working from home or in cafés. I also felt that it was a good thing for businesses to share space with new people. I like the idea that it encourages new collaborations to happen.
Q) The business model for Deskcamping has gone through an iteration from free desk space within agencies to a free listings site. What's your grand vision for Deskcamping? What would you like to contribute to creative industry culture?
'Free Desk Here' was a really simple initiative. We invited agencies to offer a free desk in their studio to a new talent. Freelancers not only got the opportunity to work in some cool studios, like Hort in Berlin, but also got the chance to experience life in different cities. It gave me the impetus to set up Deskcamping which is a better, more thought through platform.
On the grand vision front, if I was drunk right now, I'd probably say we want to change office life! Businesses of all shapes and sizes need to be more engaged with the startup/freelance world around them. Opening up your office is great for the culture, gets employees thinking differently and exposes everyone to new people and new ideas.
It's especially true in the creative industry. If you're an agency trying to foster a culture of curiosity, it doesn't make sense to sit at the same desk with the same people day in day out. The marvellous, David Azurdia from Magpie was asked why he used Deskcamping and he said something like, "to have great output you need great input".
On the contribution to the creative industry culture question, if a graphic design agency rents a desk to a writer or film maker, it's only a matter of time before they start collaborating together. If that happen 100 times, we've done a good job, I think.
Q) How have you found the transition from full time employment to running your own business? Is it what you envisaged?
It felt really natural. I think many of us will have periods of working full time, then freelancing, then starting up something. It's more about the project I guess. In the UK last year there were 380,000 new startups, of which 49% set up with less than £2k investment. What's more 1 in 10 set up with no startup costs at all. So for me, the risk in starting up something was relatively small. I haven't really stood back to think about whether it was what I envisaged, I'm just focused on growing Deskcamping and seeing what happens next.
Q) The recession kickstarted a culture change of work in the creative industry, with freelancing and collaborative working on the rise; what do you foresee as being the key major trends that will impact our working life in the next few years?
Exactly what you said; the recession accelerated a change that was already happening. That's why I think it's a long term trend. People are gradually on a path towards great autonomy in the workplace. We're more self-networked. That's the big change. It's facilitated by sites like Linkedin. We're all much more promiscuous (in a work sense) than ever before! But with autonomy comes greater responsibility. We're in control. It's an interesting thing, and not everyone is experiencing it yet, but we're gradually investing less (or expecting less) in the company we work for and our bosses – especially in small/medium size businesses. How many of us care more about our Linkedin testimonials than our annual review?
Q) The internet has enabled niche communities to develop and thrive, and then spilling over into the 'real' world meet-ups etc. What excites you the most of the potential for creatives communities in terms of collective collaboration, ideology or movements?
There isn't enough of a 'real world' community in my view. We could learn from the tech community in Shoreditch. They seem to have events every night of the week. I think 3 Beards have done a great job. That's partly why Deskcamping are hosting 'After Work Drinks' at the Ace Hotel on the 29th May. Everyone is welcome and Anthony Burrill is DJing!
Q) On the flip side creative industry – specifically design – also has the tendency at times to be self-indulgent and creating nothing more than decorative wallpaper at times. How do you think creatives can avoid navel gazing and produce something of purpose and relevance?
I love this question!
There's a tension in that design operates in a commercial world and yet for many, the practice of design is something else. So what often gets celebrated is the work we aspire to do rather than the work the client wants or needs. For things to change, designers need to engage more with business (somehow). You rarely see a designer at board level, let alone in MD or CEO roles. Weirdly, that's also the case in the creative industry. It's like we've forgotten how important design is. I guess we need a few more high profile design visionaries at the heart of big businesses, #chiefdesignofficer.
Q) Since setting up your business have you felt the need to have creative projects on the go separate from your enterprise?
I'm working on a novel based on the stories you read in spam emails (set in Brazil).
Q) For those looking to take the plunge from fulltime employment to self-employment whether through freelancing or setting up a business, what advice would give them in order to best equip themselves?
My one bit of advice would be to do as much as you can to explore your next move before quitting. It sounds obvious, but if you're thinking of freelancing, then talk to some recruiters about the type of opportunities you might expect and how much work there is out there. If you're setting up your own business, try and progress it as much as possible in your spare time, I call them 'Hobby Startups'.
Q) What's next for Deskcamping?
We're planning the next stage of Deskcamping at the moment. In the meantime we're doing nice things like the Ace Hotel 'After Work Drinks'. Come on down.