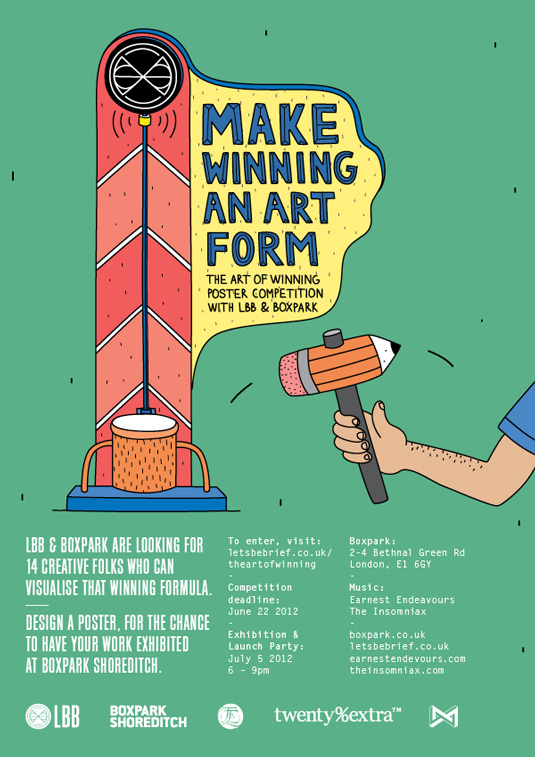 POSTER DESIGN COMPETITION :: THE BRIEF
The art of winning isn't a board game or a game show. It's not reality TV. It's something you have to make a reality.
This summer at the London 2012 Summer Olympics, athletes from around the globe will be competing for medals, but for the rest of us, medals are not the reward. The reward is knowing we've got the best out of ourselves through years of hard work, dedication and more hard work. Winning feels good but it doesn't come easy.
From personal happiness to leaving a genuine personal legacy; life's potential list of achievements are too many to surmise.
Taking inspiration from The Olympics coming to LDN, LBB and Boxpark Shoreditch will be featuring 14 of the best poster designs that showcase what the 'art of winning' looks like.
And that is where you come in. We're looking for 14 creative superstars to show us exactly what 'winning' means to you.
**PRIZES**
The winning poster designs will be exhibited at Boxpark in London throughout July + LBB goodie bags + a framed copy of your design.
**ENTRY GUIDELINES**
– No restrictions on disciplines of creative execution (ie graphics/ photography etc) however all entries must be produced in a form of a poster
– Colour mode: CMYK
– Acceptable file extensions: JPG & PNG
– Maximum file size: 2 Mb
– 300dpi
– All entries must be received by 22nd June
– Tell us a little something about you with a short bio + artist statement
– Winners will be contacted to supply artwork at the relevant dimensions and with print bleed
– submit your work to: submissions@letsbebrief.co.uk
**THE PREVIEW PARTY**
Come and celebrate with the winners and the LBB crew at Boxpark – with music from art and music label Earnest Endeavours and PA from The Insomniax.
There will also be a chance to for preview party revelers to win a signed copy of selected and framed prints from the competition. Up for it? Then head to our Facebook page and sign up and we'll see you there.
Date: 5th July 2012
Time: 6pm – 9pm
Address: Boxpark Shoreditch, 2-4 Bethnal Green Rd, London E1 6GY :: map
::
Illustration by Martina Paukova
Concept by Jewel Foster