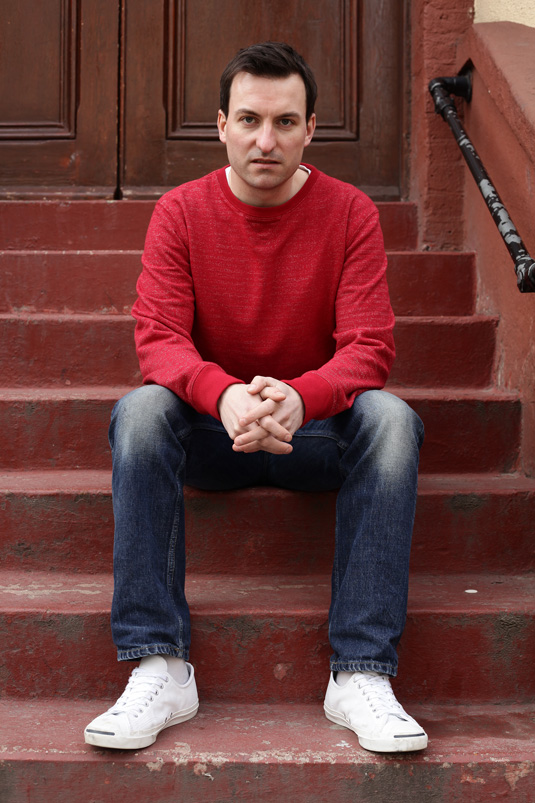 Successful juggling is usually a two handed affair, but in the case of music entrepreneur Alex Chase that juggling act comprises of running music label One-Handed Music and label services outfit The Other Hand. The latter represents no less than five US record companies – including cult label Stones Throw.
An undemonstrative fellow, Alex has had a hand in the successes of the likes of Aloe Blacc and El-P. A day's work could be accompanying his artists such as Daptone Records signing Charles Bradley on Later… with Jools Holland, to working with grassroots artists or hosting his monthly spot on NTS.
Still only in his 30's and with an impressive resume under his belt, we wanted to know how a nice fella like Alex ended in up the music biz.
Q) Tell us a bit about yourself?  
I run a label called One-Handed Music and manage a couple of our artists: Paul White and Mo Kolours. I also have a company called The Other Hand which represents several top US independent labels in Europe: Stones Throw, Daptone, Rhymesayers and more. We act as their London HQ. I am in a very fortunate position to be working with so much music I love.
Q) What's the ethos and vision of One-Handed Music?
It sounds too simple, but I release music that I feel passionate about. Beyond that, I try to represent artists or music that I think might be neglected or overlooked elsewhere, because it's difficult, or doesn't fit in with current trends for example. And I try to do it with a sense of humour and a lot of respect for our listeners. You wear a few musical hats from entrepreneur, independent label manager to artist manager.
Q) What was your entry point into the music industry and is there a distinction for you between working in the industry and being a music fan?
As a student I tried to do everything: DJ, promoting, music journalism and so on, and I got a position as the street team rep for the Beggars group in my town, handing out stickers and so on. I managed to get a sales job with an independent distributor when I graduated and have just made my way from there. There is definitely a distinction between work and fandom. I think as a professional you look for motivation from different sources — there might be an artist whose music you don't love, but who is inspiring as a person, for example. There's a lot more to consider than just the music itself. As a fan, you get to enjoy the music without all the business stuff. Occasionally you do get the best of both worlds.
Q) It has been well documented the music industry's business model has been turned upside down. And arguably has made space for independent artists / labels. Do you think there will ever be a time where small indie labels will be able to create a sustainable model? Or indeed re-invent the model?
There's a lot to unpack there — I'm not sure that business models have changed as much as people often think, and indie labels have thrived in all sorts of forms for decades now. I do think that there's more room for new businesses to experiment with different approaches, but equally the incumbents have the huge advantage of owning enormous back catalogues that generate a considerable income and give them negotiating power with new services such as Spotify. It's important to remember that the industry is there to connect musicians to audiences and develop careers, it does not have any kind of inherent value. If you do those things well then you have a chance.
Q) What's your hypothesis on the role of music in society / culture today?
I'm not sure I can answer that. But people still have music playing as their coffin slips into the flames so I have a feeling it's quite important.
Q) If you weren't working in music, what else would you do? Do you have any other particular passions or interests?
I wish I could answer that. There have been times when I have thought about Plan B but I can't imagine leaving music yet. I grew up wanting to write, so perhaps I am simply attracted to unstable careers. I have various other interests — reading, cooking, illustration, just normal things. My girlfriend would tell you I have an unhealthy obsession with the macabre. So don't ask her.
Q) What records made up your first vinyl collection? And do you still have those records?
My dad lent me his collection when I was a teenager, and I still have the best of it. Things like Cream — Disraeli Gears, The Doors — LA Woman, Santana — Abraxas. I let him keep the Elkie Brooks though.
Q) If you were compiling a soundtrack to your life what would be on it?
Early years: Buddy Holly, Chuck Berry, Rolling Stones, The Beach Boys
Teens: Nirvana, Aerosmith (yes, I know), Radiohead, Beastie Boys
College: Black Star, D'Angelo, Quasimoto, Bonnie Prince Billy
20s: classic NY disco (Patrick Adams, Peter Brown, West End and Prelude stuff), random broken beats 12″s, Leon Ware, Adrian Sherwood, Paul White beat tapes
Now: Don Cherry, Keith Hudson, Danny Brown, Sally Oldfield
Q) What's next?
We have a new single from Paul White & Danny Brown, plus an EP from Paul and a very interesting new project. He has a bunch of beats on Danny's forthcoming album too. A Mo Kolours album. A couple of single releases from some new and very unusual artists. Plus in my day job I'm lucky to be working with Charles Bradley, The Stepkids, The Heliocentrics, and much more. And please check out my show on NTS Radio if you're curious.
::
Snaps: Ansel Neckles