Trying to adjust to motherhood – and what that means for me as an artist and as an individual – can be a very confusing time.
Jebet Naava describes herself as "a twenty-something artist and mother who has just started figuring out what it's like and what it means to live." Her ever-evolving portfolio is compiled from an array of digital media; from intimate photography series to her trademark intergalactic GIFs, all of which astutely deal with themes of pain, growth, change, and love. Naava's work is pro-woman or in her words, "for the queens, 100%".
In this conversation with Kampala-based poet and writer Gloria Kiconco, Jebet highlights some of the motivations – positive and negative – that inspire her creative output.
Q) You described yourself as an artist who is just finding her way. Do you know how and why you previously felt lost?
I think the loss of self happened when I was pregnant, right up until when my baby was due. I feel that trying to adjust to motherhood – and what that means for me as an artist and as an individual – can be a very confusing time in regards to what's expected of you. The pressure is so much higher. People like you to be a certain way and that pressure was getting in the way. I'm just now getting out of all the nonsense that was weighing me down.
Q) What is it that guides you to a project?
For personal projects, it's basically my hunger to feed something new as well as my need to express. What do I need to say? What needs to be felt and heard and what do I want people to hear? Otherwise, if someone approaches me with a project that they'd like to work with me on, usually the vibes kind of dictate how I feel in my gut. How do you make me feel? How does a project make me feel? I need to have a connection to the message and the vision of the project. Also, does it challenge me or grow me?
Q) What is interesting about GIFs for you? How do you imagine your audience interacts with them?
What fascinates me is the minimalist aspect of a still image that I can bring to life with the smallest of elements. A little movement, and all of a sudden it gives the image a whole other feel. For my audience I hope that it trips them out a little bit.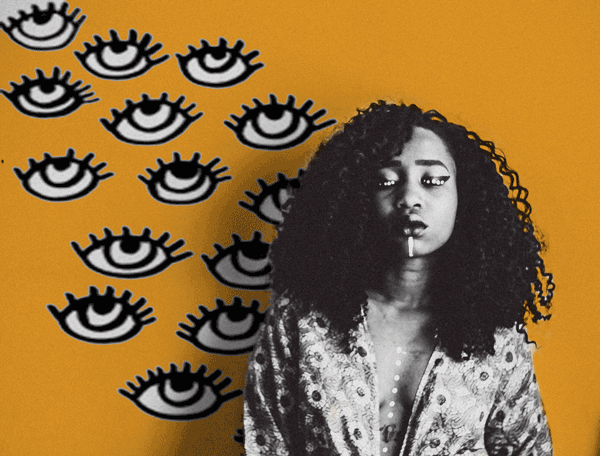 I realise that the reason I use nature and plants a lot is because it speaks to growth.
Q) What sub-conscious themes or motifs have you or other people found in your work?
A few things that people have said to me are that I use a lot of nature. And then the stars as well. I love stars; they are almost always in my work. I realise that the reason I use nature and plants a lot is because it speaks to growth. I feel like as human beings we are constantly changing and growing so I think that's why there's always, low key, some form of plants in my work. And then for stars, the universe is just so appealing to me. It's so amazing… And sometimes life outside of earth is very appealing. I noticed circles as well. Circles symbolise completion and I feel like the reason I put them in a lot of my pieces is because I believe we are all complete, even when we feel incomplete. I don't think there's any other way we could be than who we are at that exact moment.
Q) What decisions are you conscious of as you create your work?
Mental health. I'm conscious of whatever message I'm trying to express in that moment when I'm creating an art piece. I'm conscious about that, whatever that feeling is.
Q) What has been your most difficult personal or collaborative project so far and why?
Collaborative it was Pink and Blue. That is forever going to be a very emotional and special part of my life. It was the first project that took me like a week and a half to complete.
Q) Is that a short or long time for you?
That's a long time for me. It still is – even now. Pink and Blue took that long because it took a lot out of me. I had to engage with certain aspects of me and my muse that were difficult and I don't know if you can feel that in the pieces, but yeah it took a lot. The other one, now this one was really hard, was the mental health awareness project that I did in 2015. That one…wow… that project was really hard for me because I was right in the thick of the depression that I now sometimes go through. But before it was like every day. And I hadn't spoken about it to many people. Vulnerability is not something that I was very open to and at that time, it was just really hard for me to be vulnerable.
Q) How do you tangle with depression, especially as it's recurring?
When I'm not having depressive episodes, I'm constantly – well there's other things I battle – but I'm constantly trying to focus my energy on doing stuff so that I'm not spending a lot of time in my head.
Q) What do you do when you're not able to work?
I take breaks. It could be a few hours or it could be a day. But deadlines really help me with that. Say if something is due and I end up having a bad day tomorrow, then I will probably take that day off and find a way to do the work before the [due date], but still with a break. I really am very adamant on deadlines for that reason. Also my daughter, Lula, she saves me every day. Like every day.
Q) I know you're really into music, so what are you listening to at the moment?
Four albums that have been on repeat… and number one is Blinky Bill's Everyone's Just Winging It and Other Fly Tales. The second album is Sound and Color by Alabama Shakes and then The Never Story by J.I.B. And then this album I'm about to say has a really special place in my heart because it's getting me through a lot… A Study on Self Worth: Yxng Dxnzl by M.I Abaga.
Q) What do you hope your work is doing out in the world?
I want to evoke some sort of emotion and feeling. I'm hoping that as I continue to find my voice and speak my truth that I will be able to push and inspire others and maybe help someone come out of something.
: :
This interview, by Gloria Kiconco, comes from a partnership between Let's Be Brief and People's Stories Project (PSP) – part of the British Council's arts programme in sub-Saharan Africa. Click here for more info.
Images courtesy of Jebet Naava