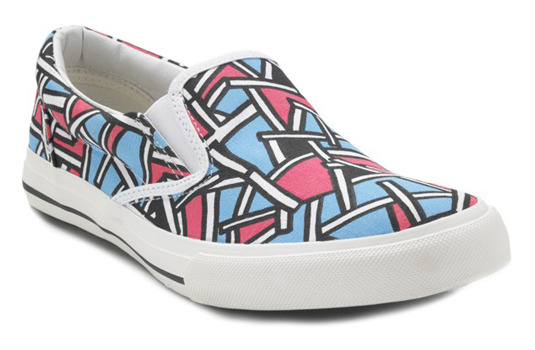 I've been known to do a little doddle on my shoes, even had the fabulous Brennan & Burch doodle on some old Adidas trainers for me. So when Bucketfeet caught my eye it nearly made me open up a new pack of felt tips.
Bucketfeet is a footwear company that collaborates with global artists to produce colourful graphics for basic pumps. The philosophy is that each pair of pumps are a blank canvas for a means of expression and an opportunity to contribute to the founders passions. Providing arts and sports programmes for poor children around the world, with 5% of their profits going to their charitable partners.
Love the concept. Love the product. However what I wasn't so amoured with the 'brand'. The fashion industry is a tough market and taste maker fashion is an even tougher gig, usually reliant on a bunch of trendies to take said style to heart and proliferate to the masses while they move on to the next thing.
For a style conscious brand with an actual conscious, it's important to be able to compete on all levels as your competitors. That means paying attention to the total communications package. A slick website, beautiful photography and a brand proposition that screams 'buy me' are must haves. The good news is that this is something Bucketfeet can easily rectify in time, allowing them to access an even wider market and share more profits with their chosen causes.