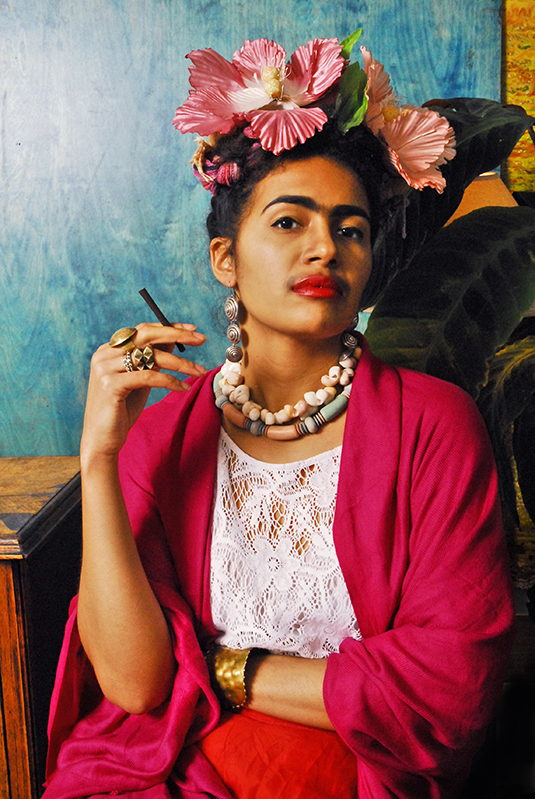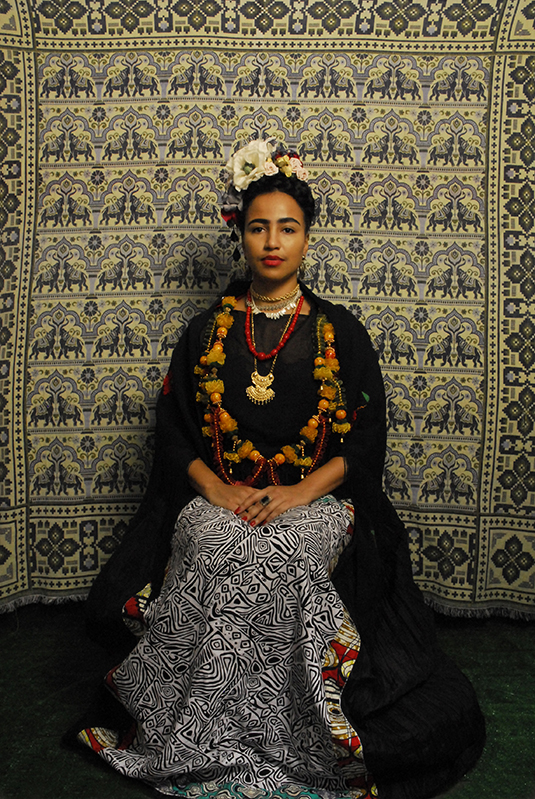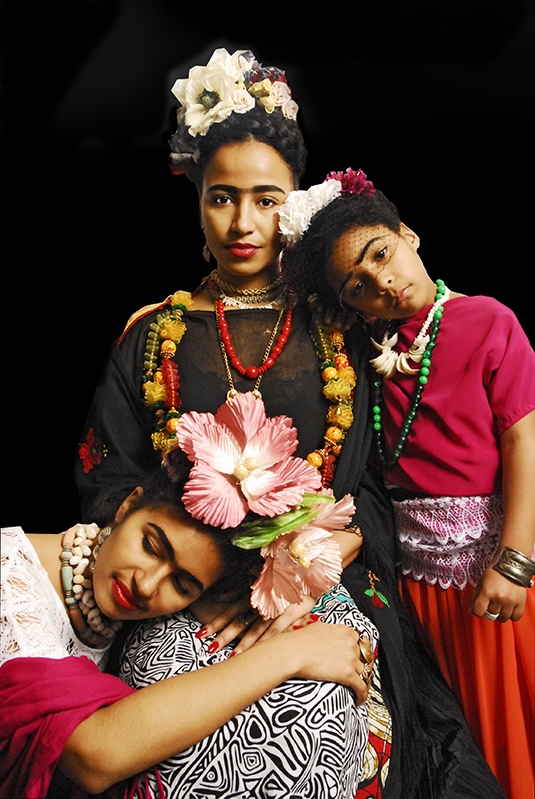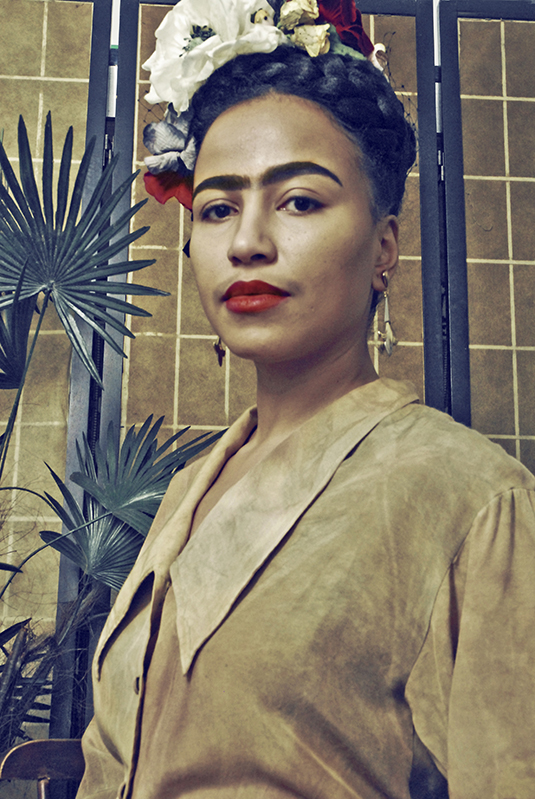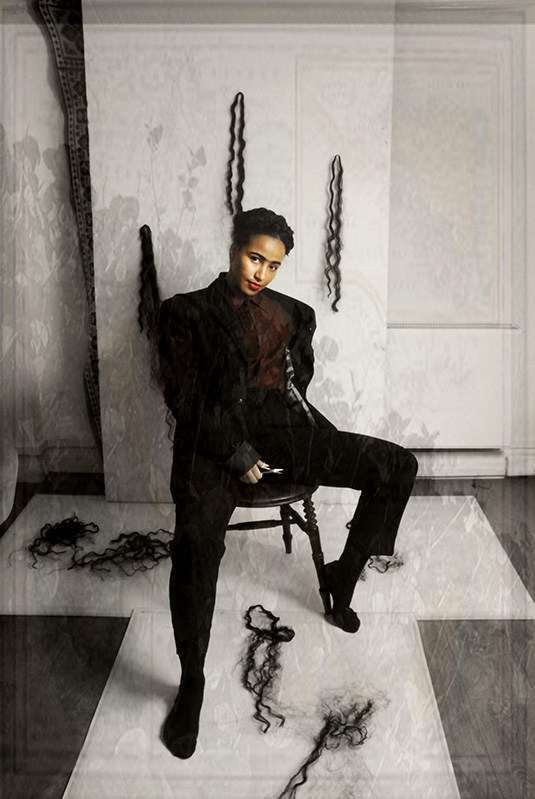 If you haven't heard of Bumi Thomas yet, let us introduce to the Fine Art Media & Visual Communication graduate polymath.
As you may have suspected Bumi's talents are not contained to the visual arts and photography realm. She's also a singer / musician too – inspired by the likes of Tracey Chapman and Nina Simone.
Combining her multi-faceted capabilities, Bumi Thomas recently collaborated with Minna Salami (featured in the Frida images), Pia Cabble and Katherine Ferdinand to create the Female Revolution In Dance and Art collective and event (F.R.I.D.A)  inspired by the iconic Frida Kahlo.
Bumi Thomas explains the concept behind the collective, and why artist Frida Kahlo is as relevant as she ever was.
Q) What was the concept behind the FRIDA event and what was your involvement?
The concept for the FRIDA event is Female Revolution In Dance and Art. This platform was born out of an organic desire to explore and celebrate the voice, contributions, and Impact of Women in Art and Politics. Female Revolution In Dance & Art (F.R.I.D.A) are agents of change. We are a Movement that uses Multidisciplinary Art projects to foster Multicultural dialogue, as mediums of generating creative collaborations with a strong focus on visual, performance and literary arts.
I am part of the collective that conceived & implemented the idea: Team FRIDA are Pia Cabble, Minna Salami, and Katherine Ferdinand. We worked in collaboration with Patson Ncube of Cre8 Art Gallery and FORWARD UK to bring this vision to life. I played a multifaceted role during this project as a Creative Director, Photographer & Performer . I believe it is important to encourage women to speak up about gender issues, take authorship for how they are perceived historically, reclaiming their identity through ART, self exploration and positive contributions to society.
Q) What does Frida as an icon and artist mean to you?
Frida Kahlo is a legend and catalyst of change. I studied her work and philosophy intimately at university and have always felt deeply admired her passion, vision and ability to connect people. Her art and life stimulated dialogue, inspiring women to overcome adversity through Creative Liberation. Kahlo's story stretches across the fabric of time, her innovative use of imaginative realism and tragedy – a means of socio political commentary on the affairs of women encouraged dynamic artistic practise and inspired women to use the arts as a platform to raise key issues about women's rights, the perception of disability and challenging limitations set by stereotypes. She is truly a revolutionary!
Q) You are a multi-disciplinary artist. What came first – music or photography and does one ever influence the other?
I think they trades places over time. I began my journey as a freelance photographer long before music manifested in my life so powerfully. At the core, I simply am an Artist. This creative journey has been very unpredictable and both mediums allow me to access and express different aspects of my being with similar intensity.
They certainly influence each other and come from a mutual source. I can only liken it to speaking more than one language. You remain the same internally, externally however the character of the language transforms you as the body mimics the rhythm and colours of the spoken dialect.
Q) What's next?
– An Auction at the end of March, Women's International Month, to raise funds to invest in the FRIDA project
– Musically, the Release of my Debut EP 'Feather Pearl' in May
– Orchestrating The Next FRIDA event scheduled for summer this year. So stay tuned 
::
Photography by Bumi Thomas
Deprecated: Function get_magic_quotes_gpc() is deprecated in /customers/3/8/6/letsbebrief.co.uk/httpd.www/wp-includes/formatting.php on line 4387
Notice: compact(): Undefined variable: limits in /customers/3/8/6/letsbebrief.co.uk/httpd.www/wp-includes/class-wp-comment-query.php on line 853 Notice: compact(): Undefined variable: groupby in /customers/3/8/6/letsbebrief.co.uk/httpd.www/wp-includes/class-wp-comment-query.php on line 853 Notice: compact(): Undefined variable: groupby in /customers/3/8/6/letsbebrief.co.uk/httpd.www/wp-includes/class-wp-comment-query.php on line 853 Notice: Theme without comments.php is
since version 3.0.0 with no alternative available. Please include a comments.php template in your theme. in /customers/3/8/6/letsbebrief.co.uk/httpd.www/wp-includes/functions.php on line 4024 Deprecated: Function get_magic_quotes_gpc() is deprecated in /customers/3/8/6/letsbebrief.co.uk/httpd.www/wp-includes/formatting.php on line 4387 Deprecated: Function get_magic_quotes_gpc() is deprecated in /customers/3/8/6/letsbebrief.co.uk/httpd.www/wp-includes/formatting.php on line 4387 Deprecated: Function get_magic_quotes_gpc() is deprecated in /customers/3/8/6/letsbebrief.co.uk/httpd.www/wp-includes/formatting.php on line 4387