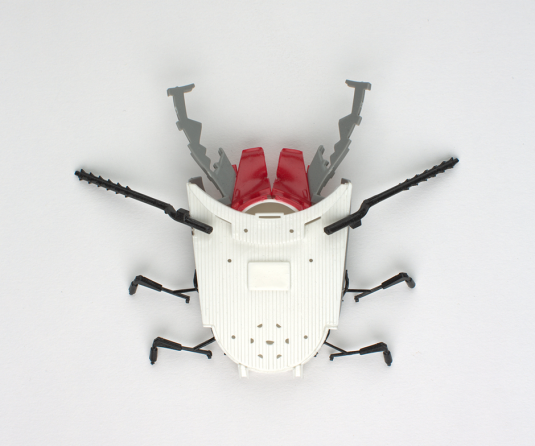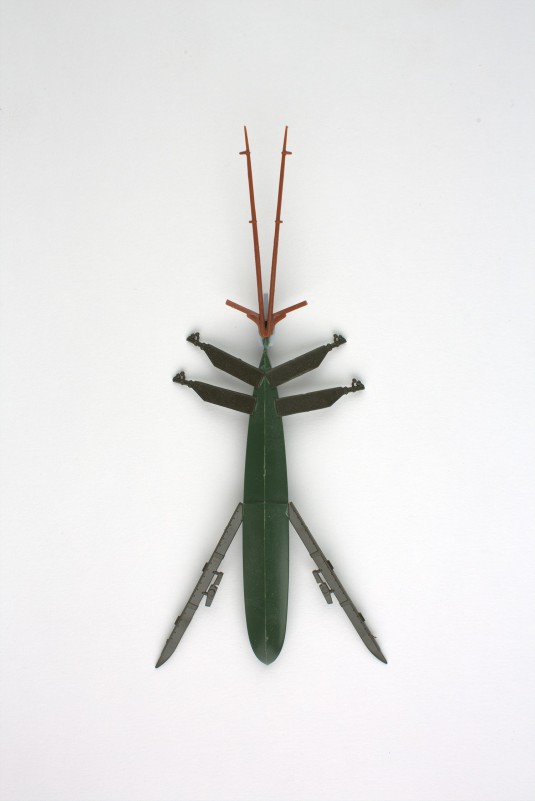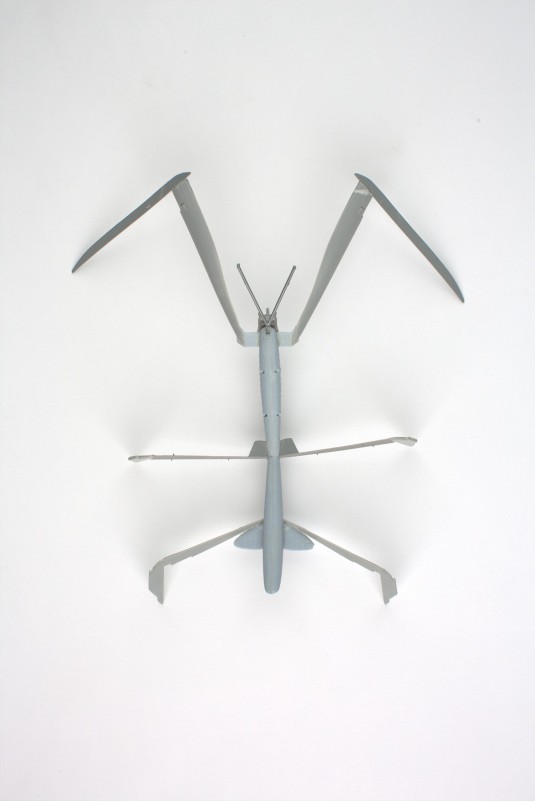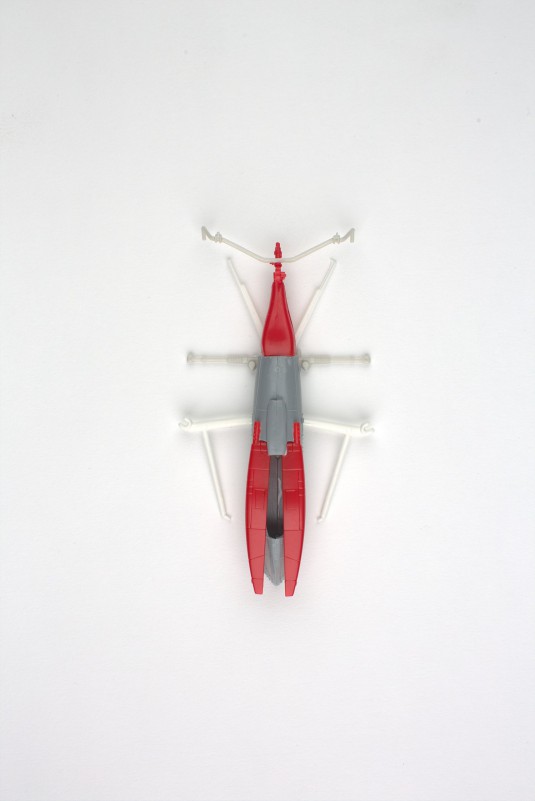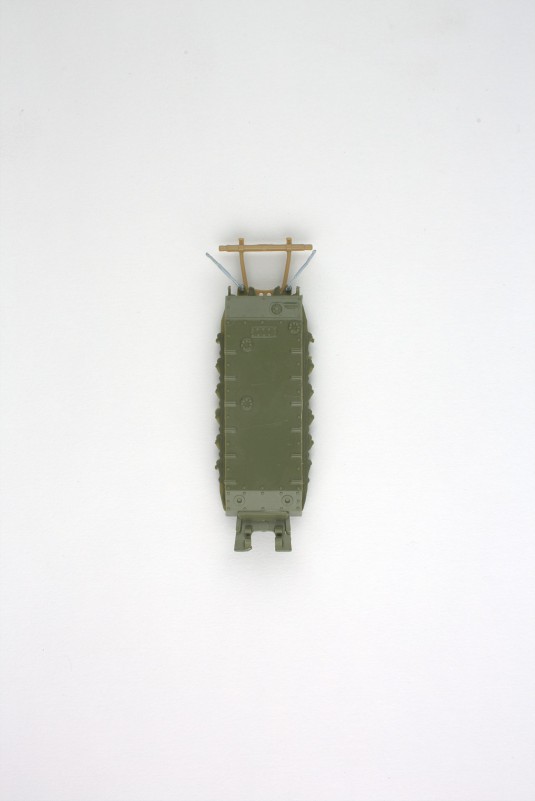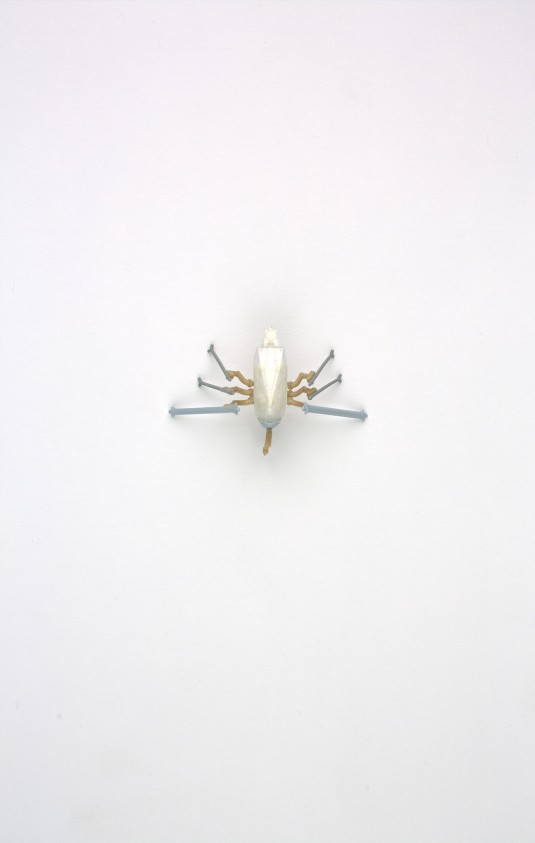 From the outward aesthetics of Art Nouveau to functionality of materials such as Velcro, the design of the natural world has long been a source of inspiration for man-made conceptions.
Artist Mike Atherton takes a further look with his first solo exhibition, "… but there's one in the window" at Stour Space. The exhibition is an investigation of sorts into bio mimicry, constructing entomological forms – bugs and creepy crawlies – from mechanical components (namely Airfix).
We caught up with Mike to find out his love of Airfix, Museums and why he named his exhibition after a Tommy Cooper joke.
Q) Can you tell us a bit about yourself and your practice?
I come from a very arty background where both parents and my brother are practising artists.
I came to London in 2002, after studying at Glasgow School of Art and went to the Central School of Speech and Drama where I studied theatre practice, props and set building. This was when I learned the practical skills that I still use in my artwork.
I worked for many years as a theatre technician in many of London's theatres including The Young Vic and The National Theatre.
I also worked for several years as an art fabricator at Mike Smith Studio. This was a wonderful place to work. I was given the chance to participate on some really high-profile projects. It was a privileged time.
I am currently working at the Royal College of Art as senior technician in the Painting School. This is a job made for me. I am able to help students realise their ideas, and I too gain a huge amount of 'brain food' from seeing their work evolve, and that in turn influences my own work.
My practice at the moment is split between the workshop and a more domestic environment. I use the fully kitted-out workshops at the RCA to create a housing/platform for the small-scale sculptures, "bugs," that I make at home. Working on such a small scale does not require much studio space, but I do find this way of splitting my areas of work very useful to the creative process. I am able to make large plinths and display cases at the College, then combine the two parts in the comfort of my flat. I think this results in the relaxed and, in some way, comical feel to the completed works.
Q) What came first – your interest in nature or mechanics of the industrialised world?
I think it's safe to say that they have run in parallel to each other my whole life. I'm the sort of person who stops and looks at all sorts of things – it's about being curious and fascinated by the visual world, the history of 'objects' and 'things' in general – a flower, bug or a rock formation, an E-Type Jag or a mechanical digger. They all have their inherent interest and beauty. Everything is interesting!
In the introduction to the exhibition, "…but there's one in the window," I mentioned my fascination with 'biomimicry.' Machines emulate biological forms and processes, and human and animal anatomy. Airfix is the perfect material to explore this symbiotic relationship between the natural and mechanical worlds on a manageable scale.
Q) What was the inspiration behind linking the two together?
I often work alongside my brother, John. One of our common themes has been "hand made by machines." We use this as a bit of a mantra to push our work towards a space where we can explore our own perceptions of the 'natural' world by contrast to the 'constructed' world. Our interest in craftsmanship should be in there too.
The decision to use Airfix as my main material was pragmatic. It is a mass-produced, ready-made, mechanical construction material, well suited to recycling and reinterpretation. Nostalgia is important too. I loved making things as a kid. I remember using construction kits and playing with them as if I were a giant. Tiny scale can also be read as monumental. It now interests me that those same kits have more relation to the insects, as far as scale goes, than the huge machines they depict.
Q) The installation is based on a museum-style display. Is that in part a comment on the current state of ecology / society?
Museums are fascinating places. I love them. We take it on trust that the objects shown are what they say they are. Fakes are sometimes discovered and occasionally an object is wrongly attributed. My 'museum exhibits' are clearly inventions, obviously 'fakes', in fact, 'authentic fakes' not intended to deceive the viewer. I like to think my 'flights of fancy' are not as frivolous as they first appear. This is a serious exhibition, but funny!
Q) The sculptures are made up from Airfix model-making kits and look remarkably life-like considering. How easy / difficult was it for you to manipulate the pieces to produce your creations?
It was important to me not to alter the Airfix components because on a scale of 72:1 model-making kits lend themselves to the world of entomology. A model of a T34 tank, an assault helicopter or a 'lumber cruncher' are entomological in form. Insect claws, carapaces, antennae, proboscis and segmented armour are familiar forms in both the industrial and entomological worlds. This meant I could use the parts just the way they came out of the box.
Q) The tongue-in-cheek title 'but there's one in the window' taken from Tommy Cooper, does it have any bearing on the work at all?
This is about layers of meaning. Yes, the title is tongue-in-cheek. The obvious connection between Tommy Cooper's banal (but still funny) joke and this exhibition is insects behind glass.
That apparently innocuous title, 'but there's one in the window' holds sinister implications, not just for Tommy Cooper's infamous wasp, but for all 'wee beasties' and the rest of the planet.
Q) What's next?
I am very busy at the RCA at this time of year with lots of new students. I'm looking forward to some 'thinking time', a pause on my own work before launching into the next project. I have a plan for continuing the use of 'bugs,' in an idea based around evolutional regression, however you will have to watch this space to find out what that is.
::
"…but there's one in the window" // 7 November – 1 December 2014, 9am–5pm // Stour Space, 7 Roach Road, Tower Hamlets, London, E3 2PA