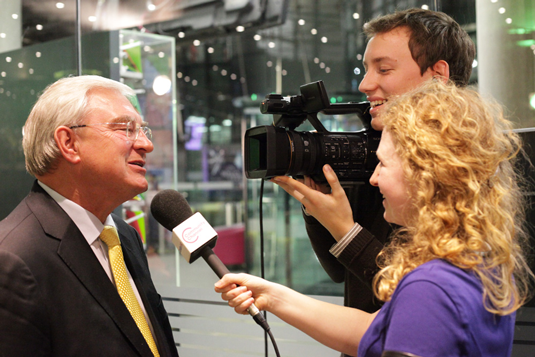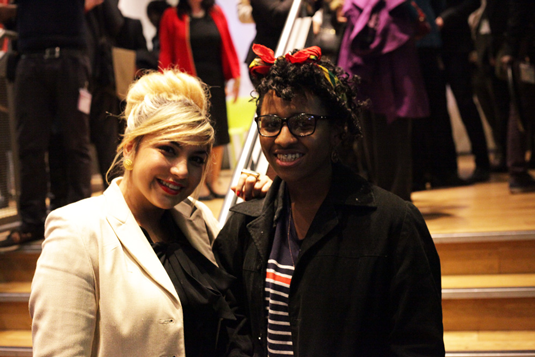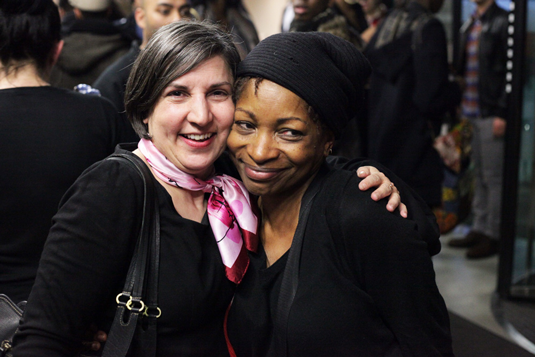 Setting the stage for the Channel 4 UpRise Talks – Mayor debate was former Blue Peter presenter fav Connie Huq and Bonnie Greer, who introduced us to the panel of London Mayoral hopefuls.
The main protagonists in the running have made it no secret that the Mayoral candidacy is most probably a two horse race (or kind of wind-up toy race). So it was a shame that both Boris Johnson and Ken Livingstone chose not to show up to the debate.
It was even more of a shame that this overshadowed the entire event. Staunch rivalry aside, this shouldn't make the top two candidates so wrapped up in their own pride and egos that they don't even pretend to care about the opinions and questions of the young people.
Brian Paddick's attempts to establish himself as a possible candidate were fleeting. Although I couldn't possibly consider him as a serious candidate after his display, Paddick's comments certainly had a lasting effect and, at points, got reactions. Instead of elaborating on issues you'd think as an ex-member of the police force he was most appropriate to do so, such as the riots (mentioned briefly), kettling and protests in general, he instead used the time to impersonate someone submerged in youth culture. 'Yeh I said it! Racist police service!' said an 'outspoken' and 'outrageous' Paddick, though I don't remember him mentioning any plans to target this with any possible solutions. Jenny Jones suggested that more young people should join the police force. A suggestion not well received, but a suggestion nonetheless. Oh, and I found his 'urban' references delightfully patronising; Brian Paddick is about as young and fresh as a cheeseboard.
Reference to social and cultural groups was used in abundance. Grouping was a major theme of the evening, with Politicians adapting their campaign arguments to appeal to a different demographic. There seemed to be a great lack of understanding of the individual – that all black people in London don't think and do the same or that all working class teenagers don't share the same views or live the same lives.
I'm not sure there's really much point in even mentioning the Labour rep Val Shawcross. Given plenty of time to come up with an excuse for Ken's absence, somehow, she still ended up, without being pressured, openly announcing that Ken did not think it was worth attending unless Boris was also there. She would have been better off saying Ken's cat was sick or something. The event was not for Boris Johnson, nor for the two to have a childish squabble. It was about listening to young people, first and foremost. And Ken decided that wasn't important. Of course this overshadowed anything Ken or his party stood for and he wasn't there to stand up for it.
Boris Johnson was deputised by an oversized child. You know, the child that really doesn't want to go to the debate tonight, and really, really wants to stay at home. It wasn't entirely surprising that he started mimicking Bonnie Greer (bad move – Ed). When asked why Boris hadn't shown up Richard Barnes replied 'He isn't retired… He has a job' helping turn the event into less of a formal debate and more of a random argument. He did say we were free to put our questions to Boris to be answered, but it was said in a tone matching all his previous remarks that implied it was never really going to happen.
'When I become mayor,' naturally, were the words of independent candidate Siobhan Benita. Benita wiped the floor at the event with heavily youth involved or youth oriented ideas, winning great reception throughout and the clap-o-meter at the end. But, with her slogan 'people not politics', she presented herself as quite an idealist. She had the positivity, the charisma and the creativity but no means of implementation and a lack of pragmatism. This debate may have been her night, but without the backing or popularity of an established party, nor the riches or power of an established party, I certainly doubt this will be her year.
The assurance in a mayor that will provide a better service is the win that Siobhan had. She really did seem like the peoples' mayor. But I did leave the event thinking that a youth council's all-great, but who's going to lower fares, and how are they going to do it? Who has plans to bring more money into the capital? How are we going to bridge the gap between the police force and young people? And who's seriously going to provide me with realistic answers for these questions.
Photography by :: Ansel Neckles & Zena Edwards
Deprecated: Function get_magic_quotes_gpc() is deprecated in /customers/3/8/6/letsbebrief.co.uk/httpd.www/wp-includes/formatting.php on line 4387
Notice: compact(): Undefined variable: limits in /customers/3/8/6/letsbebrief.co.uk/httpd.www/wp-includes/class-wp-comment-query.php on line 853 Notice: compact(): Undefined variable: groupby in /customers/3/8/6/letsbebrief.co.uk/httpd.www/wp-includes/class-wp-comment-query.php on line 853 Notice: compact(): Undefined variable: groupby in /customers/3/8/6/letsbebrief.co.uk/httpd.www/wp-includes/class-wp-comment-query.php on line 853 Notice: Theme without comments.php is
since version 3.0.0 with no alternative available. Please include a comments.php template in your theme. in /customers/3/8/6/letsbebrief.co.uk/httpd.www/wp-includes/functions.php on line 4024 Deprecated: Function get_magic_quotes_gpc() is deprecated in /customers/3/8/6/letsbebrief.co.uk/httpd.www/wp-includes/formatting.php on line 4387 Deprecated: Function get_magic_quotes_gpc() is deprecated in /customers/3/8/6/letsbebrief.co.uk/httpd.www/wp-includes/formatting.php on line 4387 Deprecated: Function get_magic_quotes_gpc() is deprecated in /customers/3/8/6/letsbebrief.co.uk/httpd.www/wp-includes/formatting.php on line 4387