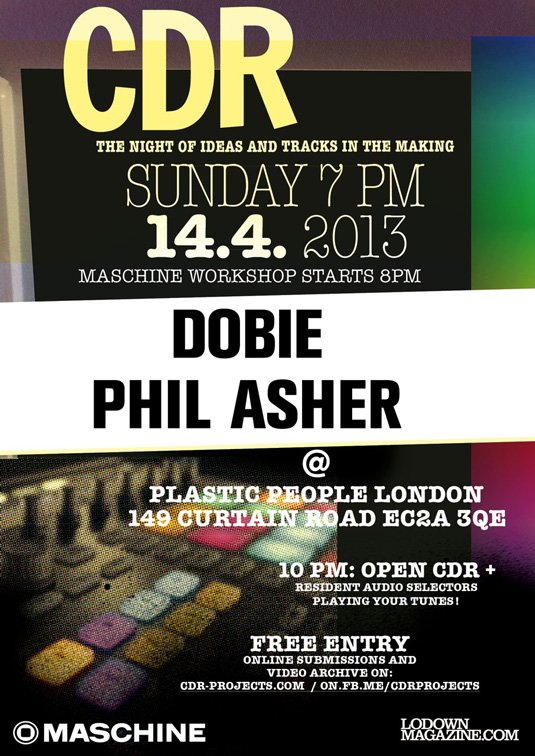 Tonight's CDR London session will see a collaboration between Native Instruments and present two luminaries of UK underground music, as they share both their knowhow and their Maschine led prowess.
Since the mid-80s, Dobie has been a friendly face and pioneering individual in the history of British soul, hip-hip and subsequent bass music developments. His 'back in the day' productions and remixes for London Posse, Massive Attack and Bjork still rock joints while his recent releases on Brownswood, BBE and Big Dada get dancefloors, old and new, moving. And as those who attended a recent exhibition of his photography can testify, the man's got a fine eye as well as ear!
Dobie will demonstrate how he used a Maschine to build a track from his album, We Will Not Harm You.
A Restless Soul and prolific producer, Phil Asher's soulful fingers have been in numerous sonic pies for some time. From DJing at "London's first House club" Delirium (back in '91!) to co-founding the (truly legendary) Co-op nights, in recent years his journeying, broken or four-to-the-floor sets at Inspiration Information (Notting Hill Arts Club with Patrick Forge) and Soul Heaven (Ministry of Sound) have prompted much dance and smiling. Ever-seeking to enhance his deep electronic sounds, collaborators in his Phlash & Friends project include Om'Mas Keith, Shea Soul, Mark de Clive-Lowe and Karizma.
Phil will be giving an overview of a Maschine's capabilities and building a beat from a kick to a full-bodied draft.
Please note that for this CDR London session we request that attendees acquire tickets in advance. Head to CDR online HQ for more details. It doesn't matter if this is last minute; it's these moments that count. Get involved.
::
CDR – London April 2013 w/ Dobie and Phil Asher
Sunday April 14th | Plastic People | 149 Curtain Road London EC2A 3QE | 7-11pm / Free Entry
Submit your tracks to be heard on Plastic People's bespoke sound system