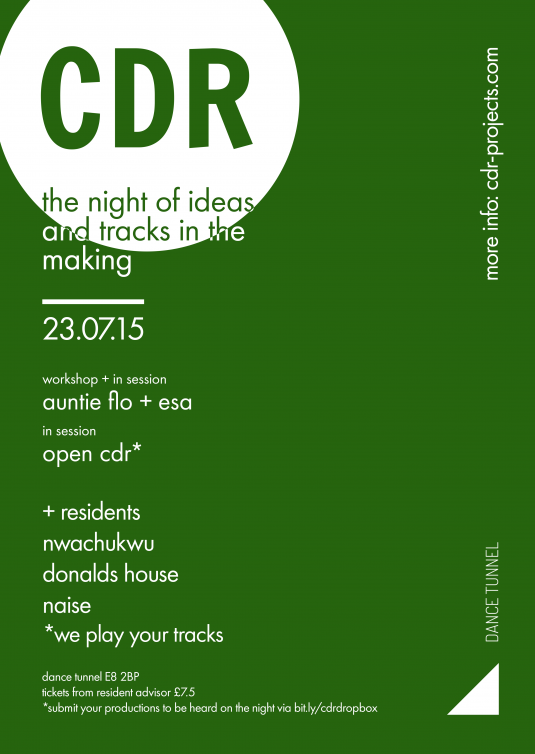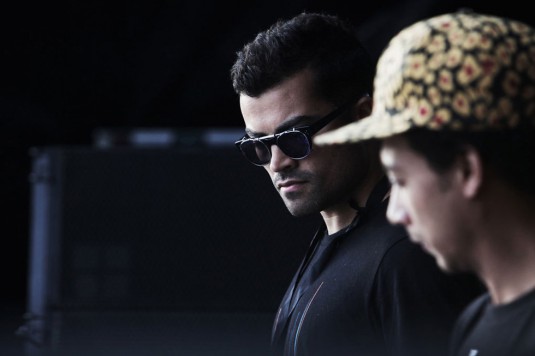 Auntie Flo // Esa // Nonku Phiri // Nwachukwu // Donalds House // Naise // **JUST ADDED: MAKADEM + NONKU PHIRI**
If this sounds big, it's because it is big. Makadem and Nonku Phiri will be joining Auntie Flo and Esa for the CDR Highlife World Series workshop and performance on Thursday 23 July — this Thursday.
Together, Auntie Flo & Esa co-run the Glasgow party-come-label 'High Life', and also perform together as Auntie Flo live. The duo will be providing insight into their High Life label, discussing just how their international collaborations have come about. For those with a keen eye for production process, the duo will be walking the audience through their production journey. Later in the evening they'll show us how this translates into live performance.
The Open CDR component is free between 10–11pm. So if you want to hear your music on Dance Tunnel soundsystem, get your submissions in now.
::
CDR w/ Auntie Flo and Esa, Makadem, Nonku Phiri // Thursday 23 July 2015, 20:00 – 03:00 // Dance Tunnel, 95 Kingsland High Street, Dalston, London E8 2PB // £5 +BF / £7.50 + BF
Makadem // Having been described as the "Kenya's Fela Kuti", Makadem's songs speaks of the fluid nature of modern African culture. With a deep understanding of his roots and the on going politics, demonstrate the fusion that is at the heart in African identity. Makadem's excellent musical sense, charm and humour, contributes to any stage with an amazing presence. Makadem uses traditional dance elements along with the ones of Hip Hop or Youruba styles, and has created his own vibrant personal dance styles, that has inspired audiences all over the world.
Nonku Phiri // Nonku Phiri has one of the most distinctive, influential voices on South Africa's future electronic music landscape. As a trusty collaborator to Cape Town electro-rap outfit PHFat, the singer/songwriter (as her alter rap ego Jung Freud) lent her pipes to one of Okay Africa's Top Tracks of 2014, and has regularly featured on tracks with a long list of South Africa's most prominent producers and rappers, including Crazy White Boy, Reason,Tumi, Jack Parow, and, most recently, an outstanding collaboration with Card On Spokes and Okmalumkoolkat.
Amazingly, Nonku's reign is only just beginning. She'll soon be releasing her first solo project that has been described as South Africa's answer to FKA Twigs.