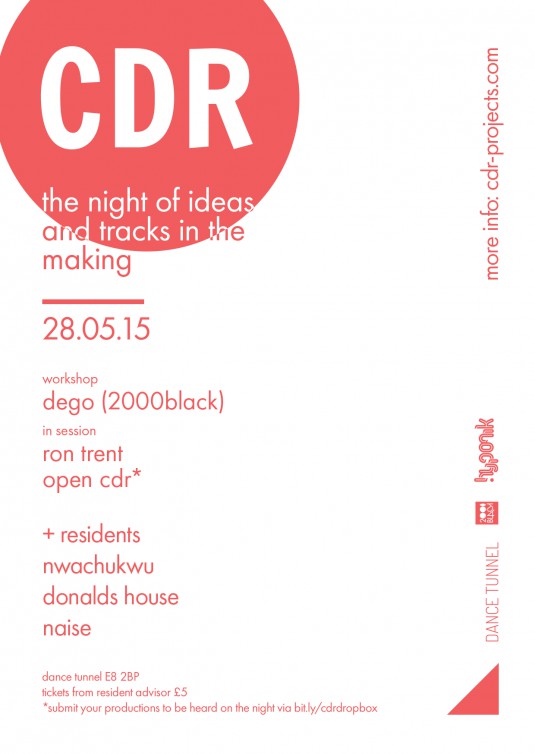 When one door closes, another opens. And on May 28 at Dalston's Dance Tunnel opens its doors to CDR London, as the definitive night of ideas and tracks rises from the ashes of its former physical and spiritual home at Plastic People.
With the over-saturation of music online, CDR continues to give credence to the physical, providing producers the opportunity to network with like-minded artists, peers and friends. Marking its milestone 13th year as a key player in the development and nurturing of local electronic music, the CDR relaunch will see CDR combining the traditional CDR night with a club night.
Taking over Dance Tunnel from 8pm to 3am, the new format promises workshops, talks and performances from some of the most innovative underground electronic producers in the world today. Those having experienced the 'CDR Knowledge'- whether at Plastic People or on the beach at Dimensions Festival – you know that these words hold true. For those in need of an improved sales pitch, read on.
Music visionary, DJ, producer and founder of the 2000BLACK record label, Dego, will be the first guest at CDR's new format, sitting on the CDR couch with The Wach to talk about his forthcoming solo LP 'The More Things Stay the Same'. For a demonstration of how Dego approaches and constructs his music productions, be inside the Dance Tunnel by 8pm.
Feel the need to submit your latest banger for a run-out the DT sound system? Submit your tunes on the door (via CDR obvs.) or online. Just wanna boogie until 3am? Well just bring your good self and those dancing feet.
CDR, the relaunch: it's safe to say, we've missed it.
::
Thursday 28th May 2015 // Dance Tunnel, 95 Kingsland High Street, London E8 2PB // Workshop 8pm sharp; club night 10pm // £5 for the workshop (limited) + club night / Free 10pm-11pm / £5 after 11pm
20:00-21:30 — Artist workshop/interviews // 22:00–24:00 — Open CDR (DJs play music submitted on the door/online) // 00:00-03:00 — Artist performance/DJ set + CDR residents Donald's House and DJ Naise
Producers: supply tracks to CDR staff on either a CDR or USB before 10.30pm on the night. Listen to the unique sounds of the city. Create, Define, Release…