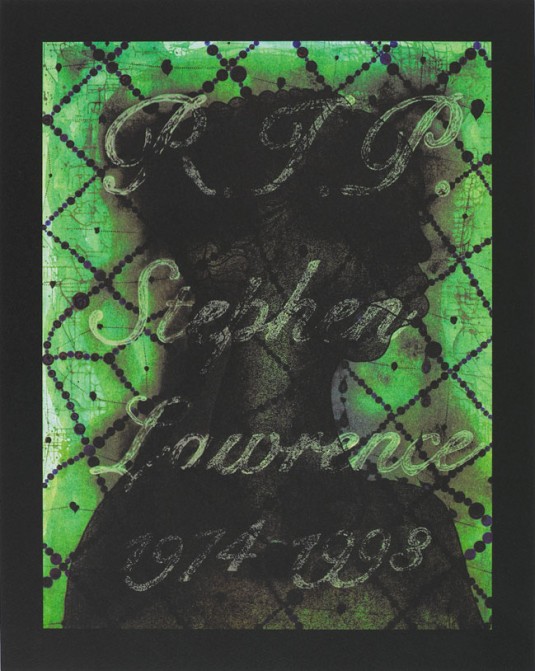 Stephen Lawrence and the Lawrence family represent the enduring strength of the human spirit in the face of fear, ignorance, hatred and institutional corruption. Doreen and Neville Lawrence, through their unstinting determination and quest for justice, uncovered not only the putrid underbelly of a society in flux, but a Metropolitan Police Service flailing on its back. Yet in death there is hope. And action.
Chris Ofili has created a new limited edition print  'R.I.P. Stephen Lawrence 1974 – 1993' to mark the 20 year anniversary of the murder of Stephen Lawrence. The imagery of the print is derived from Ofili's iconic artwork, 'No Woman, No Cry' (1993) – the artist's famous tribute to the South London teenager.Ofili states, "The vicious murder of Stephen Lawrence in 1993 and the pain and suffering of Doreen Lawrence and her family has had a dramatic effect on British life. The painting 'No Woman, No Cry',  the image of the weeping woman, has always been my way to bring to the surface a sense of sorrow and loss. The painting also has another layer where the text, 'R.I.P. Stephen Lawrence 1974 – 1993', is spelled out but is only visible when viewing the painting in lowlight to signify an everlasting life. The recent conviction of two of the murderers was a bittersweet relief but the struggle with institutional racism in British life, highlighted in the Macpherson report, still continues."
The print has been published in collaboration with Counter Editions and all profits will be donated to the Stephen Lawrence Charitable Trust.  Released on October 11  2013, it will be available directly from Counter Editions.
To join the reserve list, email them with the subject Ofili for Stephen Lawrence.
::
Chris Ofili // R.I.P. Stephen Lawrence 1974 – 1993 (2013) // Edition of 100 // Lithographic print in 4 colours with silkscreened glow-in-the-dark text // 45 x 35.6 cm // Accompanied by a numbered certificate of authenticity signed by the artist