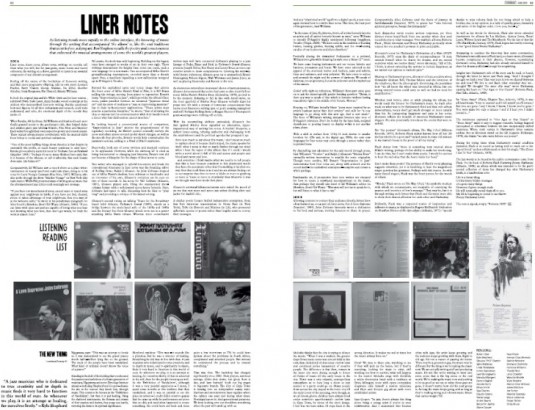 Liner notes, sleeve notes, album notes, writings on records, call them what you will, but for jazz geeks, music lover and record collectors the writing on a sleeve, gatefold or insert is an essential component of any album's arrangement.
Reeling off the names of the forefathers of liner-note writing, and their more progressive offspring, tells its own story: Leonard Feaher, Ulanov, George Avakian, Ira Gitler, Gunther Schuller, Orrin Keepnews, Nat Hentoff, Martin WIlliams.
In both the original Jazz and the White Critic and its later version, subtitled Thirty Years Later, Amiri Baraka conic contempt at the authors who monopolised liner-note writing. Baraka questioned how such figures, for all their enthusiasm and research, could truly understand, and echo, the emotional depth of the records they spoke of.
When Baraka, AB Spellman, Ed Williams and Stanley Crouch were finally granted access to the gentleman's club, they helped shake and awaken giant jazz labels – Atlantic, Blue Note and Impulse! Each writer brought their own respective poetry and consciousness. Those textual advancements reverberated with the musical shifts from bebop to modal and spiritual realisations.
"One of the most baffling things about America is that despite its essentially vile profile, so much beauty continues to exist here." Baraka provocatively starts his notes for Coltrane Live at Birdland (Impulse! 1963). "Perhaps it's as so many thinkers have said, that it is because of the vileness, or call it adversity, that such beauty does exist. (As balance?)"
Comparatively, Ed Williams saw the record sleeve as a place where ruminations on beauty (and love) could take place, doing so in his notes for Larry Young's Contrasts (Blue Note, 1967), Williams, who also spoke through his show, "Maiden Voyage" on New York City radio station WKIP-FM, presented ways of writing about music that the aforementioned jazz critics could seemingly not envisage.
"If you have not manufactured arms, caused wars or raised arms against your neighbours in battle, if you have not lied, cheated stolen or taken advantage of your neighbours, then you may sit at the welcome table,: he wrote in his penultimate paragraph for Max Roach's Members, Don't Git Weary (Atlantic, 1968). "If you can listen with open ears and are capable of loving what you hear and knowing what you love, then don't get weary, for truly the work is almost done."
::
'Liner Notes' by Ben Verghese // Excerpt taken from the second edition of Chimurenga's Chronic // Chimurenga Chronic available for sale here // 'The New Thing' mix by Graeme Arendse