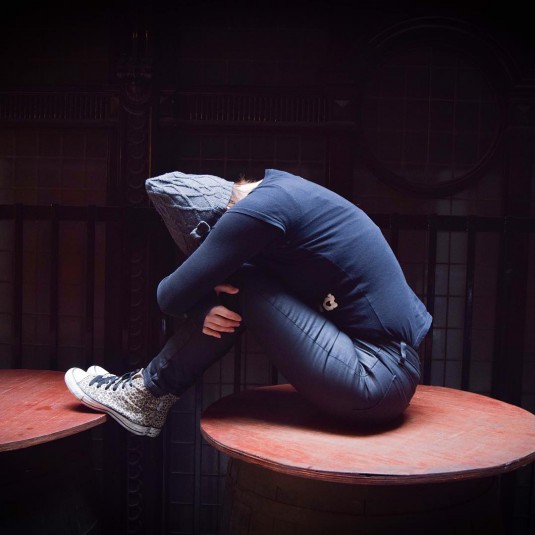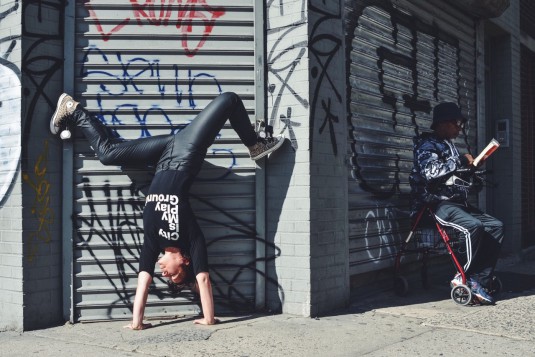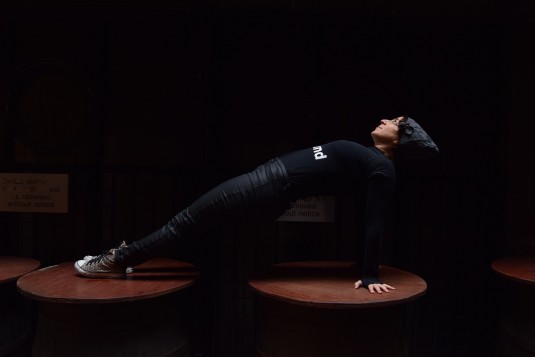 After ten years of devout breaking, popping and locking, a snapped ligament brought die-hard B-Girl Nicola Cher Geismar's conventional dance-career to an abrupt end. But where convention fails, innovation often prevails.
Cue The City is my Playground: freeze form athleticism integrating both mindfulness and posturing, inspired by Nicola's Pilates education and teaching. Being the type to never sit still, it required athleticism of a different kind to catch up with Nicola in order to learn about a training system that has been attracting attention from the likes of Pharrell Williams' I Am Other and Nike.
It's time to Flex in the City with NCG.
For the uninitiated, what is City is my Playground?
By reclaiming the urban spaces we live in, City is my Playground is a growing wellbeing / lifestyle and creative movement for everybody to enjoy. Through the unique blend of body art (or what I describe as physical graffiti), cityscape and urban furniture, City is my Playground's mission is to flip the way people view and experience their city, namely via the participation of the Flex in the City workshops I lead, and creation of photographic images and film.
I want to inspire people to start looking at the city as their playground, and look beyond traditional methods of 1. Training 2. Self expression 3. Creative physicality. I say "The City is the canvas. The street structures are the tools." It's about having fun in the places and spaces we live in, as well as having a sense of pride towards our surroundings and environment.
You also design / choreograph workouts. What can we expect from your programmes?
Presently I have two movement experiences which I am passionate about sharing with people. The first is, the Flex in the City workout. Essentially this is a low impact workshop where we follow a specific adventure route round the City. Using a creative, playful approach, I draw upon mixed modalities / movements, introducing creative isometrics – static shapes or as I call them "flexes" – and Pilates / athletic dance based conditioning, to build core and upper body strength.
I am sensitive to the fact that this is a new style of physical training, therefore I ease people in. The aim is to encourage and inspire others to look at what's around them that they can strike a shape in, on or between. It's so much fun to go out with a group flexing round the city, whilst getting friendly with the doorways, streetposts and walls that surround us. The possibilities for creative physical expression are endless.
The second movement experience that I have developed is the Free Your Spine Series. The live masterclass consists of 8 short movement sequences, that focus on spinal flexibility and mobility, whilst stressing the importance of moving. The digital and office worker lifestyle that we live in means that our bodies are becoming more and more sedentary and less and less active. Sitting is fast becoming the smoking of the 21st century.
With this series I really want to inspire people to take the minutes out of their day to get moving in an accessible, fun and informative way. Having been a Pilates and movement educator in the health and wellness industry for over a decade, It is not uncommon to meet many people, not even turned 30 with a slipped disc or severe lower back complaint. The Free Your Spine series, intends on delivering accessible movement sequences which will wake up the bodies innate way of moving, whilst not compromising physical form or technique.
I know what it feels like to have a serious injury and therefore understand more so than ever the importance of self care and balanced cross training. Between the Flex in the City workout and the FYS method, I think there is a nice mix of strength and stretch components. This has been my personal movement practice for four years. I'm excited to share the FYS masterclass programme, as at its very core its bridging the gap between my passions: creative movement/physical therapy and holistic practices.
You recently worked with Nike. How was that?
It was great. I took the women's training team through a couple of Flex in the City workshops in New York City. I think they really connected to the workout and they actually were so open to wedging themselves in doorways and climbing scaffolding, that they made my job easy. No hand holding was required, just a lot of laughter.
What's next?
Oh gosh so much! I want to bring the Flex in the City workout to as many cities and people as I can. I am also really passionate about building the City is my Playground community both on and offline, and championing this notion of viewing your city as your playground through this form of physical graffiti or flexing.
Creatively, there are some photographers and filmmakers who I would like to collaborate with such as Rankin, and essentially I would love to do a City is my Playground tour, exploring cities like Hong Kong, Rio and San Francisco and roll out a series of workshops.
With regards to Free Your Spine, I want to keep sharing the method, both through the masterclasses and by developing and building the digital online training platform. So only a few goals there!!!
Deprecated: Function get_magic_quotes_gpc() is deprecated in /customers/3/8/6/letsbebrief.co.uk/httpd.www/wp-includes/formatting.php on line 4382
Notice: compact(): Undefined variable: limits in /customers/3/8/6/letsbebrief.co.uk/httpd.www/wp-includes/class-wp-comment-query.php on line 853 Notice: compact(): Undefined variable: groupby in /customers/3/8/6/letsbebrief.co.uk/httpd.www/wp-includes/class-wp-comment-query.php on line 853 Notice: compact(): Undefined variable: groupby in /customers/3/8/6/letsbebrief.co.uk/httpd.www/wp-includes/class-wp-comment-query.php on line 853 Notice: Theme without comments.php is
since version 3.0.0 with no alternative available. Please include a comments.php template in your theme. in /customers/3/8/6/letsbebrief.co.uk/httpd.www/wp-includes/functions.php on line 4024 Deprecated: Function get_magic_quotes_gpc() is deprecated in /customers/3/8/6/letsbebrief.co.uk/httpd.www/wp-includes/formatting.php on line 4382 Deprecated: Function get_magic_quotes_gpc() is deprecated in /customers/3/8/6/letsbebrief.co.uk/httpd.www/wp-includes/formatting.php on line 4382 Deprecated: Function get_magic_quotes_gpc() is deprecated in /customers/3/8/6/letsbebrief.co.uk/httpd.www/wp-includes/formatting.php on line 4382