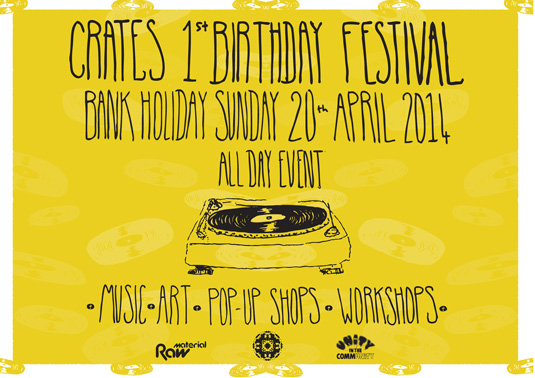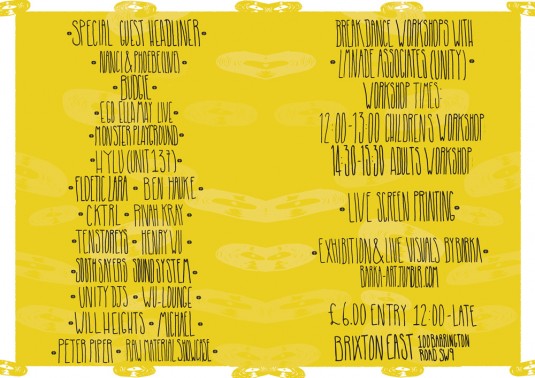 It's been some time since 'diggin' in the crates' was common Hip-Hop vernacular.  Thankfully, vinyl lovers / DJs / producers Hector Plimmer and Wu-Lu (aka 92 Points / Monsters Playground) aren't the type of guys who adhere to temporary trends.
Founded on a commitment to good music and a love of vinyl, Crates is one year old this month. And in celebration they've decided to throw a huge party in their home area of BRIXTON. The event is an all day affair that runs late into Sunday 20 April (Bank holiday weekend!).
There'll be a stella array of live music and DJ sets, art, pop-up shops selling records, clothes, prints and more — plus a number of workshops for kids and 'big kids' alike.
Visit the events page on Facebook for more info, or better still, just be there in the flesh this weekend.
::
CRATES 1st BIRTHDAY FESTIVAL  * Brixton East, 100 Barrington Road, SW9, London * £6 ON THE DOOR * 12:00pm — LATE
LIVE MUSIC FROM * SPECIAL GUEST HEADLINER * Ego Ella May LIVE * Nãnci and Phoebe LIVE * Kwake Bass * Soothsayers Soundsystem * Wu-Lounge * Flo Etic Lara ( Live Spoken word) * Ben Hauke * Tenstoreys * The Factory
DJ SETS * Monster Playground * CKTRL – NTS * Will Heights * Budgie (Livin Proof) * Hylu (Unit 137) * Henry Wu ( 22a Dub plate Set) * Rivah kray (Blackfoot Phoenix // Work It) * Unity in the Community DJs * Michael * Peter Piper