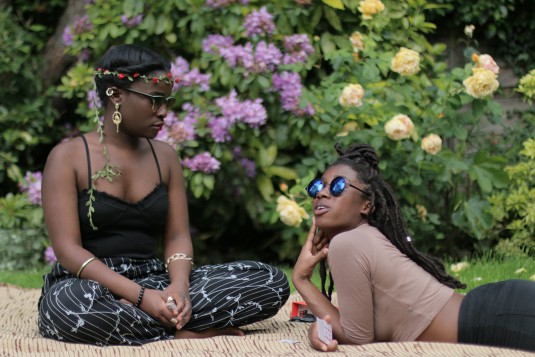 British-Jamaican director & writer Cecile Emeke is making waves right now. She has captured the attention of critics and online fans alike for her portrayal of nuanced black identity and experiences in online video series Strolling and Ackee & Saltfish, rarely seen in mainstream media.
The self-taught filmmaker picked up the camera just a year ago. Her short documentary series Strolling puts a fresh spotlight on young black people from across the European diaspora (there are international ambitions). Investigating issues such as, what does it mean to be black, or mixed race and from here? Emeke's work provides a platform to express these complex identities and its addictive viewing. The episodes touch on male feminism, colourism, displacement, racism, depression, art and everything in between – with raw intimacy that speaks volumes.
The second series Flâner (French for strolling) highlights how much we're used to the African American or Black British experience dominating the conversation. In episode 2 of Flâner we meet Fanta, who shares some astute observations on emotional labour, French slavery and poor self-image that are eye-opening and heart-wrenching at times – not least because it's impossible to ignore the irony of self-depreciation – she's beautiful – caught through Emeke's roving lens, compared to that of pioneering director Robert Altman.
Film short Ackee & Saltfish follows best friends Rachel & Olivia going about their daily lives. An ill-fated afternoon trip to a now defunct Caribbean takeaway leads on to discussions about gentrification, celebrity, race and winding up your mates, with a deft comedic touch. It's a prelude to the properly funny web-series with these two relatable, female black characters.
In creating her work, Emeke has taken back the narrative with these self-funded projects. We can see the world through her gaze – this is unapologetic black feminist creativity and it's here to challenge the tired social norms, misogyny and racial stereotypes. To a sold out lively auditorium, Emeke recently spoke at SOAS society's Decolonising Our Minds event to discuss these issues. Toni Morrison's quote is proudly displayed on her site and articulates the auteurs vision perfectly: "If there's a book you really want to read, but it hasn't been written yet, then you must write it".