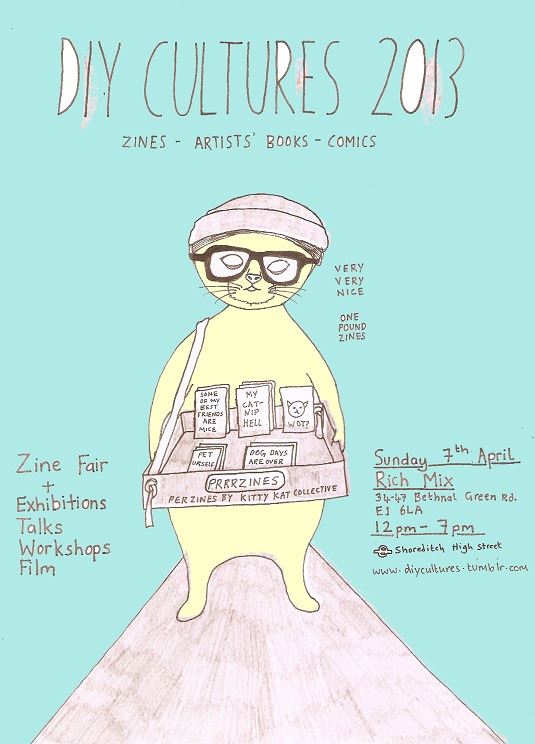 What do you get when you mix zines, films, talks, animation, video art and workshops? A wondrous creative cacophony of a festival, that's what.
DIY Cultures is a day-long festival all in the spirit of independence, autonomy & alternatives; featuring an array of artists, illustrators and film makers.
Taking place on the 7th April at RichMix the event has been curated and organised by Sofia Niazi of Walrus Zines / OOMK and Hamja Ahsan of Shy Radicals / DIY Curator / Other Asias.
We asked Sofia Niazi to get a bit DIY, to give us some insight into the thinking behind the event.
Q) Tell us a bit about yourself.
I'm Sofia and i'm one of the women behind OOMK zine. I'm an MA Communication Design student from Kingston and for my job i teach kids how to program robots. I'm co-organising DIY Cultures with Hamja Ahsan and Helena Wee.
Q) What's the event about?
We're sort of figuring it out as we go along, the idea behind the event was to get lots of different people together who are engaging with DIY activities whether its making zines, music, film, all sorts of creative self initiated projects.
Q) What does DIY culture mean to you? And why is it important to hold such an event?
I'd say DIY culture is about creating alternatives to what is out there, whether it's news, music or art, and doing it without the need of any experts or a lot of money. I think it's important to hold DIY events like zine fairs because it allows people who make things to share their ideas, exchange tips, talk about their causes and discuss collaborations. For the people who attend it can be really inspiring and a chance to find out about things that they probably wouldn't learn about through mainstream outlets.
Q) The event will feature a range of activities from films to talks, what can we expect on the day? (range of speakers / subject areas)
We've got a big zine fair spread over two floors with 50 individuals and distros taking part. There will be talks throughout the day about prisoner poetry, artist run spaces and Feminism & DIY. We've also planned a screening of DIY or Die, a selection of short animations and there will be a programme of workshops and several small exhibitions dotted around. Full programme will be up on diycultures.tumblr.com very soon.
Q) What is the potential of 'independent' culture and autonomy?
That's a big question. I'm not sure. I think independent culture can be really organic and authentic in a way that mainstream/consumer culture can't. The fact that so many different voices and perspectives are carried through it makes it special and a really important source of alternative points of view. Perhaps in terms of reach and influence the things that come through independent culture can't compete with mainstream mass culture. But having said that i don't believe we really live in a mass society, our worlds are small and the effect of independent thoughts, whether it's those of our friends, family or colleagues, can be much more profound and meaningful than what we hear and see on TV and in magazines.
Q) In regards to independent thinkers / doers – who is inspiring you at the moment and why?
I really admire the Open Access internet activist Aron Swartz who died recently. I went to a talk about his Guerilla Open Access Manifesto recently and his vision with regards to freeing knowledge from the clutches of the privileged and making it available for all is really inspiring. I'm also reading a book By Jerry Mander, he writes about Technology and the effect that it has on societies. I love how he doesn't just accept change and technological 'advancement', he has a really humane way of thinking and being and really interrogates the wider social and spiritual implications of technological progress.