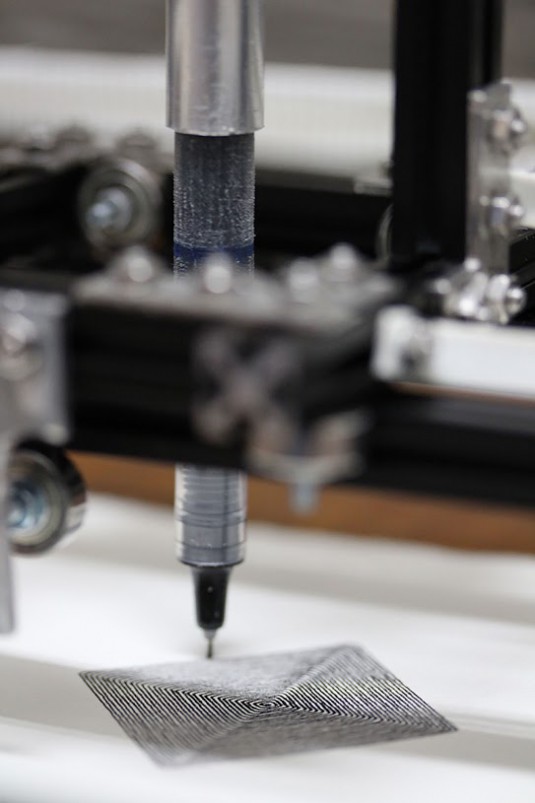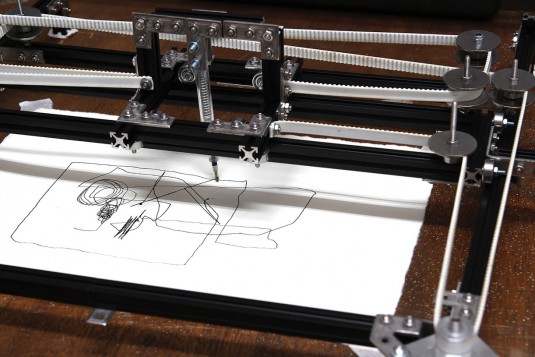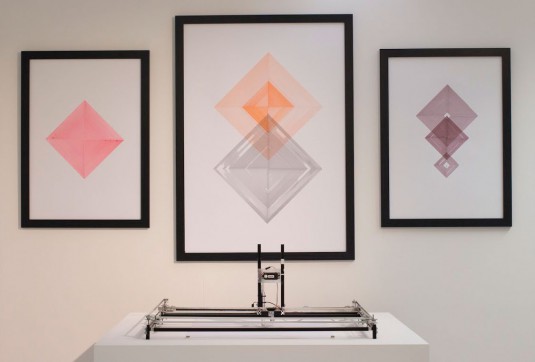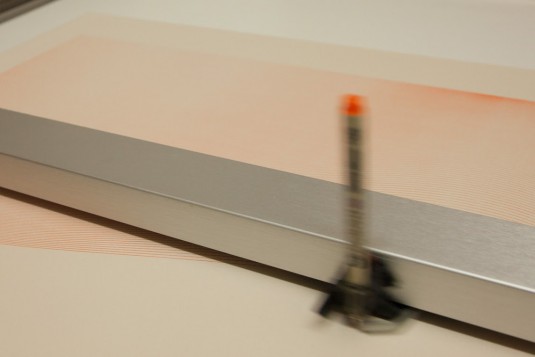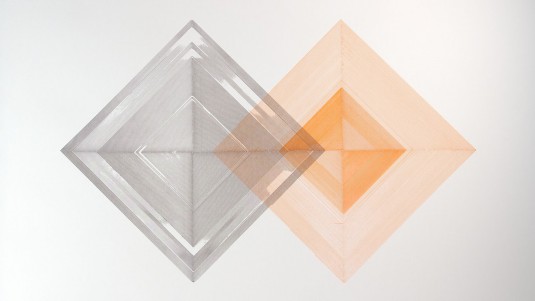 The nascent years of the 21st century will be remembered as a time when nature and machine really began their symbiotic relationship — a time when technology moved beyond its industrial capacity to become a natural extension to the human 'being'.
A prevailing fear circling this type of development is the potential loss of craft and its impact on society. Yet in this merging of binary worlds, designers, engineers and technicians are making this notion a reality.
Start-up design company: Digital Craft People – set up by partners Damien Borowik and Sachiko Borowik – aim to face this challenge head on in the form of their Drawing Machine invention.
Since launching the machine just over a year ago, Damien and Sachiko have already worked with an impressive array of customers, including Christian Dior Couture, Samsung Electronics, and the Southbank Centre, as well as featuring on BBC's Click.
Inventor Damien explained to LBB, the inspiration behind the machine, where art and design fuse, and what's next for the Drawing Machine.
Q) Tell us a bit about Digital Craft People / Drawing Machine…
Drawing Machine is the project from which Digital Craft People was born. We create drawing machines and machine drawings in a crossover between art and design. We use both handcrafted and industrial machines and create unique artworks similar to drawing and etching through digital and analogue processes using archival quality materials such as pigment ink pens and acid free paper. Each machine drawing is unique in so far as they are drawn with physical mark-making tools which vary during their lifetime; even if the machines are controlled using the same code, the resulting artwork will differ depending on variables such as the ink flowing out of the pen, how fast the pen moves on paper, the kind of paper used as well as the physical properties of the machine used.
At Digital Craft People we are very interested in all forms of digital and analogue processes and how they affect the way information is being perceived and experienced. Apart from our own projects, we also offer a consultancy service on a wide variety of art and design based project involving interaction and technology-enhanced knowledge sharing.
Q) What was your background prior to launching DCP?
I have a mixed background. As teenager in France, I studied science and maths before getting into applied arts. I studied visual communication before going to Central Saint Martins for a BA in Graphic Design. Soon after graduating, I was asked to run an interactive project on the same course. Soon enough I was teaching interactive design at BA and MA level while running my own Art & Design practice, working with various agencies and my own clients.
In 2011, I came across the MA Computational Arts course at Goldsmiths and took the opportunity to study part-time. It allowed me some space and time to apply the skills and knowledge I acquired through the years to my own projects.
I also like to apply myself not only to computational medium but also to more traditional medium like painting, printmaking, video and photography.
Q) What was the impetus to create the Drawing Machine and how does it work?
The Drawing Machine was developed from a desire to create a mark-making tool which can be manipulated through automation. At the same time, I wanted to reveal to the audience how the machine works from its aesthetics. The machine grew bigger and more elaborate as I continuously iterated its code and build.
Programming wise, this handcrafted machine uses a mix of processing to simplify the data coming from the image to be drawn, and Arduino to actuate the motors. It can currently control a pen on an x and y axis using timing belts and bearings, applying pressure to it whenever a mark needs to be made. I am also collecting vintage industrial flatbed plotters which I use as Drawing Machines. They enable faster motion, but are less versatile as they can only accept specific kinds of pens and paper.
Q) What impact would you like your design to make to how we view 'design or art'?
We believe the Drawing Machines are a real fusion between art and design. For centuries, mankind has been creating tools to help them make artwork, in an applied form or purely for art sake. The Drawing Machines are a natural evolution of the creative tools, perhaps going one step back in terms of technological advances as it less accurate and slower than a printer, but one step forward in terms of revealing computation processes used to mechanically draw.
Q) You've already started working with an interesting array of clients. Can you tell us a bit about some of those projects?
When working with Samsung Electronics in South Korea, the drawing machine was just starting. They asked me to collaborate with a South Korean professional photographer for a short residency period, using their top of the range professional monitor to create patterns derived from another project, Particles. When they saw the first iteration of the Drawing Machine they asked if I could bring it with me, and I used it as part of the project.
It was very interesting to work on a 4K monitor and use the 'low key' capabilities of the Drawing Machine as part of the process, as the physical drawing of the patterns were often re-purposed in the purely digital project outcomes.
This summer I had the privilege to work at the Southbank Centre with the artist duo Bulley/Jones. They commissioned me for the Web We Want Festival to create a machine for their sound installation which was depicting the UK through web activity, where the Drawing Machine was used to perform the writing of a musical score everyday as part of the installation. Until then I didn't know the Drawing Machine was capable of some much accuracy.
Earlier this year we have also worked with the Drawing Machine for Christian Dior Couture. Unfortunately we are not able to say much more… 🙂
Q) Since setting up, what's been your highlight so far?
After the first iteration of the Drawing Machine, we decided to launch a modest crowdfunding campaign to develop the project further and gauge the public response to such project. We were thrilled by the amount support we received.
The Drawing Machine project is still in its infancy, and we haven't been able to show it much to the public yet. But every time the audience response has been amazing. Not only they really like the drawings, they also become mesmerised by the performing act of the machines, which is in itself very gratifying.
Another great moment was when I found a beautiful A1 flatbed plotter purely by chance when visiting a relative in Paris. The plotter was made in the 80s by Gould in Surrey. I even managed to trace back one of the engineers who worked on it.
The other big highlight is when my partner decided to join me to create Digital Craft People and commit to the venture together. She has always been of great counsel and I am really glad to have her on board.
Q) And what's been your biggest challenge?
The biggest challenge always seems to be the last iteration of the Drawing Machine, as we are developing its capabilities by new functionality. So far it has been to make the Drawing Machine perform vertically for the Southbank installation, as well as having it perform continuously for 3 months. It is a long time for any handcrafted machine as wear and tear is unavoidable, so we learned on the way. It is also the biggest machine so far and it can draw on a full A1 sized paper. We have pushed the boundaries by using bigger motors, different beams for a more robust structure, and a completely new apparatus and mechanics to actuate the pen. We also had to hide the cable of the motor actuating the pen by making it run alongside the beams, with a system of bearings and a weight at the back of the installation to keep some tension on the moving cable.
Q) What's inspiring you right now in interactive design?
The use of technology is always a big inspiration for us. We have done a couple of art projects using the Oculus Rift and Unity3D to deliver immersive experiences. We can really see that the era of virtual reality is finally coming and will soon be mainstream.
There are great VR projects being created at the moment with this experiential medium as it is much more accessible, allowing to do much more at a fraction of the cost. It is definitely a space to watch and be involved in.
Q) What's next?
In terms of the Drawing Machine, we are in the final stage of adding a web tool on our site which allows user to get a preview of what their own images would look like when drawn by the machine. Our own drawings can already be purchased online, but this tool would allow you to customize your own drawing with controls such as line direction and spacing, colour and amount of detail, before commissioning us to make it for you.
We are also researching and developing the machines further to include new drawing techniques such as the use of brushes and ink, or the use of multiple pens which will bring new possibilities for the machine and new aesthetics for its drawings.