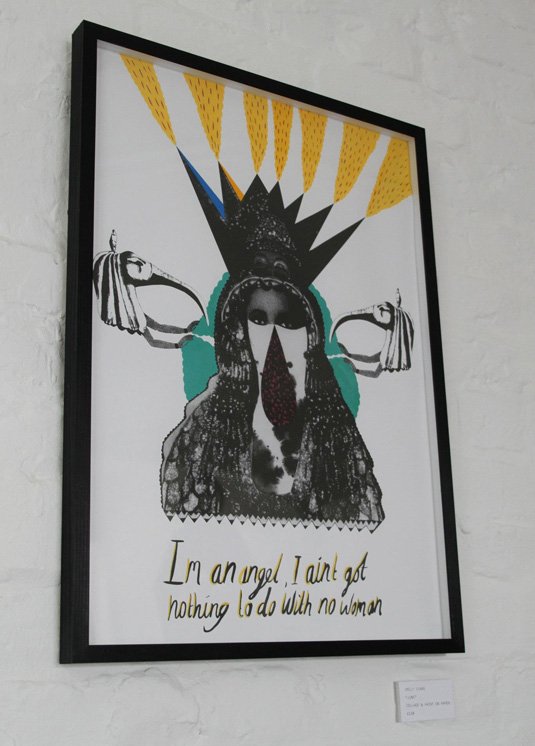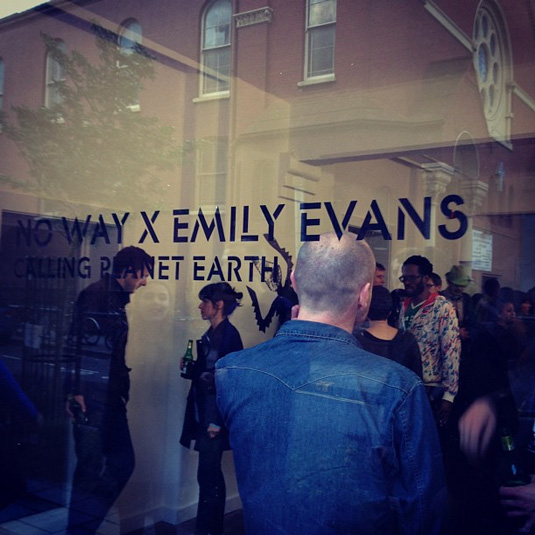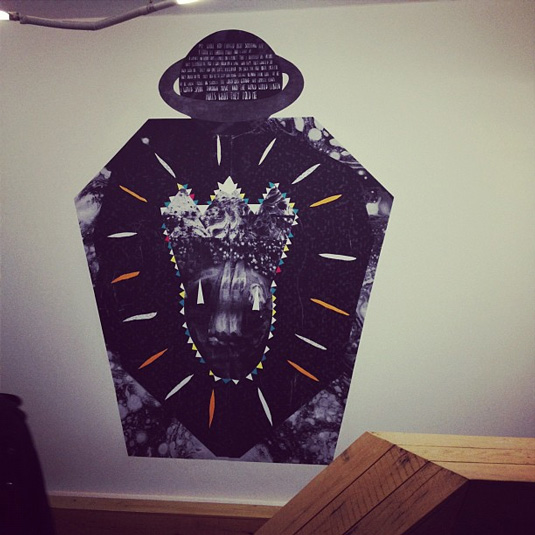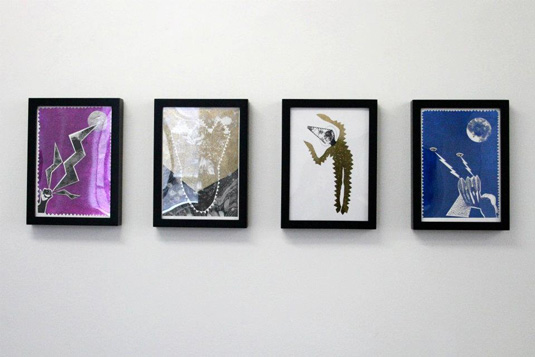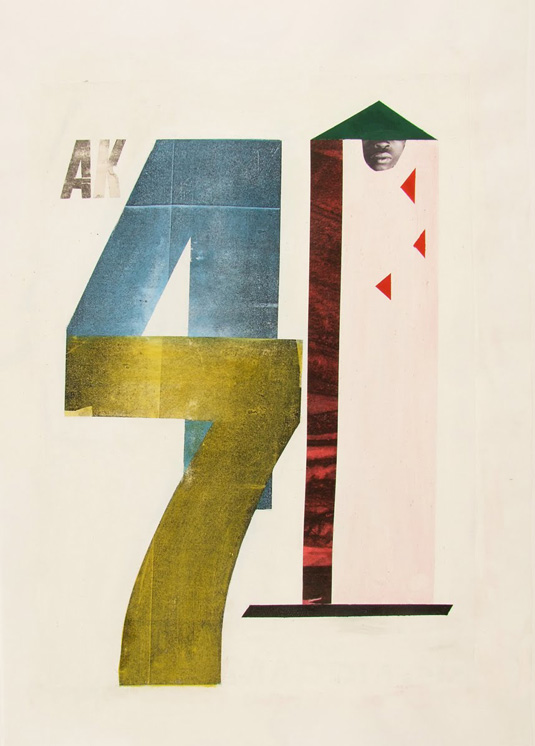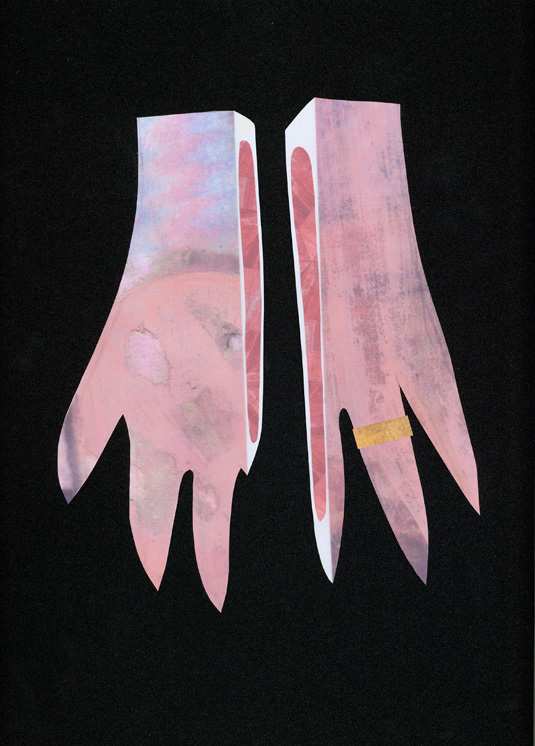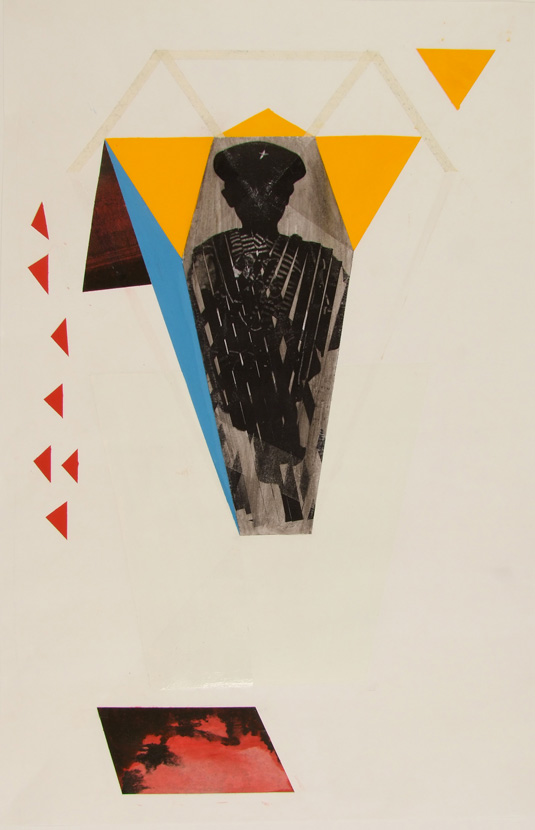 Illustrator Emily Evans has an esoteric ear, an eye for the social and a craftsman's touch. The Calling Planet Earth exhibition caught our attention a few months ago and we've never looked back. Calling Planet Earth is currently at the Translate Bar in Shoreditch as part of the new Dictionary Hostel.
We finally caught up with Emily to chat about the importance of research, why space is the place and how the local library photocopier can be your bestest friend.
::
Q) As a means of expression, what does art mean to you?
Hmmm… A space for me to research ideas and express them. I really like researching, going to the library, reading books and getting really absorbed by a subject. I enjoy doing pieces about quite dark subjects.
Q) Your work such as DRC, Fairytales investigates social and political issues. What's your research process?
I think I'm drawn to subjects that allow me to find as much information as possible; things I can dig deep into to inspire me. I don't enjoy doodling or drawing from imagination. I need a stimulus. Sometimes I find a small sentence or quote that makes me realize how to visualize a project. It's just a matter of digging bought to come across the inspiration and it just happens i really enjoy that.
I also joy reading sci-fi, and am interested in quite dark themes by nature, I think it's the aspect of 'Melancholia' I enjoy. Doing the piece for the Norway exhibition 2012 Phenomenon allowed me to touch on some dark subjects of control within society and the future in the hands of the government. I enjoyed reading a lot of Foucault books during this; especially his book The Madness of Civilisation. Pretty much everything in that book made me want to make collages.
Q) How much does the essence of your personal work feed through to your commercial endeavours?
It was great to work on the OHM Dedication Series. I think I've been very lucky to work on projects that really excited me. Doing illustrations related to music is something I really enjoy. Doing an album cover for Aloosh from Nature Scene Records has been really great as it's exciting to see my style develop in relation to how I try and relate the music to the illustration. Aloosh has had some really great art direction – it was amazing when they described the vision for the whole project. I feel their new video and the album artwork are gonna work really well together.
Q) It's safe to say that you get your hands dirty during the creative process. Do you have a particular method of working?
Lots of research then photocopying – I'm obsessed with it. I really need to try get myself one, I'm a regular user of the Hackney / south Kilburn Library photocopiers. I love the textures and print mishaps you can get from photocopying, I end up with ridiculous amounts of copies of things though. Then once I am surrounded by lots of images I like I start chopping them up and playing about then inevitability I end up photocopying what I've made again. That plus loads of coffee and music.
It also really works for when I do paste up pieces, as the images stay stable when wet.
Q) Tell us more about South Kilburn Studios. Seems like an interesting place to work out of.
Yeah it's great. We have a great space in a previously derelict building. Brent Council funds it. We have thirteen tenants, and in lieu of rent we take on a trainee who we work with. We also do free weekly workshops and open studios once a month. We have all put a lot into the studios since being there and its' great to see how it has developed and been embraced by the community. It's a great place to work as a freelancer as there is a fantastic sense of family in the studios as you can chat with people about ideas and collaborate. It's not your regular studios. We hope to be there for along time.

Q) Calling Planet Earth was inspired by the Afrofuturist approach to music of Sun Ra. What were the most influential tracks from their catalogue compelled you to put pen / brush / ink to paper and why?
The Colours of the film Space is the Place inspired me greatly. They're amazing. It's a feast of colours – really bright, metallic and vibrant. That is what influenced me to do metallic foil collages.
Listening to Sun Ra is a re-education in what you think about music and musicians. His total embodiment of the music was incredible.
I love the track Paradise from his album Sound of Joy.
I listened to Moon People a lot trying to visualize space men talking. Ha!
::
Emily is represented by the visionary folks at NOWAY