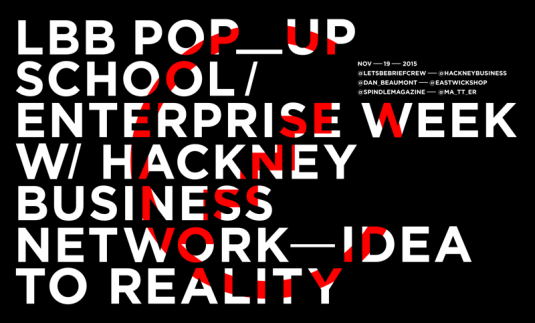 "It's not about ideas. It's about making ideas happen." — Scott Belsky, 99u
How do you take a good idea and turn it into a great business? How do you identify a good idea from bad? And how do you measure and cope with failure to go on to succeed?
These are just a few of the questions that inspiring entrepreneurs have to face in order to go from clever concept to fully functioning enterprise.
Join LBB in discussion with some of Hackney's best emerging entrepreneurs to discover their journeys into business. Learn what they've ascertained along the way and how you too, can turn your pipe dreams into reality.
Speakers:
Dan Beaumont // Dalston Superstore // Voodoo Ray's // Dance Tunnel
Heather Falconer // Spindle magazine & creative agency
Roxi Rustem // East Wick Candles
Seetal Solanki // Matter – materials consultancy & agency
::
Enterprise Week: Idea to Reality // 7 – 8.30pm ~ 19th Nov // Bl-nk, 25-27 Curtain Road, Hackney, London EC2A 3LT // Entry FREE but must RSVP
Idea to Reality is part of a one-day event aimed at emerging entrepreneurs in celebration of Global Entrepreneurship Week powered by Hackney Council. LBB will also be delivering a Brand Building workshop. For more booking info, please visit the Eventbrite page.