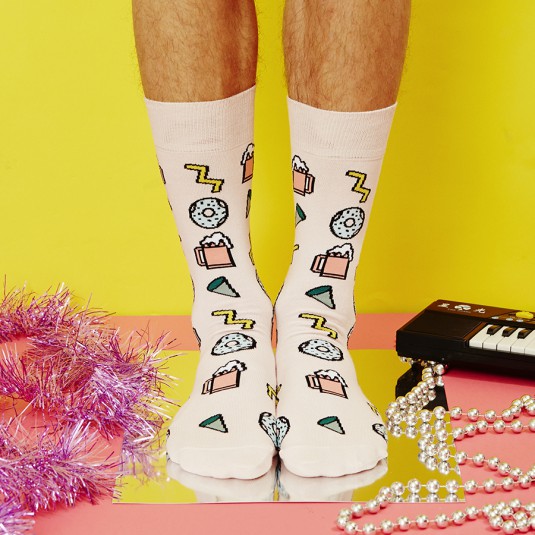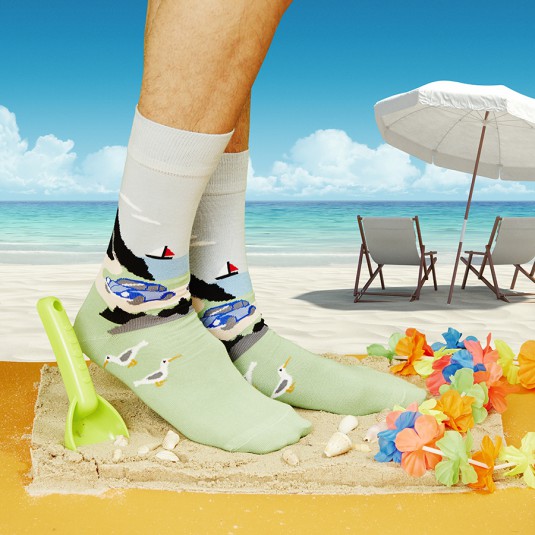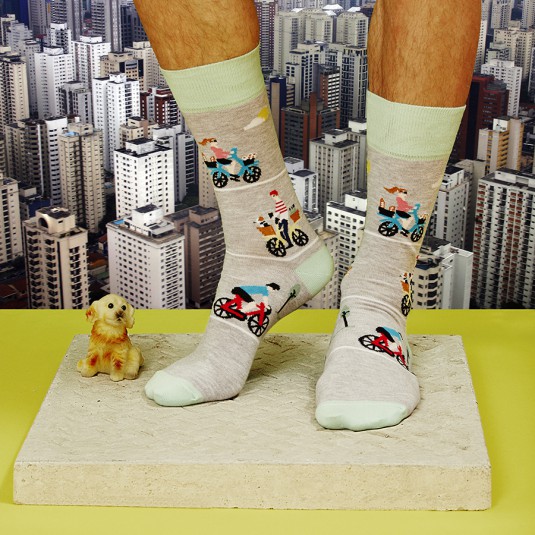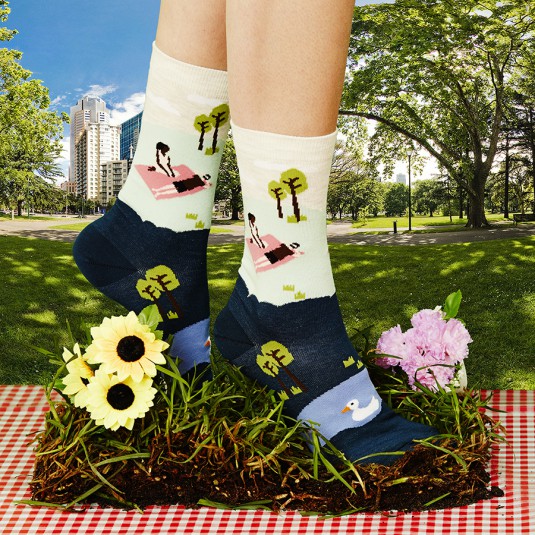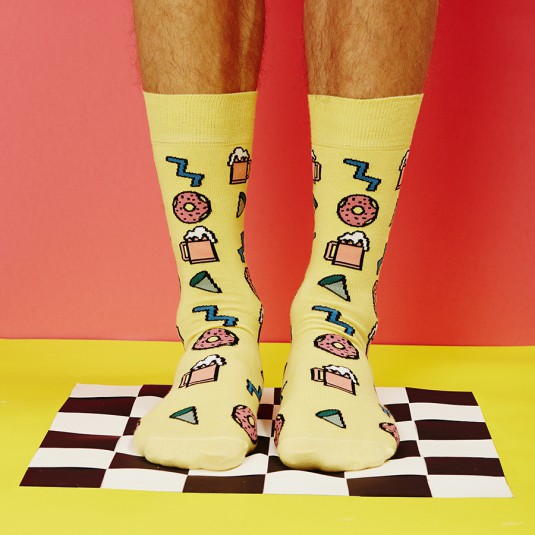 The evolving nature of the fashion industry has turned the humble sock from commodity to a statement piece.
According to Consumer Intelligence Company, NPD, the steadily growing sock industry is now one of the only categories where men's sales outpace that of women's.
Picking up on the trend of idiosyncratic and graphic socks, as well as wanting to work with their local industry in South Africa, designers Chelsey and Alison launched FEAT Sock Co. in 2013.
Since then the pair have been building their distribution channels: from online retail, boutiques to their innovative FEAT hustle scheme.
We discovered how FEAT Sock Co. have shaped a business congruent with their social / design values, and how working to limitations can actually inspire creativity.
Q) How would you describe your brand in 5 words?
Playful, vibrant, eye-catching, high-quality, innovative.
Q) What inspired you to set up a fashion label?
We have always had a love for playful socks, and wanted to mix this love with our desire to support local industry. We love the fact that we can offer a high-quality, utilitarian product like socks, but in a fun and inventive way that shies away from the boring black or white standard.
Q) FEAT has a distinctive look and feel to the brand. How did this come about? And what inspired this particular direction?
As lifelong friends who have loved storytelling and dreaming together from a young age, we wanted to use our socks as an avenue to keep narrating our funny little stories in a way that others can enjoy too. When we started, we very much wanted to get a foot into the market, and to do that we had to be a bit more "safe", but now that we have a loyal customer base we can be a bit .wilder and our customers love it when we are.
Q) What has been your biggest creative influence and how has it manifested in your work?
The limitations with our manufacturers force us to be more creative with what is available to us. It's amazing what you can do with a few colours and less detail…it makes you think about how much we clutter things unnecessarily when there are simpler ways to tell the same story.
Q) What impact does culture have upon your design process?
We are inspired by things we see every day, so it makes sense that we are quite heavily impacted by our culture and the culture of the communities we find ourselves in.
Q) You've created a business around your passion. What has been your most exciting accomplishment so far and the most challenging?
Our most exciting accomplishment was definitely when we were accepted to exhibit as Emerging Creatives at Cape Town's popular design expo 'Design Indaba' in 2013. It was 3 months after we first launched our brand and the first time we exhibited in a public space. The response was so positive and, 3 years down the line, some of those first customers still buy from us today…that's incredibly rewarding! There are constant challenges when starting and running your own business…sticking with it when budgets are tight and people aren't responding to your marketing attempts are definitely right up there.
Q) You recently launched the FEAT Hustle – an initiative to encourage local entrepreneurialism. Can you tell us a bit more about it?
We realised that there was a huge gap in the South African retail market that we weren't reaching by simply appealing to urban and suburban markets. Peri-urban/township areas of SA often go unreached, despite the fact that the love of bold accessorising is very much alive in these areas. We tried to think of the best way to reach this market, while creating self-employment for bold individuals through selling our socks.
We thought that the best way for our socks to find their way into these areas would be through those living in these communities. Basically, we find enterprising individuals through friends and word-of-mouth, they become "members" of the FEAT. hustle community and purchase socks from us at wholesale price, then selling them on to keep the profits for themselves – modern-day travelling salesmen/women.
Q) How do you shape and maintain a commercial business that also remains true to your values and interests?
We haven't really found it too tricky to remain true to what we love and what we believe is worth our time. We are of the belief that if you do what you love with conviction, you won't have to go too far to find other people who love and appreciate what you do. Every now and then we have encountered situations where we have come to a fork in the road where we could favour our budgets over our integrity, but being lifelong friends with similar values, it doesn't take long for us to remind each other of what is and always will be true for us.
Q) What advice would you give to new brands trying to define their identity?
Celebrate what makes you unique…copying someone else doesn't get you very far. And remember to listen to the little clues you get daily…the little sparks that ignite something in you when you see or do or have an idea that makes you happy.
Q) What are you obsessed with right now?
Embroidery and exploration in textiles. We are currently working on the display for an upcoming wholesale fair, and we're having fun with interesting.
Q) What was the last book that you read?
We have both been reading 'Essays in Love' by Alain De Botton.
Q) What's on your current playlist?
Perfume Genius – Put Your Back N 2 It, Rihanna – ANTI
Q) What's next?
We have a lot of ideas up our sleeves – kids socks and fun hosiery to name but a few.