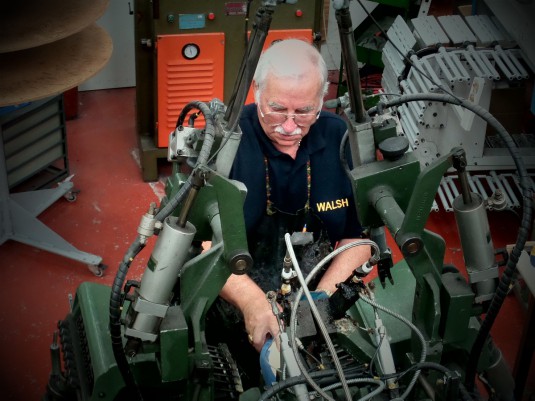 From production, fashion and set design, we discussed all things 'manufacturing' in our recent How to Source and Work with Manufacturers workshop with manufacturer directory and resource platform, Just Got Made.
Here are our five key take outs to starting your production run.
1. THINK LIKE A DESIGNER
Start as you mean to go on. In other words, consider production as part of the design process. These decisions can mean having to simplify an initial design in order to come in on budget.
If wholesaling a product, bear in mind the RRP (Recommended Retail Price) can amount to a 200% mark-up in price. A good tip is to work backwards from your RRP, so as to ascertain a realistic production cost.
2. GET ORGANISED
Ensure that you've undertaken all necessary research and preparation, such as creating production spec sheets, organising your budget and scheduling timelines (including contingency). Implementation of these key measures will build in a working methodology and help you communicate with your manufacturer — which will save you time and money.
Don't be sacred to ask questions, or to seek reassurance from your manufacturer if in doubt. It's how you'll build your working knowledge and ease any concerns.
3. SAMPLING
Fashion sampling costs can be a prohibitive exercise, costing on average three times the regular production costs. Knowing how to create your own samples can be beneficial from both a financial and technical standpoint. By knowing the construction process yourself, you'll be best placed to work with your manufacturer to create the end product.
If you don't have any working knowledge of production, consider taking a short professional course in your chosen field to gain insight into the process.
4. LOCAL VS OVERSEAS MANUFACTURING
There are benefits for both cases. However, working locally – particularly for new designers – has the advantage of you being able to make direct contact and build a relationship with your manufacturers. Making regular visits can also add up to a considerable cost saving.
Most critically, find manufacturers that believe in the product and your business, as well as one that disseminates realistic advice / expectations. As your business flourishes, so will theirs.
5. CONTINGENCY PLANNING & SPREADING RISK
It's good practice to develop a database of possible manufacturers, and create a short list.
To spread risk, consider working with two manufacturers simultaneously for orders to ensure you can meet production timelines. And don't forget to add a 10% contingency in the production schedule – particularly if your product[s] goes through several production processes i.e. screen printing then construction etc.
Once again, communication is key. The more you effectively liaise with your manufacturer, the more likely it will help in getting your product 'out the door' on time.
::
Image from the Walsh factory in Manchester
Deprecated: Function get_magic_quotes_gpc() is deprecated in /customers/3/8/6/letsbebrief.co.uk/httpd.www/wp-includes/formatting.php on line 4387
Notice: compact(): Undefined variable: limits in /customers/3/8/6/letsbebrief.co.uk/httpd.www/wp-includes/class-wp-comment-query.php on line 853 Notice: compact(): Undefined variable: groupby in /customers/3/8/6/letsbebrief.co.uk/httpd.www/wp-includes/class-wp-comment-query.php on line 853 Notice: compact(): Undefined variable: groupby in /customers/3/8/6/letsbebrief.co.uk/httpd.www/wp-includes/class-wp-comment-query.php on line 853 Notice: Theme without comments.php is
since version 3.0.0 with no alternative available. Please include a comments.php template in your theme. in /customers/3/8/6/letsbebrief.co.uk/httpd.www/wp-includes/functions.php on line 4024 Deprecated: Function get_magic_quotes_gpc() is deprecated in /customers/3/8/6/letsbebrief.co.uk/httpd.www/wp-includes/formatting.php on line 4387 Deprecated: Function get_magic_quotes_gpc() is deprecated in /customers/3/8/6/letsbebrief.co.uk/httpd.www/wp-includes/formatting.php on line 4387 Deprecated: Function get_magic_quotes_gpc() is deprecated in /customers/3/8/6/letsbebrief.co.uk/httpd.www/wp-includes/formatting.php on line 4387