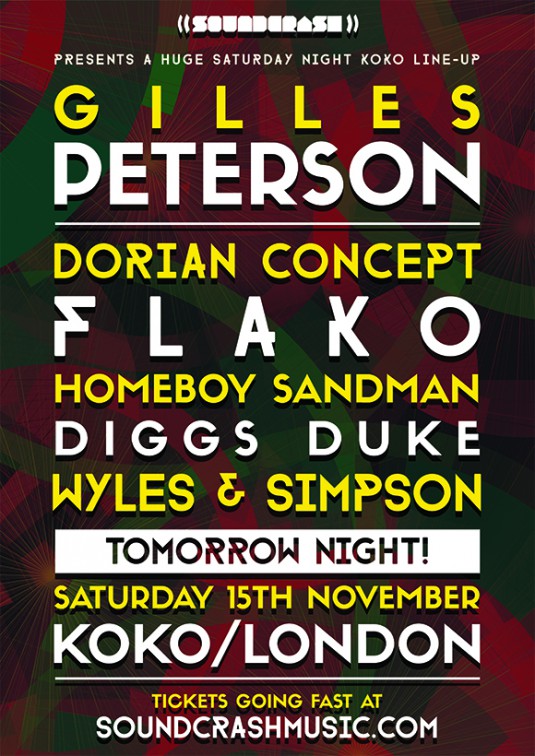 Gilles Peterson + Homeboy Sandman + Flako + Dorian Concept Trio + Diggs Duke + Wyles & Simpson = a line-up that needs little in the way of a sales pitch.
But while we're here, let's look at what Soundcrash have in store for you this Saturday:
Gilles Peterson: unbridled music collector; dot connector and Brownswood Records label owner, Gilles has long been considered an arbiter of good taste.
Flako popped onto our radar with the release of Mating Dance and has been there ever since. Having created a signature sound that offers something different with every musical scribe (or release), Flako's career to date has been one built on anticipation and expectation.
Oliver Thomas Johnson, aka Dorian Concept: the maker of what we call 'war-dance music'. No, not the Henry Kissinger 'bomb them into oblivion' type of war, by 'war' we mean the purposeful struggle. DC's music helps us get things done. It also mashes up a dance-floor. A club is a hard place to work, but together with Cid Rim on drums, fellow Viennese producer The Clonius on keys, you can expect the mash-up-the-dance-floor part at Koko's.
When a human being is prepared to put their money where their mouth is, we're prepared to put our money where our ears are. And our ears are finely tuned, honest, dynamic wordsmithery of New York native Homeboy Sandman: an MC more than worthy of the title. And by that we mean one guaranteed to bring another dimension to any live performance, making tomorrow's showing a must-see.
Diggs Duke come Jazz Re:freshed approved, and if you know the Jazz Re:freshed crew, you'll know that's a good enough endorsement for any discerning music head.
::
Gilles Peterson x Homeboy Sandman x Flako x Dorian Concept Trio x Giggs Duke x Wyles & Simpson // KOKO // Tickets: £12.50 SEB, £15.50 EB // £19.50 ADV, MOTD