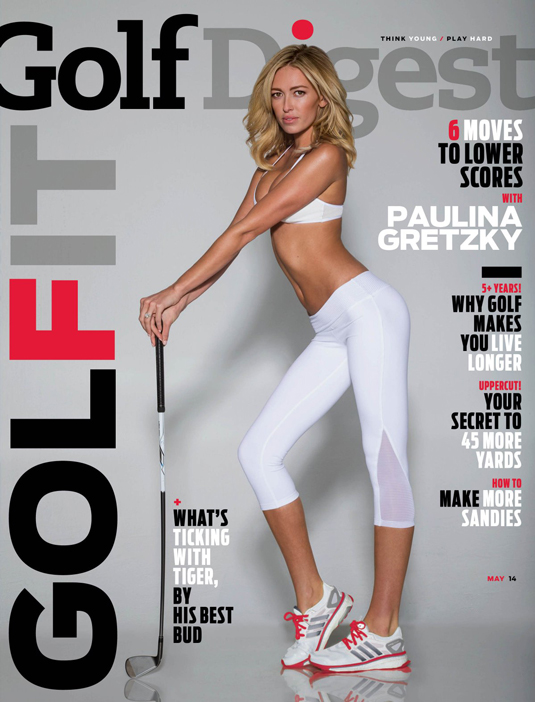 It was announced last month that the 260-year old men-only members' golf club Royal & Ancient, will hold a vote in September aimed at allowing women to join. The move toward female members at the established club was endorsed by Augusta National's Chairman Billy Payne.
Augusta National – one of the most famous golf courses in the world and host to The Masters – only admitted their first female members in the form of Condoleezza Rice 2012. Whether she had to show rank as the former United States Secretary of State just to get her foot in the door is unknown.
Not traditionally known for their progressive attitudes, it wasn't until 1990 that Augusta National allowed black people to enter through their gates as anything other than a caddy.
And this worldly perspective seems to permeate the golf culture as a whole. In steps Golf Digest: started in 1950, GD was sold to The New York Times Company in 1969. The Times company sold their magazine division to Condé Nast (whose titles include, GQ, Vogue, Glamour) in 2001. Its May issue featuring Paulina Gretzky has come to epitomise wider golfing attitudes to 'inclusion'.
11 LPGA golfers have appeared solo on the cover of Golf Digest since 1969. None have featured since Lorena Ochoa in August 2008. The last time a woman graced the cover was in May of last year when the magazine featured Golf Channel personality Holly Sonders.
Gretzky, the daughter of the ice hockey legend Wayne, has recently taken up golf and is the fiancée of the men's world No.10, Dustin Johnson. Forget the success of the Ladies Professional Golf Association and mounting achievements of its members — Golf Digest prove that for a lady to make to their front cover, they themselves have to show a little front.
"Inbee Park wins three straight major championships in 2013. Stacy Lewis, in 2012, becomes the first American to win Rolex Player of the Year since 1994. Lexi Thompson and Lydia Ko set historical benchmarks while blossoming as the Tour's youngest ever champions. And evidently, not one has been 'cover worthy' for Golf Digest." — Mike Whan, LPGA commissioner.
A simple compelling damnation of such flagrant sexism you might think, but Jerry Tarde, Golf Digest's editor in chief has other ideas: "Sports figures, celebrities and models have appeared on Golf Digest covers since the magazine's beginning," he said. "Paulina ranks at the high end of the golf celebrity scene today, and she has a compelling story to tell. She also might get some new people interested in the game."
The contentious issue has even led sports photographer Cy Cyr to opportunistically parody the magazine cover. Featuring an array of pouting men with beer bellies, the images unintentionally reveal the ridiculous nature of it all.
With mild salivation and light titillation taking the form of 'interest', Tarde's reasoning proves that you don't have to be right, to be right on the money — or rather in the money. Because where the world of golf is concerned, we are looking at [whatever their age], a country of comfortable, rich, socially inept old men.