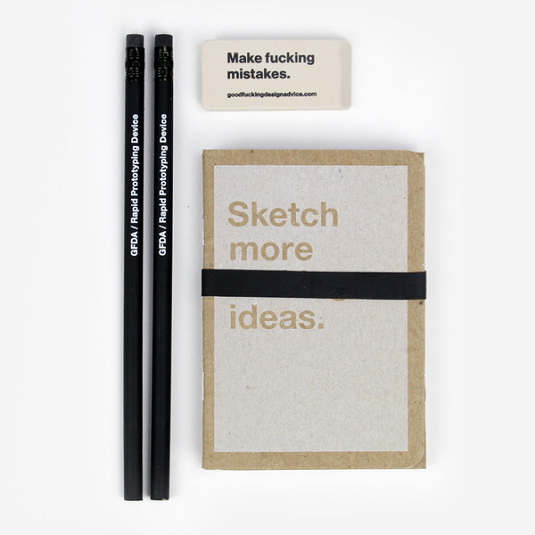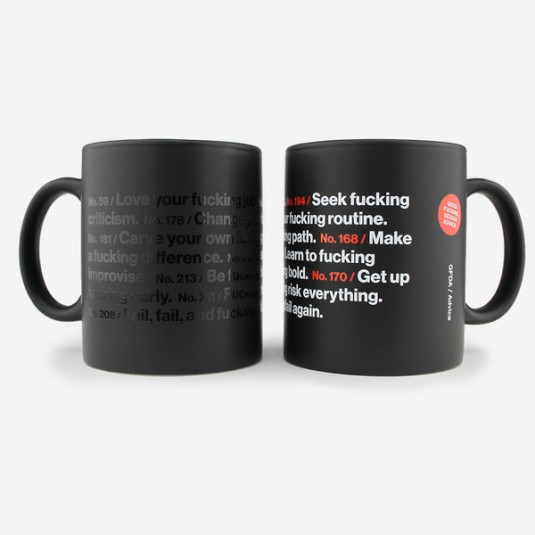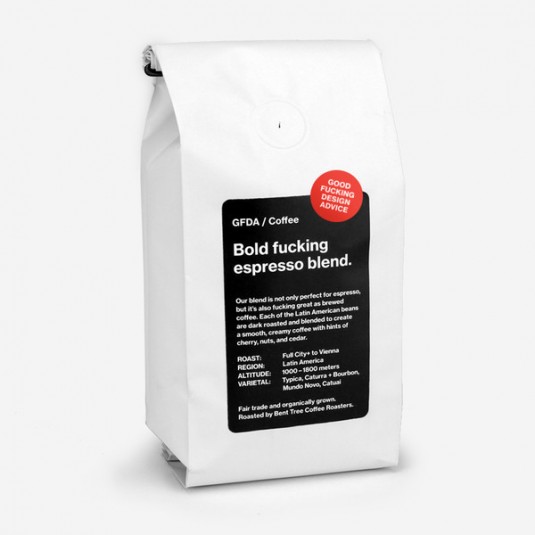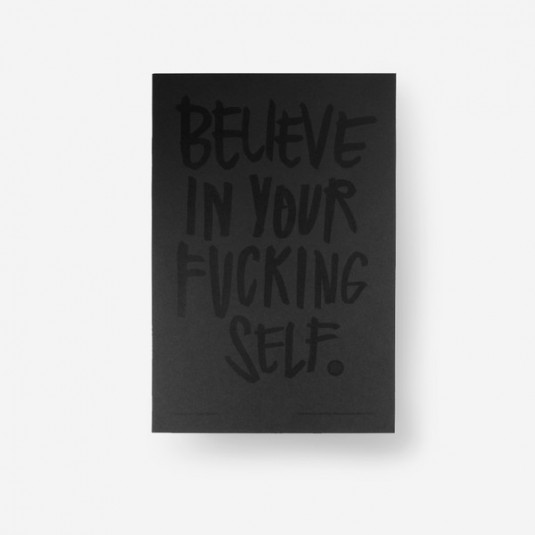 Meet Brian Buirge and Jason Bacher, two dudes with a foul-mouthed message for the design community. Together, these designers co-founded Good Fucking Design Advice (pretty self explanatory, huh?). But they don't just serve up good advice and f-bombs; they are entrepreneurs, educators and motivators 'trading in the commodity of inspiration'.
They are creating a community of creatives who give a damn. They want to inspire you. They want you to inspire the people around you. It's cool to care. It's okay to give it your all. Get fucking hyped and keep fucking reading!
Q) What inspired Good Fucking Design Advice? Was there an 'Aha' moment?
Good Fucking Design Advice started as an accident originally. During our first year as graduate students at Kent State University in Ohio, we were walking back from getting coffee one morning discussing the challenges we were facing as fledgling educators and trying to figure out the best ways to work and communicate with students.
Ultimately our conversation lead to us joking about creating a website like GFDA. We found the idea really funny ourselves and decided to skip out on all the important graduate schoolwork for the day and build the website.
We never intended on creating products or selling anything, we simply thought that some of our friends would find the concept funny as well.
Q) What are your design backgrounds? How has your experience influenced GFDA?
We both attended graduate and undergraduate school at Kent State University. We have a very strong program with intense foundation level coursework based in Swiss design and the international typographic style. While this is not the way that Jason and I design for other projects and for client work, this clearly influences the design and approach of GFDA.
Additionally our graduate school experience was heavily rooted in research-driven design practices, so that education heavily influences all of the things about GFDA that you can't see.
Q) How did the pledge come about?
The pledge was our way of living out a concept where we wanted to collaborate with our audience. At the time we had begun collaborating with individuals and small businesses for various parts of GFDA and we thought it would be a fun/interesting challenge to develop something where we could collaborate with our audience.
Q) Did you expect the pledge to garner so much attention and support?
We really weren't sure how the pledge would be received. We were admittedly very nervous when we first launched it and had only our pictures as people who had taken the pledge showing up on the page. We were delighted to see that after a few days others began taking it and it wasn't long before the page filled up! Obviously we're quite happy with the results so far, we'd love to see more and more people take it with the intent of challenging themselves and sharing it publicly.
Q) What's wrong with the design industry?
Ego. Often you see very talented designers falling into the trap of having a big ego about their work. This results in conflicts with clients and other professionals, and it also stunts personal growth.
The drive for awards and accolades slowly undermines the intrinsic motivation these people had when they first began their practice. Their work ultimately becomes stale as they're no longer creating from their internal compass, but are creating for the purpose of external recognition.
Q) What's right with the design industry?
There's a fantastic community of good-hearted people everywhere trying to push the profession forward. In our travels across the United States last year we found all kinds of amazing people who loved what they did and wanted to help grow the respect and awareness of design as a profession—and many of them did it in their off time on evenings and weekends.
Q) It's often said, "If you stand for nothing you'll fall for anything". Is it important, as a designer, to cultivate a sense of principles or standards for your practice and yourself?
Yes—absolutely. Like anything, it's important as a student and young professional to educate yourself and see what others before you have stood for and then build from there. You don't need to do as others have done, but you need to inform yourself first, it will help immensely.
Q) What does GFDA fucking stand for (apart from the obvious)?
Our goal is ultimately to push people, to help them realize that they are capable of far more than they've given themselves credit for. We see this all the time with our students in a very direct way, so it's our hope that any interactions we have with people (digital or in person) can help inspire them to rethink their own boundaries and limitations. There are no rules—really.
Q) Is starting your own independent venture as easy as 'start up' culture would have me believe?
Oh fuck, people say this is easy? It's hard. Really hard, but it's worth it. What's hard though are things that come up unexpectedly. A lot of people struggle with just STARTING. Putting one foot in front of the other and making that first step. That's actually easy once you do it. It's all the shit that you don't expect and can't plan for that makes the experience hard.
It's also difficult because there's not a clear road map of where you're going and what you're doing. You can (and should) plan, but inevitably you have to be agile and nimble and be willing to change direction at a moments notice.
Q) What has been your biggest takeaway? What do you wish you had known as an aspiring start-up?
Piggybacking onto the last answer, the things that are hardest are never what you expect. So it's a bit difficult to give this kind of advice. Perhaps the best thing to say (and possibly the most cliché) is to expect the unexpected.
Q) As a part of Generation Y, sometimes I just want everyone to shut the fuck up and let me figure it out on my own. Is there such a thing as too much advice?
As a good friend of ours said, "the truth can't be revealed, it can only be arrived at." So yes, there is a thing as too much advice. People can memorize and regurgitate advice and ideas all day long, but until you get out there and start making mistakes it's hard to appreciate that advice. Hopefully it can act as a catalyst, but it can never replace hands on experience.
Q) You're in the business of inspiration, what's inspiring you right now?
Our students — always.
Creativity is a fucking work ethic.
Q) What's the best piece of advice you've ever received?
Creativity is a fucking work ethic.
Q) What's next for GFDA?
Well, that's a big ol' secret. I guess we'll all just have to wait and see. What I can say is to check back in early February for the mobile version of our site that we'll (finally) be launching. We've got some stuff up our sleeve from there.