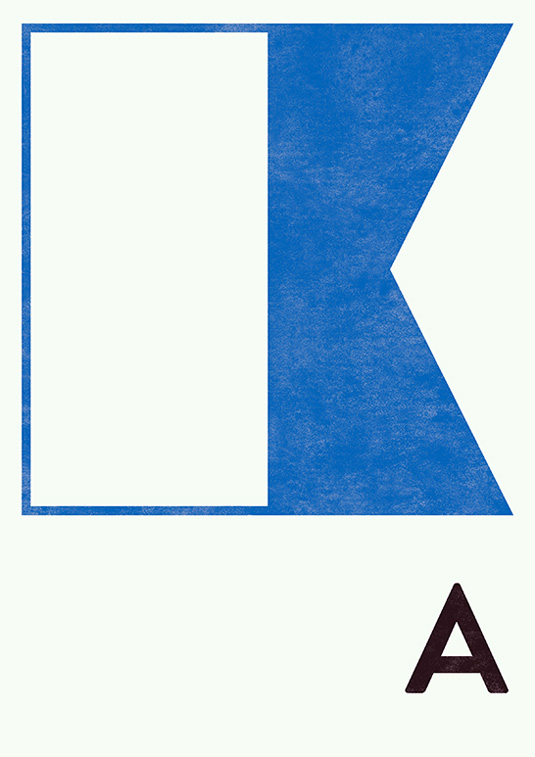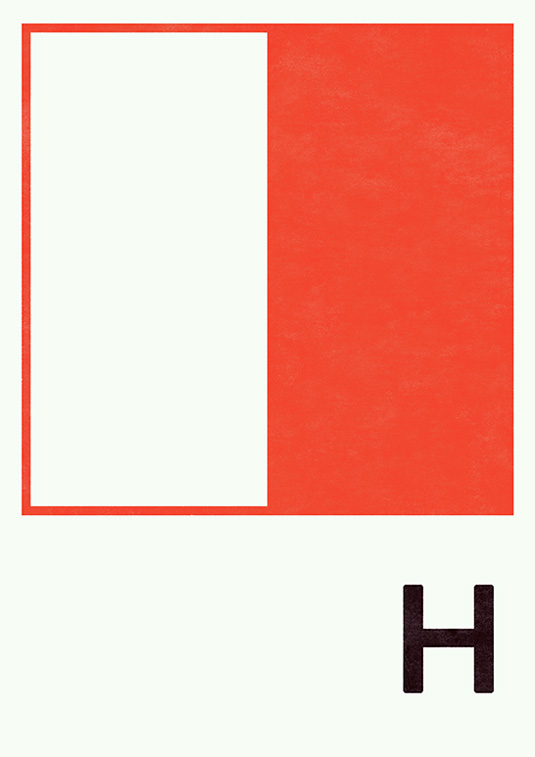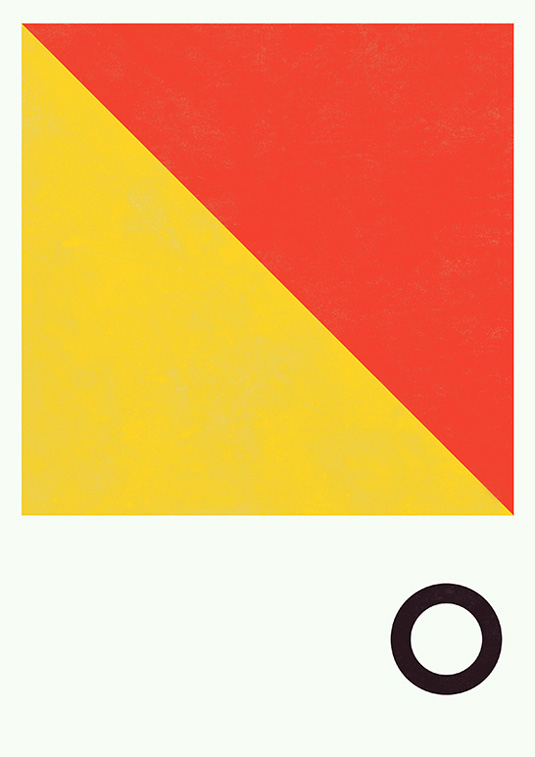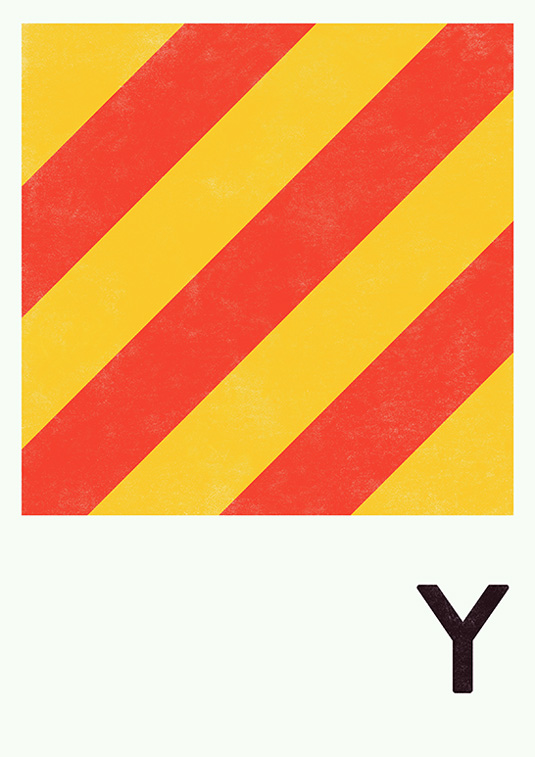 Those of you unfamiliar with the history of naval signaling – you're excused. For those of you looking to learn a little something – here's a Navy Signals 101: 
International Code of Signals provide a means of communication in situations relating to the safety and navigation of persons and their sea fairing vessels, especially when language difficulties arise. This was achieved in 1855, when the International Code of Signals was drafted by the British Board of Trade and published in 1857 as the Commercial Code. The system utilised a standardised alphabet (the letters A to Z, and the ten digits), along with a spoken form of each letter (to avoiding confusing similar sounding letters, such as 'b', 'p', and 'v'), and associating this alphabet with standardized flags.
Now we've got that out of the way, we move onto the re-interpretive work of designer Hana Tanimura, whose Navy Signal Prints project has given the time honoured Navy Signal added graphic gravitas. We had little chat with Hana about how flying the flag of self-iniation can open a door or two. Ship Ahoy mi' maties.
Q) Tell us a bit about Hana Tanimura
I am a multi-disciplinary creative currently working at Google Creative Lab here in London. Before that, I was working as a graphic designer at Mother London. Before that, I was working at the Artwords Bookshop, selling and consuming beautiful books and magazines. Before that, I was studying graphic design at Central Saint Martins – and just before that I was studying painting at NYU. Before that I was probably sitting up a tree making necklaces out of flowers for my cat.
Q) What was the inspiration behind the Navy Signal Print project.
A few years ago I made a series of valentines day cards with messages written out in the International Code of Signals, as a kind of lame protest against the sickly sweet, sparkly valentines cards in shop windows. Each card came with a printed key, so people had to decode the message themselves – keeping a bit of mystery alive. The Navy Signal Prints project came out of this. Instead of writing messages myself, I loved the idea that people could buy a single letter, or a series of letters, and write whatever they wanted on their wall. One customer ordered A1 prints of the letters F, U, C, and K… I would love to see those giant prints in a fancy loft somewhere.
Q) Your series represents an interpolation of the well established international Code of Signals. What process did you go through to find your style with this project?
The International Code of Signals is a well-known visual language, but it has never really escaped the context in which it is used. I guess this is because it has such a singular purpose (for maritime vessels to communicate with one another)… But I encountered them from a different context – from the perspective of a graphic designer. And I saw bold shapes and patterns in bold colours, arranged in all kinds of playful ways to mean something. Very simple but very sophisticated at the same time – like all the best design, in my opinion! So from here it was an obvious next step to bring those symbols out of their intended context, and onto the walls of anyone else who saw in them the same beauty I did.
Q) There's nothing like a bit of paper potential (self coined term). How important was it for you to find the right paper stock?
Because the prints are so simple (primary colours and variations on the square), it was really important to me that they feel as considered and loved as possible. But I didn't want to complicate the design, so that sophistication had to come through some other way. I spent quite a lot of time researching paper stocks, and eventually settled on a slightly textured, off-white stock called Hahnemühle German Etching paper. It has a nice weight to it too, which I think really helped to give the prints that "presence" I was looking for.
Q) Judging by the SOLD OUT signs on your ABOUT page, the project seems to have ben well received. How would you define its success?
I consider it a successful project, but not because the print runs sold out. For me, the true marker of a project's success is it's ability to generate new creative opportunities – and the Navy Signal prints project definitely did. Feedback has been really positive, and some interesting potential future collaborations have come up off the back of it too. This kind of response inspired me not only to keep making personal work, but also to keep putting it out into the world. You never know what will resonate with someone, and what great things could come of making that connection.
Q) Anymore personal projects in the pipeline?
Yes, quite a few. One project that I'm really excited about at the moment involves sourcing vintage colour photographs of cacti, and manipulating them so the plants look like they're melting. I'm printing them very big, on newsprint. And I'd like to start experimenting with wheat pasting – layering, tearing, re-pasting… The Navy Signal prints were very controlled. I'd like to leave more room for surprise with this next project; there's nothing more inspiring than a happy accident.