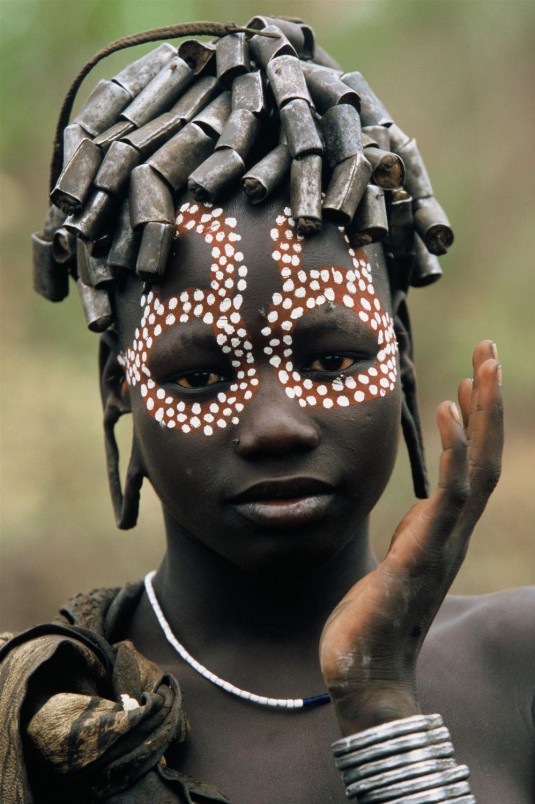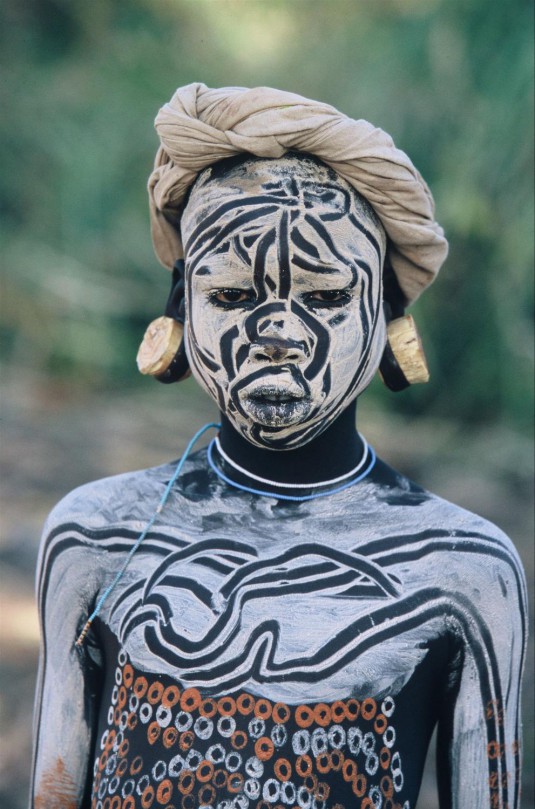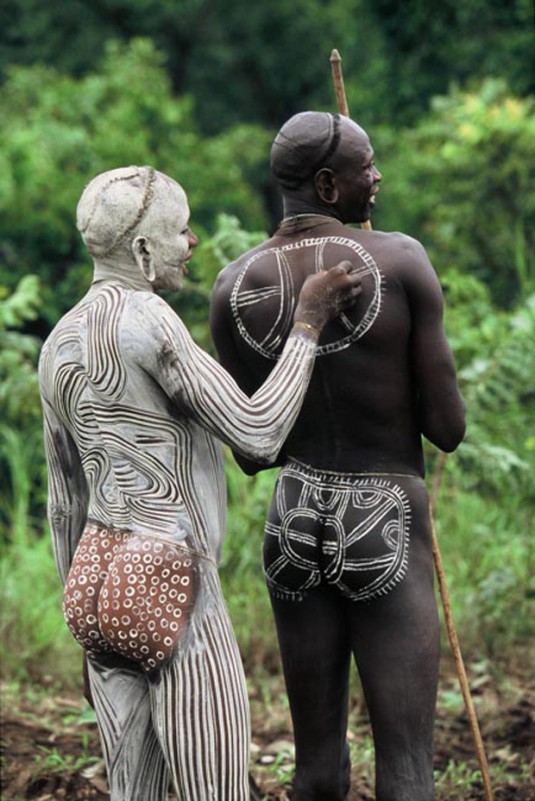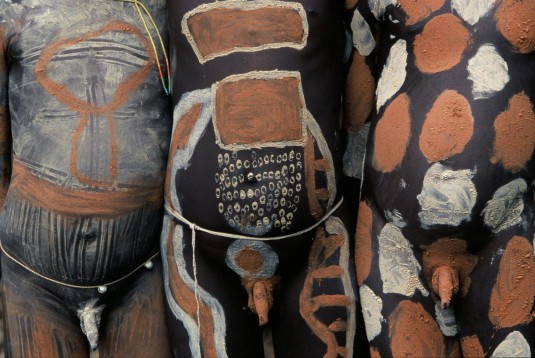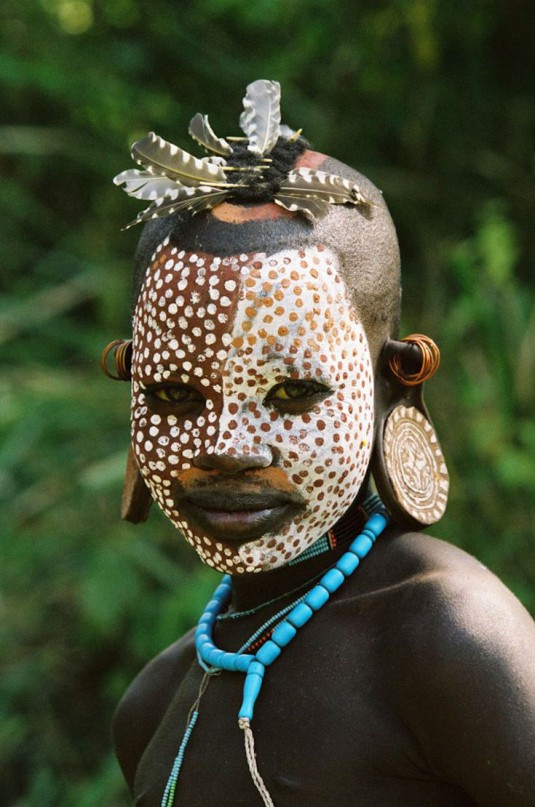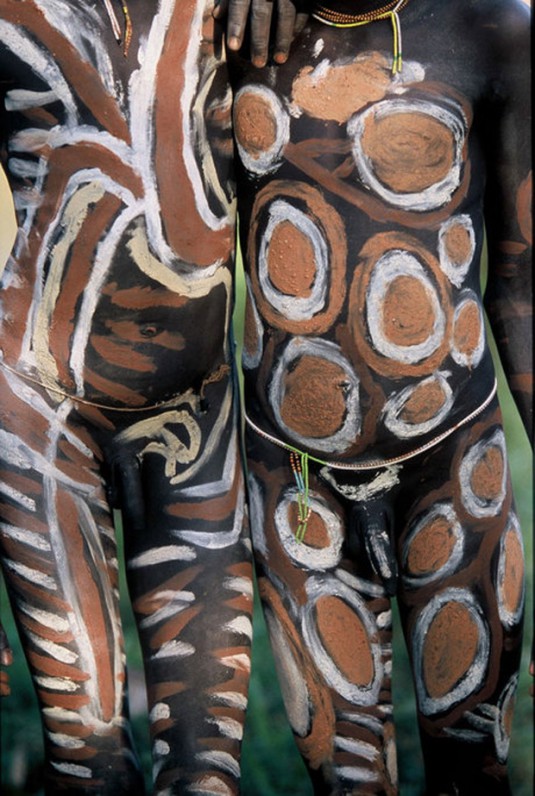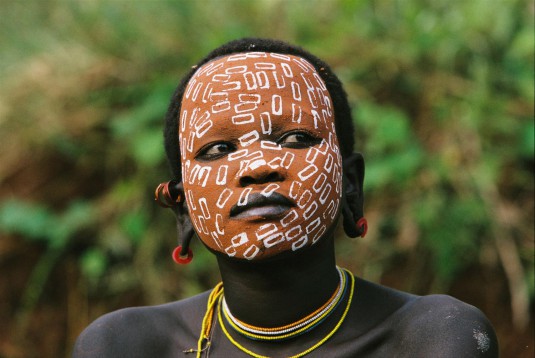 Ethiopia: Peoples of the Omo Valley is a two volume photographic series by Han Silvester. Originally published in 2006, the series features customs, ceremonies, face and body decoration of ancient African tribes in southern Ethiopia & Kenya.
A nomadic people, the Omo Valley communities have become famed for their heritage and the continuation of practices and traditions of their ancestors. However, the communities haven't been untouched by modernity and convenience, it is said [by Han Silvester] that the tribes now carry AK47s to hunt and protect themselves.
Cultural beautification practises of the Surma and Mursi [pictured above] use the body as a canvas. Graphic shapes and patterns are produced using pigments from powered volcanic rock, while headwear and necklaces are created with flowers, grasses, animal horns and other found materials.
Han Silverster spent several years capturing the Omo Valley people as he was adopted into the culture. Since the publication of his original book, Hans has gone on to publish Natural Fashion: Tribal Decoration from Africa, with continued focus on body art and the redefinition of 'body beautiful'.
Deprecated: Function get_magic_quotes_gpc() is deprecated in /customers/3/8/6/letsbebrief.co.uk/httpd.www/wp-includes/formatting.php on line 4387
Notice: compact(): Undefined variable: limits in /customers/3/8/6/letsbebrief.co.uk/httpd.www/wp-includes/class-wp-comment-query.php on line 853 Notice: compact(): Undefined variable: groupby in /customers/3/8/6/letsbebrief.co.uk/httpd.www/wp-includes/class-wp-comment-query.php on line 853 Notice: compact(): Undefined variable: groupby in /customers/3/8/6/letsbebrief.co.uk/httpd.www/wp-includes/class-wp-comment-query.php on line 853 Notice: Theme without comments.php is
since version 3.0.0 with no alternative available. Please include a comments.php template in your theme. in /customers/3/8/6/letsbebrief.co.uk/httpd.www/wp-includes/functions.php on line 4024 Deprecated: Function get_magic_quotes_gpc() is deprecated in /customers/3/8/6/letsbebrief.co.uk/httpd.www/wp-includes/formatting.php on line 4387 Deprecated: Function get_magic_quotes_gpc() is deprecated in /customers/3/8/6/letsbebrief.co.uk/httpd.www/wp-includes/formatting.php on line 4387 Deprecated: Function get_magic_quotes_gpc() is deprecated in /customers/3/8/6/letsbebrief.co.uk/httpd.www/wp-includes/formatting.php on line 4387