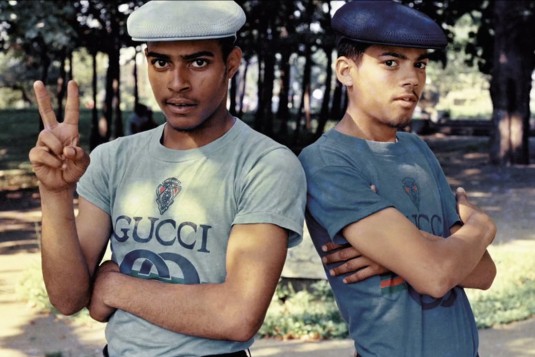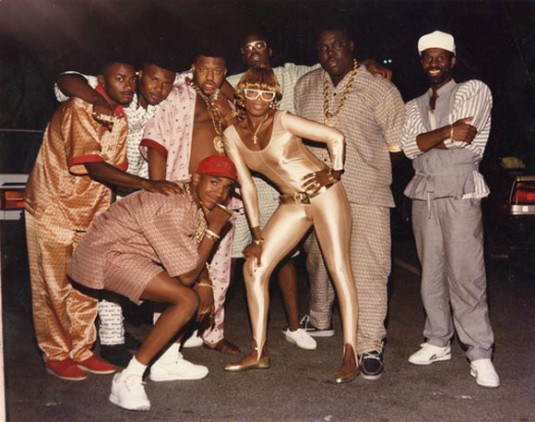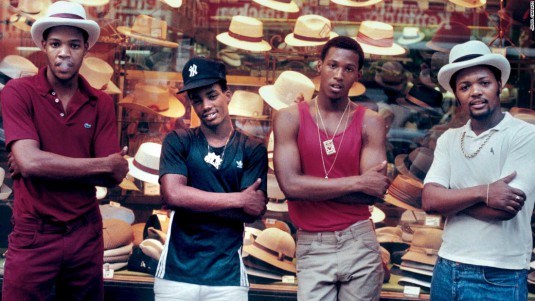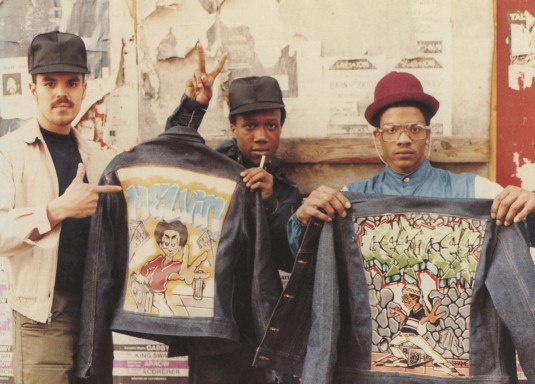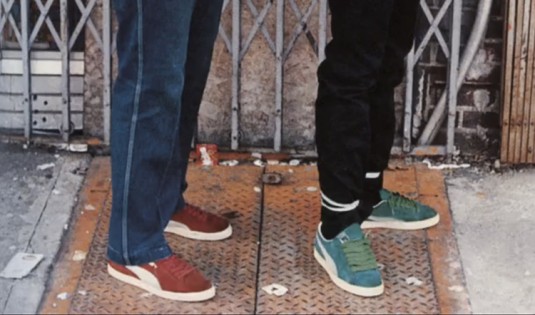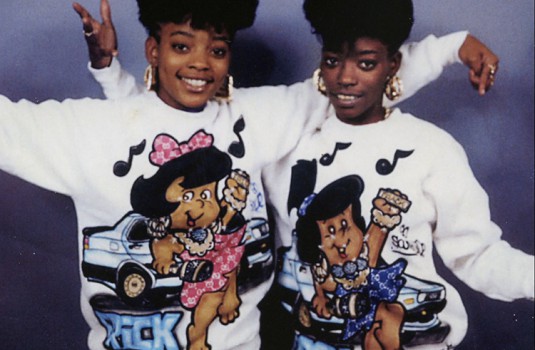 During its 40 year odd reign of popular culture, the omnipresent nature of Hip Hop serves as a case study on the significant impact of culture on commerce. Having spawned a myriad of industries, icons and leading tech company acquisitions, when referencing the Pillars of Hip Hop (rapping, DJing, graffiti writing and b-boying), one missing element has to be style.
Director Sasha Jenkins explores this relationship in his new film: Fresh Dressed. To celebrate the release, experiential events company We Are Parable alongside designer and creative consultant, Richard Mkoloma aka Rich Blk, have curated a 'History of Fresh' bonanza, featuring a screening of the film at Dalston's Rio Cinema as well as a host of activities.
We caught up with creative polymath Richard Mkoloma, whose portfolio includes working with the likes of Puma, Fila, Levi's, Sean Combs, Michiko Koshino, and his new post at Adidas, to find out more about the relationship between music, culture and sportswear. Read on to discover just what he was doing when flicking through his mum's Littlewoods catalogue back in the day.
Q) How did you discover your interest in fashion and what was your pathway?
Fashion jumped me in a sneak attack just after I left secondary school!
I was always into art and sports, plus I liked clothes and used to enjoy flicking through my mum's Grattan and Littlewoods catalogues; selecting the 'good and bad' and my favourite garments, but I never considered fashion as a career. I was exploring BTEC graphic design foundation courses to study after my GCSE's and it was actually my art teacher who suggested fashion as a career choice – after I choose my wardrobe as the theme for a self-portrait / autobiographical art project.
I think the same teacher probably got the application form as well, because I can't remember applying to the London College of Fashion (LCF)! An interview later, armed with just a sketchbook and a copy of 'Right On!' magazine and I was in. I was officially a LCF fashion student on a two-year diploma course and I never looked back. I went on to study womenswear, specialising in tailoring and was good enough to skip the first year of a menswear tailoring degree and completed the final 2 years.
While at LCF I was being pushed to specialise in more 'casual wear' fashion but I was adamant that I wanted to focus on tailoring because I felt that this was where the technical craft was and if I could learn that, then my skills would be sharp and I could add that to whatever direction I took.
My interest was in combining tailoring as discipline with streetwear aesthetics, attitude and a conceptual approach. I challenged and remixed some established rules, pushed boundaries (and a few buttons) in the process – so much so that the biggest compliment I received was a little back-handed – from a doubting design tutor telling me he didn't think I was going to be able to tailor performance fabrics, however, I made it work and he came up to me after a successful college collection and had to give me my due (props!).
That's the formal, educational side of the story. The real 'A-side' was growing up in Ladbroke Grove, West London where there was so much layered style and reference points, from Hip-Hop to rudeboy/ragga style, plus I played sports intensely, went to church (Sunday Best) and wore a uniform to school. Growing up I rocked a wide range of formal and informal clothing and 'dress codes' but once I started to seriously care and be conscious about my look and style – I couldn't afford to follow fashion – it felt natural to synergise all of these influences and sides to me… something I have continued to explore since college.
Q) How do you think being a sportswear / leisurewear designer differs from a 'fashion' designer, if at all? What sort of considerations do you need to factor into your work?
I don't actually consider myself a 'sportswear' designer to be honest. Although I've worked for sports companies (Fila, Puma) I've always designed their more niche fashion/lifestyle capsules, and been tasked with combining the worlds of fashion and sportswear. I did design the men's golf collection at Puma when it first launched globally and though that was for professional athletes, the truth is that golfers are probably the most stylish and fashionable sportspeople (well, our ones were!), with their polo shirts, sweaters, jackets and trousers. It's still on my design bucket list to design a football team collection.
Generally speaking, you always have the end user in mind when designing but the approach when producing a 'fashion' collection, generally speaking, places the thematic narrative and aesthetic – that informs the final look and design of the outfits – at centre stage. When designing for a professional sportsperson, the priority is that their athletic needs are met first. Our job is to use whatever insights, innovations and technology we have gathered to enable them to perform as best as possible; both physically and psychologically.
For example, when designing for golfers who play for hours in varying weather conditions, we created polo shirts that were lightweight, moisture wicking and didn't smell bad! We also designed windproof jackets that didn't inhibit movement or make rustling sounds that would put off a golfer trying concentrate on hitting a small ball into a small hole, hundreds of yards away while under intense pressure. In short, there is absolutely no point in having stylish athletes if they can't perform and do their job in your clothing – the Holy Grail is nailing the balance of optimum performance and looking bloody good!
The separation between style and performance are not as separate as they may have been in the past and we are seeing increasingly stylish looking athletes competing and cool fashionable people looking more like athletes walking (not running) among us.
Q) Sportswear and culture have a tight knit relationship, and has spawned many trends. Why do you think this is?
I think sport is such an intrinsic part of many cultures – you will find someone somewhere participating in or watching some form of sport, whether it's casually with friends, personal fitness to supporting your favourite sports-person or team. Sport is both personal and incredibly social as well as emotional and nostalgic; with that comes an appreciation and association with the clothing, from your yoga outfit to the jersey of your favourite team or personality.
Sport, when played with the best spirit is a reflection of human ideals, of community, self-improvement, teamwork, discipline, fun, achievement, beauty, self-discovery etc… and so reflects many of our personal and collective ideals. Many trends have been created simply by fans following iconic sportspeople who, through their achievements have inspired a following who want to be connected, or simply just love their style and will purchase items they endorse or wear as a show of support and affinity.
Sportswear (as in performance, not American 'sportswear' which generally means 'casual wear') – whilst also being incredibly inspiring and innovative – is essentially practical, comfortable and meets many everyday needs which make it very accessible across social (status) and cultural lines. Everyone can play essentially.
Q) What's your ultimate 'Fresh Dressed' signature look and why?
A signature look? I don't think I have one as my tastes are fluid but it's always a mash-up of various casual and formal influences with Hip Hop at the root.
My favourite quote, which sums me up is by the Craig Mack which I jacked for fashion context: "You can't bite my style cos' my style ain't a style that is a style!"
Q) What we can we expect from the Fresh Dressed event?
I'm really excited about this event in which I'm curating with experiential events company 'We Are Parable!' (who also put on the Do The Right Thing & Love And Basketball events). We have produced an exciting and insightfully dope weekend of activities which has been dubbed 'The History of Fresh' based around the film 'Fresh Dressed' a documentary on Hip Hop fashion directed by Sasha Jenkins with one of the producers being Hip Hop legend NAS, among others.
The event kicks off on Sunday 24th October at the Rio Cinema in Dalston with the original UK Hip Hop Renaissance man Bunny Bread, who will chronicle his experiences as a graffiti artist, B-boy, designer, photographer and video director and introduce the film. Following this we'll have a panel discussion where will be reflecting on the film, adding a British perspective to Hip Hop and streetwear fashion history. We'll be joined by a stellar line-up of fashion experts and professionals including fashion designer Wale Adeyemi MBE (B-Side), luxury shoe designer Marc Hare (Mr Hare), Claudine Rousseau (Programme Director and Course tutor and Thomas Elliot at the London College of Fashion respectively), Angela Philips (of 6:77 Fly Creative – Ruffnecks, Rudeboys and Roll-ups exhibition), myself with the conversation moderated by TV/radio presenter Jacqueline Shepherd.
We then switch venues (cos' thats how we do!) to The Brewery House in London Fields for the after party event. We'll be featuring an innovative audio-visual performance by VisionBombing, who simultaneously spin tunes and screen music videos. We will also have Mr Drez (Hip Hop Back In The Day) spinning some Hip Hop classics, as well as demonstrations, one of the highlights will be Jahmale 'The Denim Tailor' who will host a live drop-in denim customisation workshop.
We are really excited about our showpiece fashion presentation the 'Gods of Fresh': a live performative 'fashion shoot' I created inspired by Greek statues and b-boy ciphers. This will be a collaboration between contemporary urban dancers 'Foreign Bodies Orchestra' (FBO) and photographer Agenda (Visual Marvelry). The presentation will feature some of the freshest new streetwear labels including 4649, No Fixed Abobe, Lyrics4Lyrics, Roodboy and a selection of designers from the lifestyle store United 80.
The weekender continues on Sunday October 25th at The Juno bar Shoreditch High St, in conjunction with Got Soul. We'll have DJ's on rotation playing the best in classic jams from the artists featured in the film and we're asking everyone to be sure to come 'Fresh Dressed' in your Hip Hop finest. Dust off the shell-toes and suedes, Kangols and kicks and come through.
People are in for a treat!
Q) What's next?
I'll be joining a new team designing fashion collections – 3 stripes, a trefoil and something Original. Good times ahead.
::
History of Fresh ('Fresh Dressed' film screening + talk) // 24 Oct, 2pm at Rio Cinema, Dalston // Tickets can be purchased at: Tinyurl.com/freshDressedUK