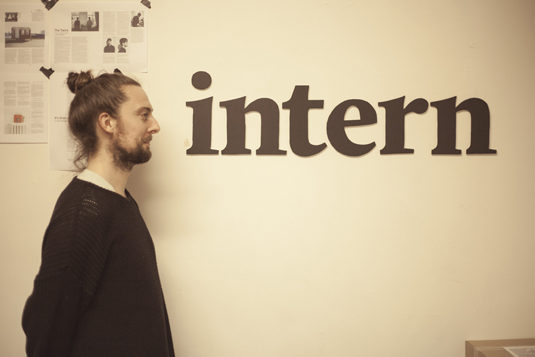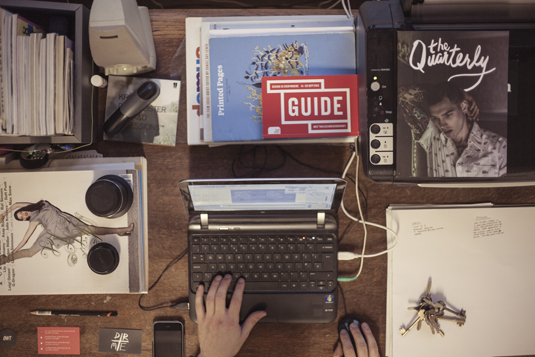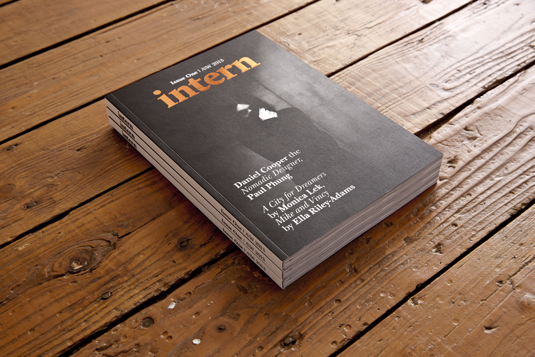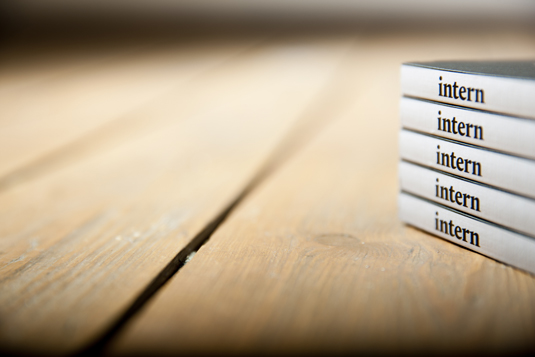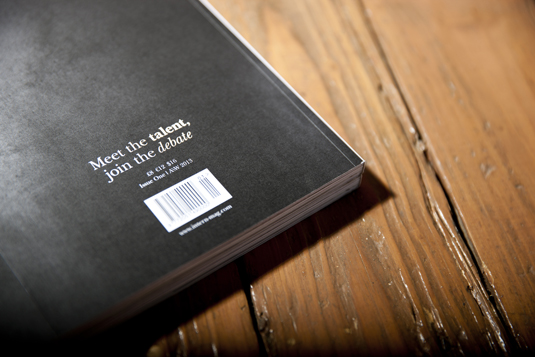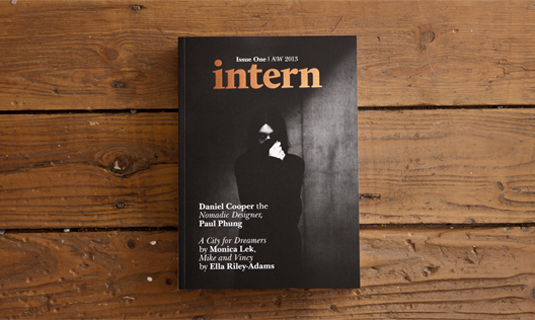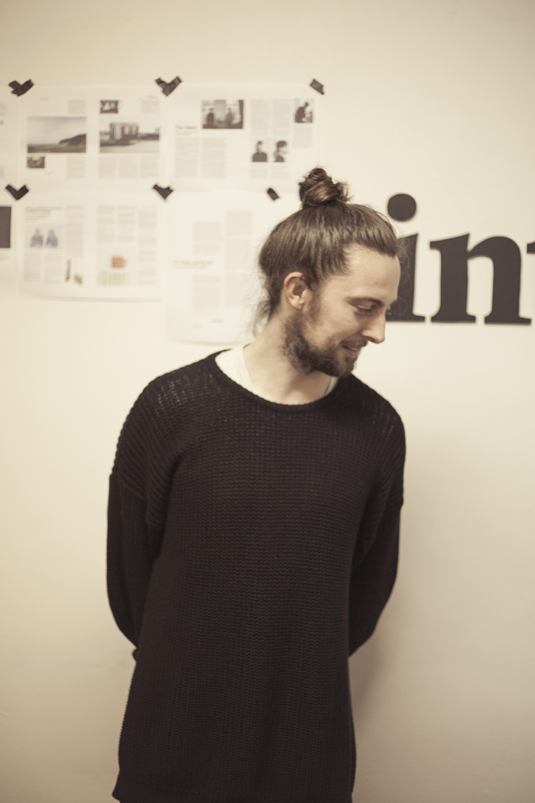 Being an intern is a magical, albeit trying time when anything is possible and everything is too expensive. It's the beginning of a creative life your parents will never understand and the work you never thought someone would pay you to do.
Now, It's about time someone showcased the unpaid talent working in creative fields while opening up an honest debate. Cue Intern magazine, a new bi-annual independent publication that is exploring the culture of serving tea, working for free and making dreams a reality. The man behind the magazine, Alec Dudson fills us in on his personal experiences and how to turn an intern's idea into a working idea.
You just published issue one of Intern magazine, how'd it go?
Pretty well I think, it's early days of course and I won't be truly content until we sell out. Having been on sale for a week, we're nearly a quarter of the way through the print run, which isn't bad considering the magazine comes out every six months.
Where did you intern and what was your experience like?
I spent two months in Milan with Domus, which was really cool and a great introduction to the world of magazines. It has been running since 1928 and stopped production only once (during WWII) so it is a phenomenal institution. To be a part of that, albeit a minor one working on the English language website, was humbling despite my lack of a background in architecture or design (the magazine's focal points). It was a paid position, although I had to wait an inordinate amount of time to get that money.
I then moved to London upon my return to the UK and within a few weeks landed an internship with Boat Magazine. That, while unpaid, was a dream come true. Davey and Erin (Spens, the husband and wife behind the publication) were incredibly open and supportive. I spent seven very happy months there, during which I got to see and be part of every stage of making a magazine. I was elated to be part of the Athens issue and went out to Greece with the rest of the team, it was an incredible experience from start to finish.
It wasn't easy though, in order to be able to afford working for free I slept on friends' couches, cycled everywhere I went and worked a bar job 30hrs a week. It was an exhausting but really rewarding time, one which ultimately was the inspiration for intern, a project that I would have never started without the support and belief of Davey and Erin.
What inspired the magazine?
I guess first and foremost, my experience of internships. The heartbreak came when my time at Boat was drawing to a close and I knew that there was no prospect of a job there. To be fair, the cards were on the table from the start and this was no surprise. I had become emotionally attached to both the people and the magazine though so it still felt like a bad breakup. When I came to terms with the reality that I needed to plan my next move, starting a magazine of my own was something I started to consider. As time passed and I toyed with more ideas, the one I returned to time and time again was this focus on internships. Having gathered together an initial pitch, I put it to Davey. When he gave me the nod, I knew that although I had to refine the concept a lot, that it was what I wanted to develop and work towards.
How did you turn your idea into a reality?
It was a long process; all in all it has taken nearly 11 months from that pitch to the magazine finally coming out. It has been the busiest 11 months of my life with new challenges arising on a weekly basis. As I'm new to practically all of it, as each challenge arises it needs identifying before I teach myself how to solve it. I suppose that is why things have taken so long.
The first step was refining the initial concept, thinking of how the magazine would approach the issue of internships, which is itself a very complex debate. Once I had a decent picture of the publications aims and objectives I had to scour the internet for talented young creatives to feature. Vera Sacchetti (my editor at Domus) told me that the magazine had to have an international reach when I first put the idea to her via Skype. I knew she was right as soon as she said it, so that made finding contributors from an array of countries a necessity.
With a few people onboard and some really nice content to work with, the challenge of raising the initial capital to get the project off the ground was the next step. Having been introduced to Kickstarter at Domus, I began to research crowdfunding. A meeting with Stephanie Pereira (Director of Kickstarter's Art Program) convinced me that intern could work on that platform, so Issue Zero and the Kickstarter campaign became my chief focus.
The month long campaign felt much longer and was a non-stop fund-raising, press and promo operation. We ended up with 125% of our goal though so it was all well worthwhile. Once that happened though, the reality that I actually had to make a magazine was pretty daunting. We've done it somehow though.
What advice would you give other creatives wanting to start their own independent ventures?
I think my best advice would be really nail down your idea and concept before you go for it. Test it on friends, family and peers first and make sure you completely believe in the project. That way, you will think nothing of putting the huge amount of work that is required to give any creative endeavor a chance of taking off.
What is the most valuable thing you have learned since starting your own independent publication?
I don't know where to start on that one; it has all been a tremendous learning curve to me. I guess that one valuable thing I have learned about myself is that I have it in me to see something like this through. It would have been really easy to give up at so many points during the process but I'm elated that I didn't. I always told myself that if I managed to find a job I loved, I would do everything in my power to make it work. Until this project, that theory had never been put to the test so in a way, that feels like a nice personal victory, which is valuable in terms of its effect on my self-belief.
How is Intern striving to be a modern publication in today's digital world?
Well I personally think that print still has a great value and our print magazine is the focus of the project. Every detail down to the paper we use is considered in order to make the publication a tactile joy. That said, social media and our web strategy has been instrumental in building our readership. Add to that our Kickstarter campaign, which funded the project and attracted press from all around the world.
We're very much engaged in digital platforms. As I'm expecting us to sell out of the print edition before the six-month shelf-life of the issue is up, we are currently developing an iPad edition of Issue One, packed full of extras and engagingly interactive.
There is a lot of debate recently surrounding the ethics of unpaid internships. How has this influenced the magazine?
The debate fuels the magazine. We want to present a balanced, unbiased selection of contrasting views on the matter. Our reader should be able to come away from an issue of Intern and be able to make an educated and informed decision of their own on the subject. Obviously, we don't want this debate to be unappealing to those not currently engaged in the intern debate so there are a real variety of features in terms of tone, presentation and content. We want to create something that is enjoyable and entertaining to read, while also being informative and offering thoughtful insight into the issues we're concerned with.
What is your stance on unpaid internships?
My stance personally can't be confused with the magazine's stance. In order to ensure that the debate within the magazine is meaningful, it's stance has to be one of complete impartiality, offering an even platform for all views. We pay all our contributors so I guess that gives away my stance a little. I would like to see an end to unpaid internships, although that will sadly mean the end of some really useful schemes. Without my unpaid internship at Boat, intern magazine would never have come to be, I don't know how I could have got that experience otherwise, as Boat can't afford to pay extra staff members.
The bigger problem though is that an industry awash with unpaid internships, (unintentionally perhaps) discriminates against those who can't afford to live in the likes of London, Paris and New York whilst working for free. By only allowing those who are from affluent backgrounds to get a foothold in the industry, you stand to create a situation in 10-15 years' time when the entire industry becomes gentrified and that is unhealthy. It is particularly problematic for the creative industries, who can't be comfortable with "creativity" being some sort of commodity only available to the financially well off.
Intern magazine showcases interns instead of industry, flipping the recruiting process on its head. Do you think this will help interns of the future have more control over their work experiences?
We hope that not just through the showcase element, but also the debate that we can do just that and empower interns. If the magazine makes someone re-assess what they want (and deserve) from an internship, then great! We want to ensure that a young person can enter the workplace knowing a little better what to expect, giving them the power to best negotiate their own route into paid creative work.
What's next?
Well, we still have a lot of plans for developing the website and using it to expand the project's ideals. While our main focus is our print publication, there is still a lot that we can and in time, will do with our online platforms. Before that though we are developing the iPad edition of Issue One, it's one of the most enjoyable stages of the process so far because the mag is already made and the pressure is off. We're trying to make it a really nice user experience and pack it full of extra content, meaning more exposure for our brilliant contributors, without whom, this project simply wouldn't exist.