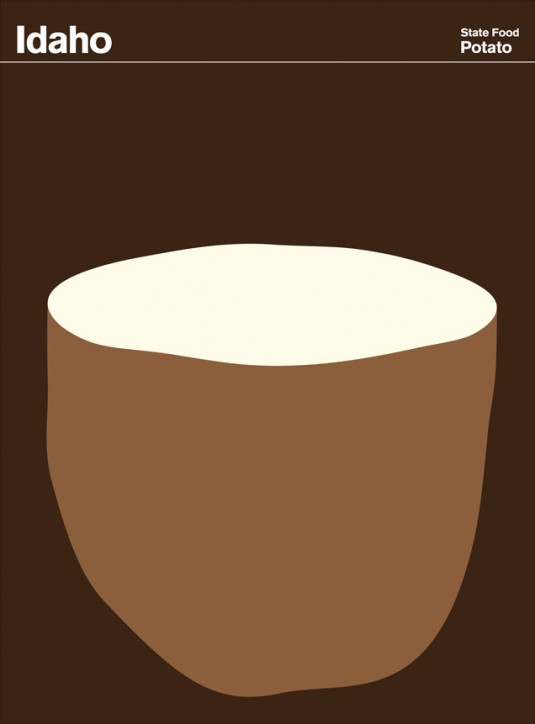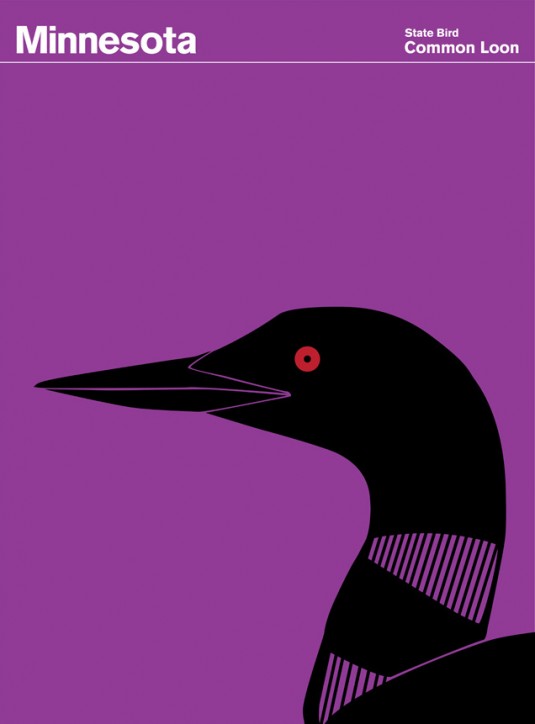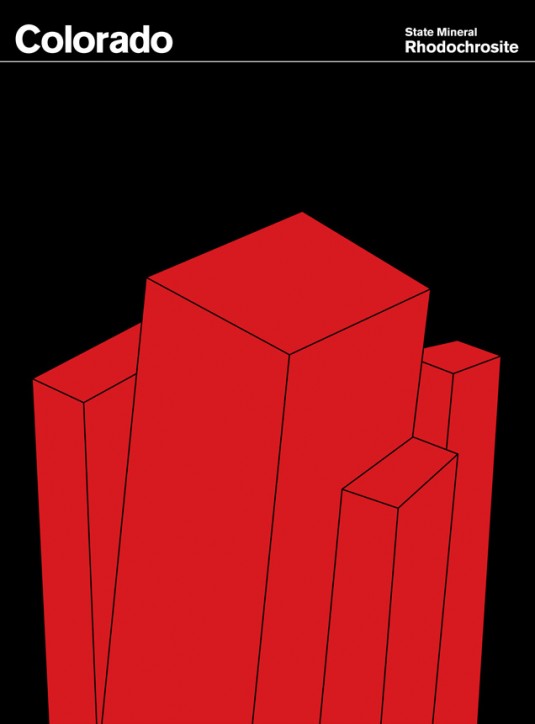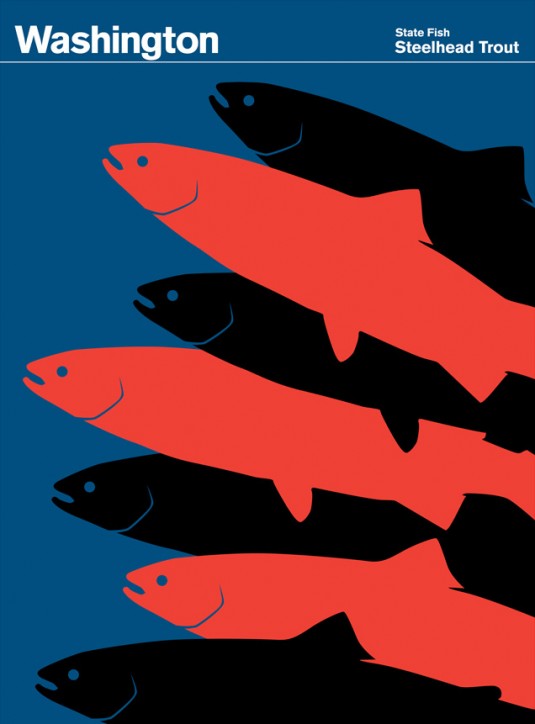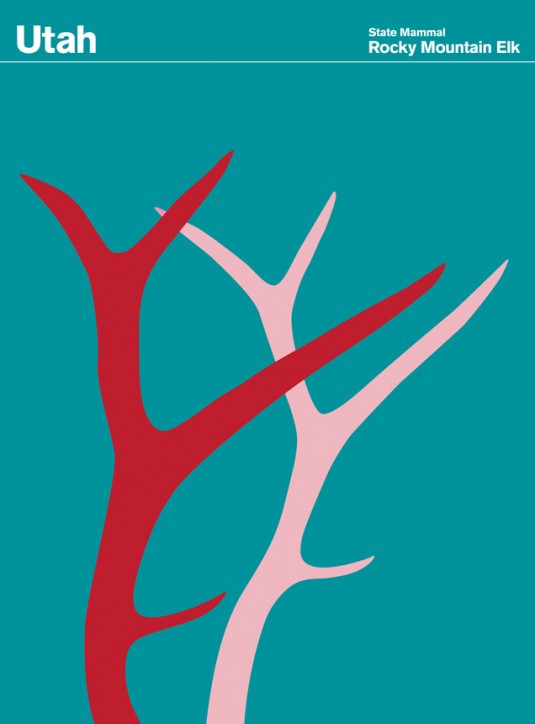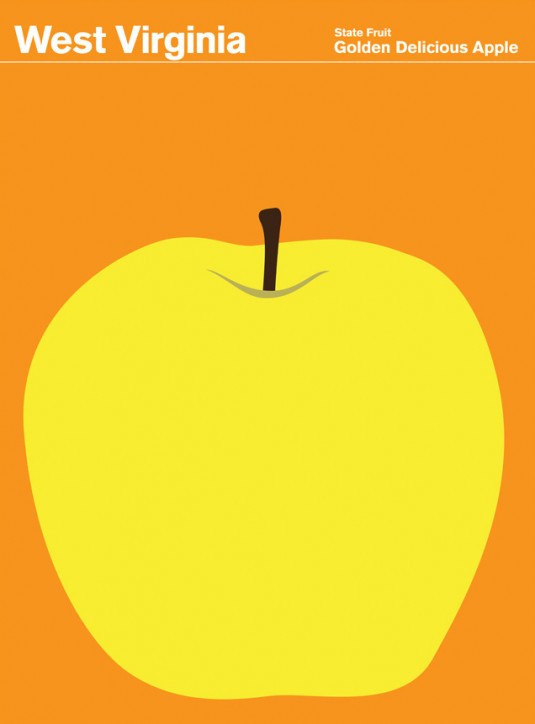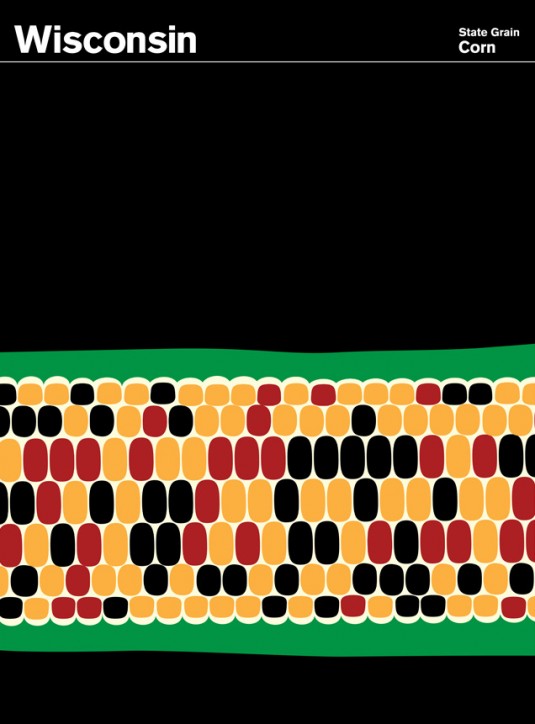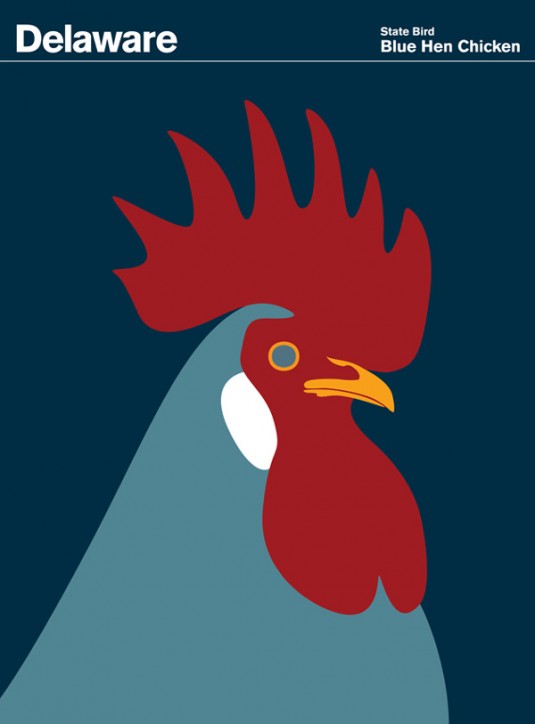 We'd recently come to know the state of Delaware as the home of American corporate tax evasion, otherwise known as a tax haven. Thanks to Julian Montague, we now know that the official symbol of Delaware is in fact the Blue Hen Chicken – who also has the smug look of a massive corporate tax evader.
Recently commissioned to create a series of prints for Print Collection, Montague's series of American state symbols depict sometimes surprising, always interesting and definitely thought provoking forms of official insignia. In the case of Wisconsin fro example, the statewide manufacturing determine the proliferation of omnipresent high-fructose corn syrup, present even in a certain wholesome orange juice. Which to some degree makes corn the unofficial symbol of all fifty-two states.
Fifty (18×24 inch) prints in the series – including birds, mammals, grains, fossils, minerals, insects and more – are available via JM's website. Buy the full set and be the go-to-guy for American trivia, anytime, anywhere. Particularly America.
Deprecated: Function get_magic_quotes_gpc() is deprecated in /customers/3/8/6/letsbebrief.co.uk/httpd.www/wp-includes/formatting.php on line 4382
Notice: compact(): Undefined variable: limits in /customers/3/8/6/letsbebrief.co.uk/httpd.www/wp-includes/class-wp-comment-query.php on line 853 Notice: compact(): Undefined variable: groupby in /customers/3/8/6/letsbebrief.co.uk/httpd.www/wp-includes/class-wp-comment-query.php on line 853 Notice: compact(): Undefined variable: groupby in /customers/3/8/6/letsbebrief.co.uk/httpd.www/wp-includes/class-wp-comment-query.php on line 853 Notice: Theme without comments.php is
since version 3.0.0 with no alternative available. Please include a comments.php template in your theme. in /customers/3/8/6/letsbebrief.co.uk/httpd.www/wp-includes/functions.php on line 4024 Deprecated: Function get_magic_quotes_gpc() is deprecated in /customers/3/8/6/letsbebrief.co.uk/httpd.www/wp-includes/formatting.php on line 4382 Deprecated: Function get_magic_quotes_gpc() is deprecated in /customers/3/8/6/letsbebrief.co.uk/httpd.www/wp-includes/formatting.php on line 4382 Deprecated: Function get_magic_quotes_gpc() is deprecated in /customers/3/8/6/letsbebrief.co.uk/httpd.www/wp-includes/formatting.php on line 4382