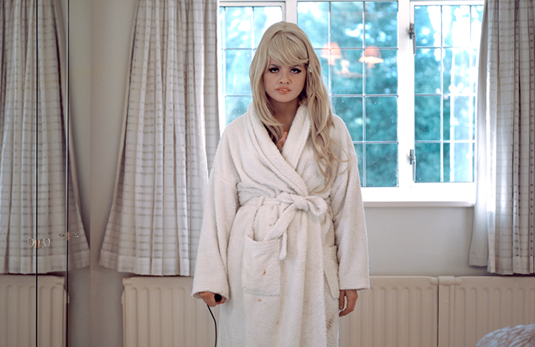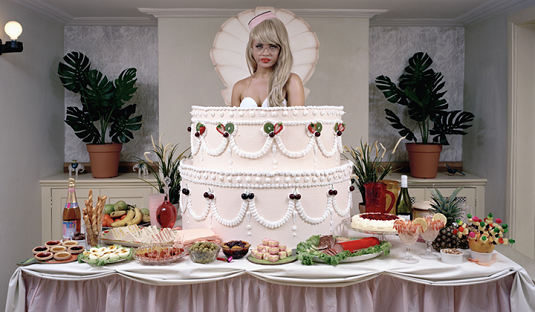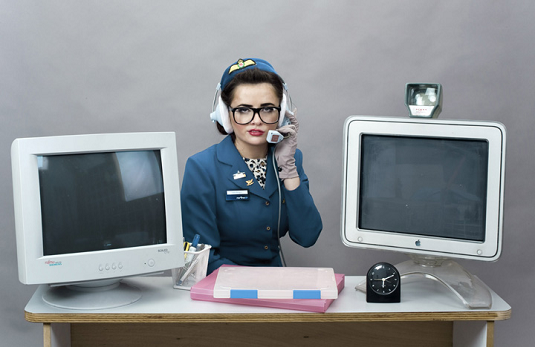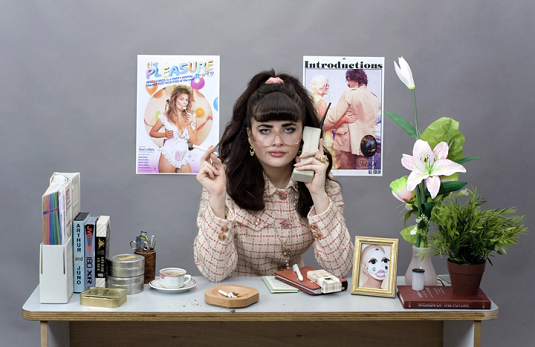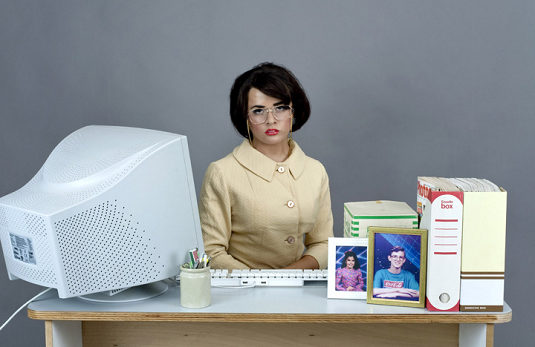 A few weeks back I toddle off to the LCC Accelerator Originators graduate show 2012 to see the latest of crop of graduates. One of my stand-outs from the exhibition was Juno Calypso.
Juno's framed photography graced the back wall of the gallery space with a party tray installation piece of an oversized slice of cake, jam tarts, Battenberg's and a saveloy. Across from the installation there were two screens with images of a glamourous lady looking contemplative.
The first thing that struck me was the theatre of the whole installation. The artist had clearly thought about both the experience of the voyeur and the quality of the photography, which wouldn't be out of place in a glossy editorial.
On further investigation, Juno Calypso is indeed theatrical, with her recent work featuring herself as the fictitious character Joyce;
"Joyce is character through which I perform critical studies into modern female rituals of seduction and beauty – her glazed appearance acting as a mirror to the exhaustion felt by whilst bearing the dead weight of constructed femininity."
Juno's work is a clever juxtaposition of glamourous editorial style photography that tells the very real, yet fake story behind the current western ideals of 'femininity'.
We at LBB were very curious about Juno's inspiration and motivations, and had to find out more…
Q) Tell us something about yourself and your work?
I'm a London born artist, working with analogue, large format photography, and also digital video. At the moment my work focuses on a self-portrayed character named Joyce.
Q) Your work is as strong visually as it is conceptually. What was the process of you deciding you wanted to be an conceptual artist?
My BA degree really fuelled that process. I came from a slightly commercial background so had good technical knowledge, but then they really pushed me in terms of research and critical thinking. You never felt like a student, you were taught to present and view yourself as an artist straight away.
Q) Your work explores ideas of 'femininity' and female representation: what initially drew you to the subject?
It's always been at the centre of my work, but I suppose this project is the first time I began to critique the construct of femininity. Previously, my only desire as a photographer was to create images of women looking hyper-alluring and flawlessly beautiful. But it came to the point where I had to face criticism and question the stereotypes I was perpetuating.
Q) You are carrying on the tradition of the likes as Cindy Sherman – by becoming the subject – when did you first start this process and why was it important to do so?
It started in two stages. I was a teenager during the dawn of camera phones and social media, and so like many others I spent a lot of time just photographing myself. Not necessarily out of vanity, but as a form of self-exploration – just seeing what you look like to other people.
Then halfway through my degree I used myself as a stand-in for a model I was supposed to photograph the next day – and that's where the process began, where Joyce was born. When people responded more to the images of me clowning around, I realised this was an important step in my work.
Q) We're living in interesting times concerning representation of the female image through popular culture from Beyoncé to TOWIE. What do you think will be the impact on young women growing up is such an image conscious culture?
I think you can already see the impact. When I was a kid everyone was worried about what effect Barbie would have. Now look at us. But I don't think fake tan or silicone is the problem – adornment is a human ritual that exists in every culture. The problem is that women now have little choice – consumer culture is teaching women to be repulsed by their natural body, and that spending money is the only solution to low self-esteem.
Q) As an artist what impact would you like your work to make?
To make people laugh at themselves and the absurdities of modern life.
Q) You've recently graduated, what's next?
My work is being exhibited at a group show right now at the Simon Oldfield gallery in London which is up till the end of July. Then later this summer I've been thinking about taking Joyce abroad somewhere – maybe go in character to a holiday resort or cruise ship and see what images I can create there.
Q) Lastly, what's the best thing about being a woman?
Women's humour.
Deprecated: Function get_magic_quotes_gpc() is deprecated in /customers/3/8/6/letsbebrief.co.uk/httpd.www/wp-includes/formatting.php on line 4387
Notice: compact(): Undefined variable: limits in /customers/3/8/6/letsbebrief.co.uk/httpd.www/wp-includes/class-wp-comment-query.php on line 853 Notice: compact(): Undefined variable: groupby in /customers/3/8/6/letsbebrief.co.uk/httpd.www/wp-includes/class-wp-comment-query.php on line 853 Notice: compact(): Undefined variable: groupby in /customers/3/8/6/letsbebrief.co.uk/httpd.www/wp-includes/class-wp-comment-query.php on line 853 Notice: Theme without comments.php is
since version 3.0.0 with no alternative available. Please include a comments.php template in your theme. in /customers/3/8/6/letsbebrief.co.uk/httpd.www/wp-includes/functions.php on line 4024 Deprecated: Function get_magic_quotes_gpc() is deprecated in /customers/3/8/6/letsbebrief.co.uk/httpd.www/wp-includes/formatting.php on line 4387 Deprecated: Function get_magic_quotes_gpc() is deprecated in /customers/3/8/6/letsbebrief.co.uk/httpd.www/wp-includes/formatting.php on line 4387 Deprecated: Function get_magic_quotes_gpc() is deprecated in /customers/3/8/6/letsbebrief.co.uk/httpd.www/wp-includes/formatting.php on line 4387