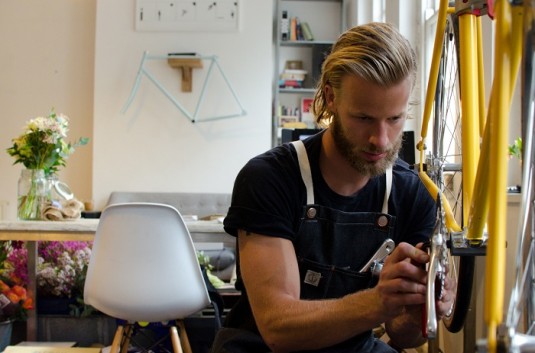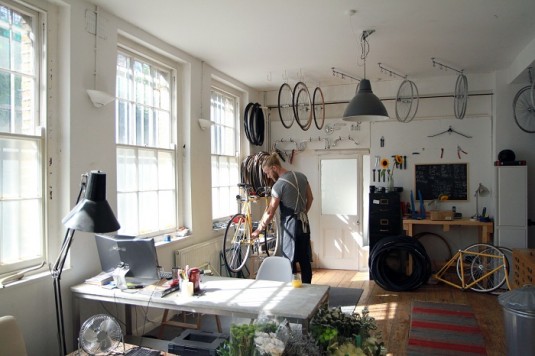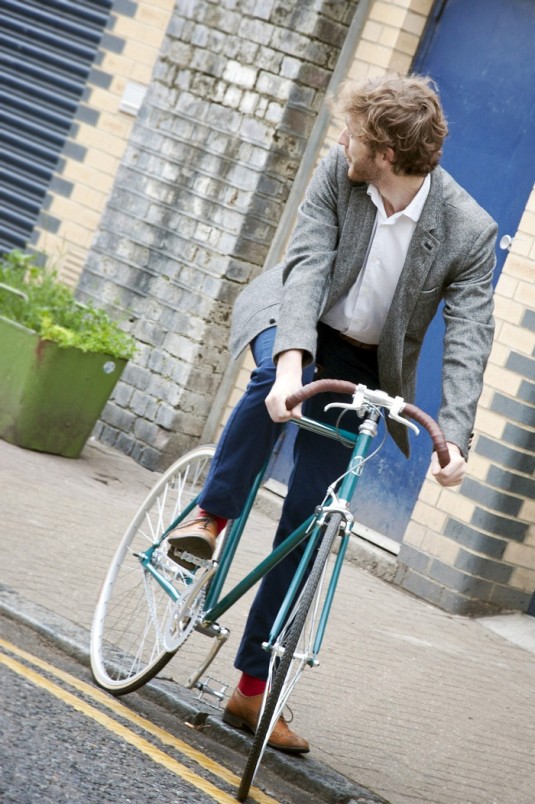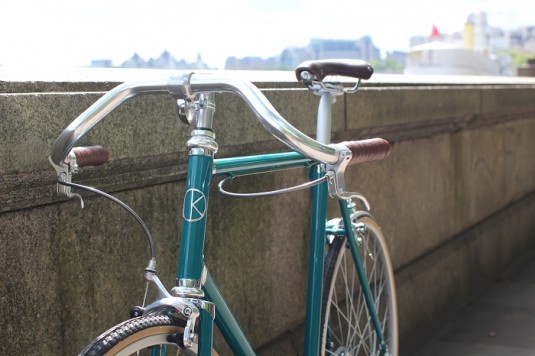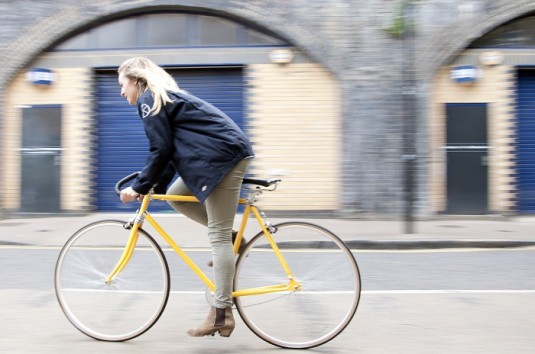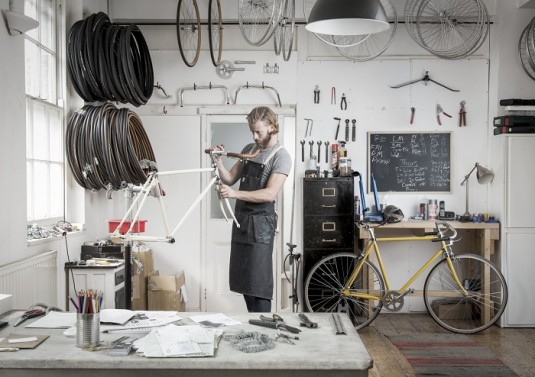 From 'Boris Bikes' to new proposed cycling paths in the capital, London as a city is slowly adopting the cyclist lifestyle. Previously the terrain of the lycra clad, an increasing amount of folks are swapping their travelcards for a push-bike for the daily commute. Some of the first adopters of the cyclist trend were the creative community. See Hackney, Islington, Brixton etc etc.
Former insight and trends forecaster James Kennedy and florist Florence Hill set up Kennedy City Bicycles in June 2013. Not content with the bike models on market, they put their shoulders to the wheel and built their own. They have managed to successfully create a range of beautifully custom-made bikes without the astronomical bespoke prices. And have turned a profit in six months.
We caught up with co-founder James to find out more about their brand, the bike industry, as well grabbing some tips for newbie cyclists.
Q) What were your backgrounds before starting Kennedy City Bikes and how did you end up in the 'bike' business?
I worked in trend forecasting for a company called The Future Laboratory, while also studying social anthropology at the LSE. I ended up in the bicycle business following a dissatisfying shopping trip with Florence, the other half of Kennedy CB, for her first city bicycle. We were pretty dissatisfied with what seemed like a lot of money – to us – could get you. Basically you had to choose between an off-the-shelf number from someone like Evans which felt utterly soulless and impersonal, or a personalised track bike that felt like it was composed primarily of Chinese newspapers. I felt like I knew what we should get for that kind of price, so I spent 18 months trying to make it. The day I realised I could do it and earn us a living at the same time I quit my job and KCB was born.
Q) Were your past career experiences helpful in starting your own enterprise?
Yes. I've written some blog posts in which I don't speak particularly highly of the industry I worked in before but the reality has always been that I learnt a massive amount and worked with some brilliant, creative and intelligent people. Most of all I was surrounded by people with initiative. This is infectious, and surrounding yourself with people who believe anything is possible definitely rubs off on you. My previous employers refused to believe there was anything they couldn't do. Now I like to believe I feel the same.
Q) Kennedy City Bikes offers a customised design service at a relevantly low cost. What inspired your design approach and this type of business model?
That seminal shopping trip for Florence's first ride. We let people customise their bicycle, which isn't new. We offer a good looking bicycle too, but that isn't new either. What's new is that we combine these with a direct-to-customer business model. We manufacture and sell our own bicycles and we never market them through other retailers. The standard bicycle manufacturer model goes: 40% of sales price goes to the retailer (Evans, for example), 40% goes to the manufacturer (E.g. Charge), 20% gets spent on bike components. We have no go between and we're definitely not greedy. Of our £495 sale price we spend about £350 on components. Using the above example a £495 bike in Evans has about £100 worth of parts. It's like Direct Line, but with Bicycles, less irritating and less shit.
Q) The KCB are pretty easy on the eye too. How important was it to produce an aesthetically pleasing design?
It was utterly crucial. The bicycles are like pieces of clothing. Yes, they have practical value, but they are also effectively something you wear. They speak about who you are so for them to be beautiful and something people are proud of is really really important.
Q) You've created a business around your passion. What has been your most exciting accomplishment so far and the most challenging?
The most exciting accomplishment was making a profit inside 6 months of our first year. Creating a business around your passion is all very good and well, but if you can't make any money then you won't be doing it very long. That people like what we made is an amazing and vindicating feeling and we try really hard to make sure we continue to appreciate that every day.
The most challenging part has been dealing with the bike trade in the UK. In my opinion, it's fucked up. There are two main ways in which this is true, but they both stem from arrogance.
The trade distributors themselves (the people who supply bike shops with their parts) have a bizarre attitude that they are somehow doing you a favour by letting you give them your money in exchange for a service they offer. We've been lucky enough to have some good connections from the start, but I see so many small bike businesses who are struggling to get off the ground because big, pompous suppliers won't deal with them.
Bike shops also bother me. Obviously many of them are superb, friendly and welcoming but so many are cold and patronising. I've spoken to a multitude of people who have wanted to start cycling in the past but have been put off by the experience of trying to buy a bike. We've made it our mission to make the process as smooth and welcoming as possible. The day someone says we were snooty with them because they didn't know what a sprocket was or looked down on them for not knowing how to fix a puncture I promise you now that I will punch myself in the ear. Hard.
Q) The cycling trend in cities is on the up, however, in London the city seems slow to adapt to cyclist in regards to planning etc. Do you think the increased numbers of cyclists will have an impact on future decision making at policy level and transport?  What could be implemented to make London safer for cyclists?
London has a problem in that it is old. You can only re-work so much infrastructure when it is part of a network that is centuries old. The safest thing that can possibly be done is to get more and more people on bicycles on London's road. Demand is what decides these things, so the more of us out there the louder we become, but also the more cyclists on the road the more of an impossibility it is for other vehicles to ignore us. There is, however, a burden of responsibility that comes with this – if cyclists are to dominate the roads then people must behave a damn site better than they do at present. If we want to be treated with the respect that other vehicles are, then we must obey the laws as they do.
Q) What top tips would you offer any potential newbie cyclists considering swapping the tube for a bike?
I've got one big practical tip and one big behaviour tip.
Firstly, take the time to look up your local routes. From our workshop in Clapton you can cycle around 7 miles into the West End without touching a busy road, if you know where the blue routes are. You'll be amazed how many of them you see when you start looking.
Behaviour-wise, be deliberate in everything you do. Even if you think you might be making the wrong decision, do it deliberately. We all make mistakes, but other vehicles will always account for you if you're obvious and consistent, it's if you're scatty and unpredictable that you'll find yourself in trouble.
Q) What's next for KCB?
More of the same hopefully! We've just taken on our black frames, which we love, and a new handlebar – the porteur. We've got some limited edition frames in one-off colours which we'll be sticking on the site in the New Year and by the end of January we'll be in possession of our two-speed Automatix hubs. These change between two gears automatically depending on how fast you're going, so they basically look exactly like a single speed, with no gear cables, no shifter, no hassle, clean lines, but with the benefit of a higher and a lower gear to take the edge off those hills.
::
Photography by Julian Love and TJ Phillipson