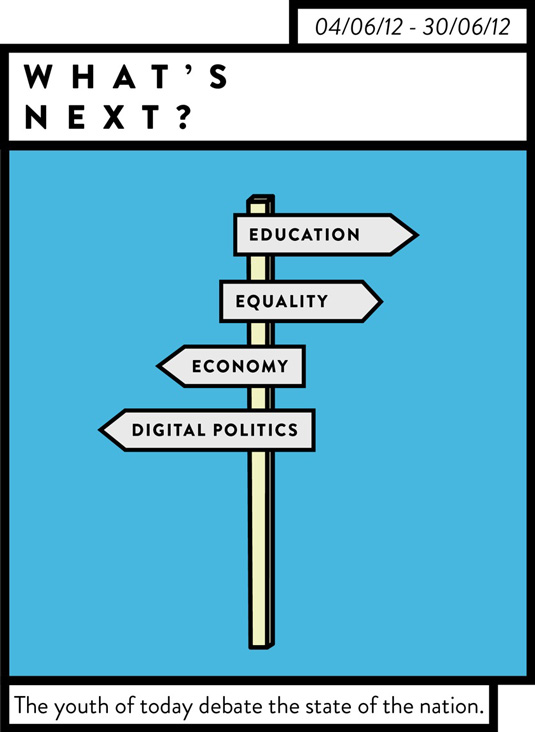 "If you're not angry, you're not paying attention."
So what do you think about the Economy, Equality, Education and Digital Politics. What's Next? aims to find out.
Each week a different art collective, group of technologists, printers, designers will take over the KK Outlet gallery space and create work in response to a live twitter feed as people discuss a specific topic:
Critical Architecture Network
Economy week 4 – 9 June 2012
Girlcore
Equality week 11 – 16 June 2012
Technology Will Save Us
Digital Politics week 18 – 23 June 2012
People of Print
Education week 25 – 30 June 2012
There will be a different panel discussion and workshop each week, exploring the themes of Economy, Equality, Digital Politics and Education. These panels are made up of a rich and inspiring collective of thinkers, doers and activists. Needless to say twenty%extra™ will be involved as part of the education panel chaired by Lawrence Zeegen.
What's next? Do they have big plans on how to right today's wrongs? Do they have new ideas on how deal with the problems they have inherited?
PANEL DISCUSSIONS
For the list of speakers for each panel discussion and to book free tickets, go here.
Economy panel discussion 7 June 2012, 7 – 9pm
Equality panel discussion 14 June 2012, 7 – 9pm
Digital Politics panel discussion 21 June 2012, 7 – 9pm
Education panel discussion 28 June 2012, 7 – 9pm