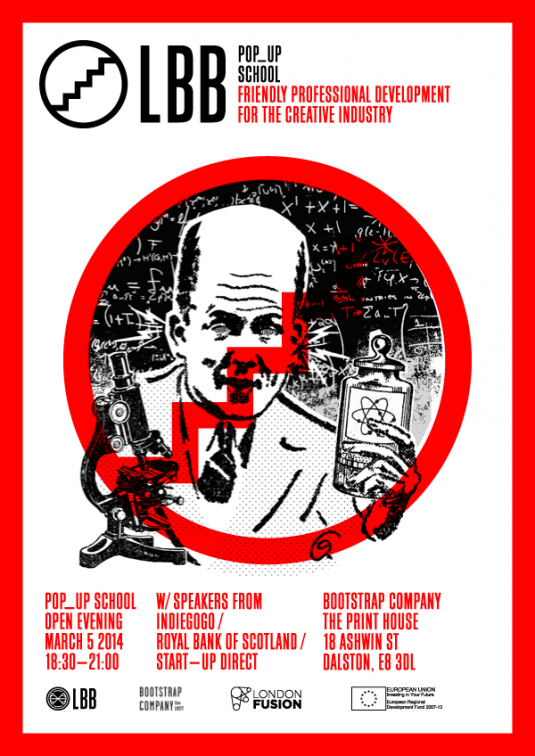 This spring, we're pleased to announce our new curated professional development programme: the LBB Pop-Up School.
From start-ups to seasoned professionals, the LBB Pop-Up School will provide training, insight and inspiration for creative industry.
Designed & delivered by creative industry practitioners, the bespoke syllabus will range from evening master classes to one-day sessions. We'll be delving into a range of topics such as:
Business model & value proposition // Brand building // DIY coding // Music production delivered by CDR // Photographic re-touching with Terry Obiora // Business trends insights with Courier.
This two-week knowledge extravaganza runs from 17-28 March 2014, and will also host a series of talks with industry practitioners. Come and discuss topics such as the future of sustainable design (hosted by Good Design blogger Joseph Maduma), why 'mobile is massive' with tech journalist Kirsty Styles and building creative communities on and off line with the founders of NTS Radio and People of Print.
To find out more about what will be on offer, pop down to the LBB Pop-Up School Opening Evening on March 5 2014 – 18:30-21:00.
We'll be getting straight down to business on the night discussing finance and crowdfunding with guest speakers from Indiegogo, Royal Bank of Scotland and Start-Up Direct. You'll also hear more from us and our partners, London Fusion and Bootstrap Company on how they can help you and your business.
There's some free booze on the night, so make sure you RSVP. And get there early.
::
LBB Pop-Up School Open Evening // March 5 2014 — 18:30-21:00 // Bootstrap Company, The Print House, 18 Ashwin Street, Dalston, London E8 3DL