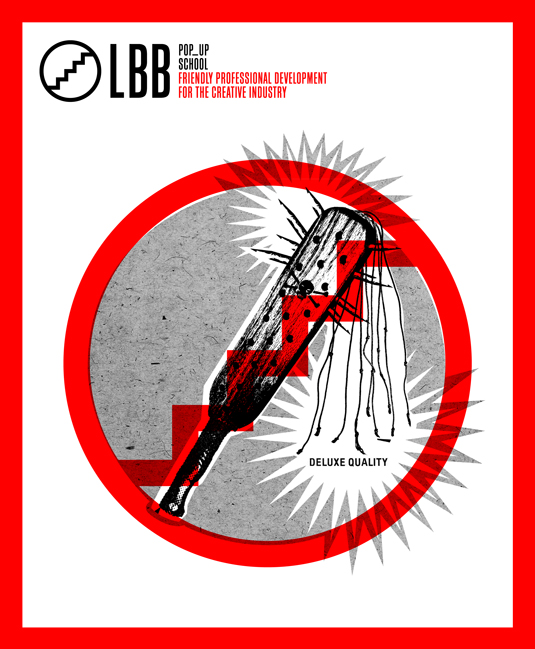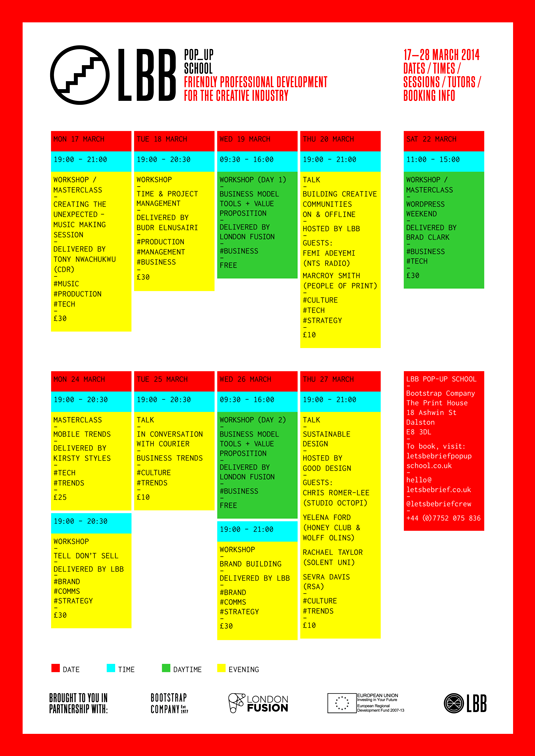 Running a creative business is one big learning curve. Often at the forefront of innovation, the creative industry is changing at an ever-faster pace – both technologically and culturally.
These all-consuming challenges can make it difficult to make time for the broader learning that can both develop a business and help it to stay relevant. But have no fear, as we're here to help do just that, with the LBB Pop-Up School.
For two weeks between 17-28 March, the LBB Pop-Up School will be offering a range of master classes, workshops and talks at Bootstrap Company in Dalston.
Designed & delivered by creative industry practitioners, the bespoke syllabus will range from evening master classes to one-day session and talks on the following topics:
— WORKSHOP: Brand Building w/ LBB
— WORKSHOP: Business Model Tools & Value Proposition w/ London Fusion
— WORKSHOP: WordPress Weekend w/ Brad Clark
— WORKSHOP: Create the Unexpected – Music Making Session w/ CDR
— MASTERCLASS: Tell Don't Sell: Modern Marketing w/ LBB
— MASTERCLASS: Time & Project Management w/ Budr Elnusairi
— MASTERCLASS: Mobile Insights w/ Kirsty Styles
— TALK: In Conversation with Courier: Business Trends
— TALK: Sustainable Design hosted by Good Design w/ Chris Romer-Lee (Studio Octopi), Yelena Ford (Honey Club & Wolff Olins), Rachael Taylor (Southampton Solent University), Sevra Davis (RSA)
— TALK: Building Communities On & Offline w/ Femi Adeyemi (NTS Radio) & Marcroy Smith (People of Print)
Sessions range from FREE to £30. To book a session, visit: www.letsbebriefpopupschool.co.uk // The two-week roster is also available as an interactive timetable.