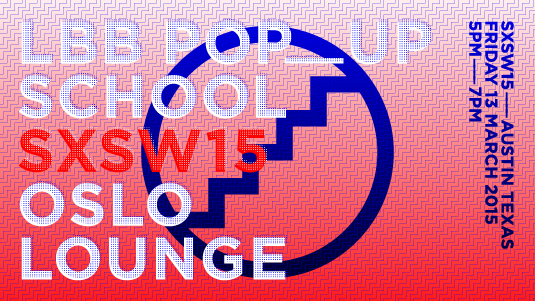 A year ago we launched the first LBB Pop-Up School at Bootstrap, Dalston. Our ambitions were high: to bridge the gap between culture and business for creative entrepreneurs, through relevant training and a good dose of cerebral inspiration.
A year on, we are super pleased to be running our first ever stateside LBB Pop-Up School at SXSW Interactive. On Friday 13 March, LBB Pop-Up School will be part of the Creative Cities Alliance at Oslo Lounge, Austin, Texas.
We will be discussing the topical subject of "The role of locality in the age of connectivity."
In an ever increasingly 'connected' society defined by globalisation and the Internet, are ideas of 'place' important to business anymore? With more 21st century businesses built upon a sense of shared psychic distance and community, we'll be exploring the notion of 'place' and culture — examining their significance to businesses / brands that have harnessed the power of 'locality' to inform their work.
Our panel features speakers from Hackney (Start-up entrepreneur – Vincent Dignan), Oslo (Oslo's Vice Mayor – Hallstein Bjercke) and Austin (Photographer / creative entrepreneur – Jay B Sauceda).
This is a free event but you'll need to register to hear the good stuff.
::
THE ROLE OF LOCALITY IN THE AGE OF CONNECTIVITY // 5 -7 PM // CREATIVE CITY ALLIANCE – OSLO LOUNGE – SXSW INTERACTIVE // 607 TRINITY ST. AUSTIN TX 78701