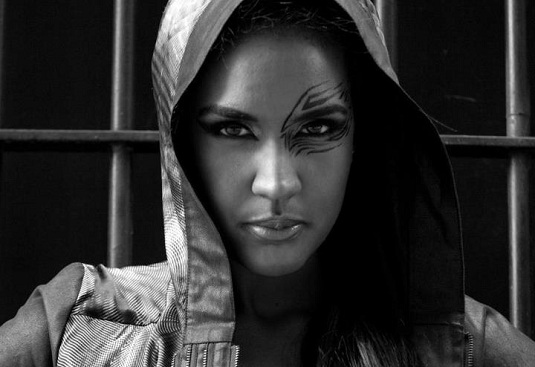 There are artists who make music to get-rich-quick and there are those who create a legacy, building careers that last a little longer than the 'flash in the pan' variety. LeaLea Jones falls into the latter.
Honing her craft for the past few years as a songwriter for labels such as BBE, Def Jam and Tru Thought Records to Rhianna, LeaLea set up her own label Cherry Fair and has since shared a stage with Jay Z, Beyonce, Amy Winehouse, Root Manuva, Bonobo, and Little Dragon.
LeaLea Jones is an exciting prospect for the music scene, a soulful voice singing with punk sensibilities, wrapped up in electro led production. We found out some more about her recent release AK-47 and what would she say if she bumped into one of favourite artists in a lift?
Q)You're in a lift with your favourite artist/producer – who you would love to work with – you've 1 min to tell them what you've done and what you do, what do you say?
Wow this is a tough question as there are so many people I'd love to work with!! If I've got a min with a favorite artist then I'd probably act ridiculously star struck and giggle, failing to form a sentence all together leaving Mr ? thinking I'm a freak. If I do manage to spell it out I'd probably try to invite them back to my home town of Hackney, buy them a Lamachan and perhaps try and get them to see me perform. I would then try to rope them in to singing Purple Rain with me. Ohh think I gave a bit too much away there 🙁
Q) Who would that artist be?
Prince
Q) You've been building up a solid career behind the scenes writing and producing for other artists, how has that influenced your own music and decision making?
Writing for others gives you a clearer understanding of what you're trying to achieve from a song. Figuring out the artists/producers personality and making sure that's identifiable in a song whether that be in it's sound or it's content is massively important. It makes you realize how important it is to find your signature mark/style, one where people can go ahhh… I know that voice! Working and collaborating with other incredibly talented musicians has definitely taught me loads and helped me discover new styles and experiment with different sounds.
Q)What is AK47 about and what influenced you to write about such subject matter?
AK-47 – is a song about war and more specifically; The Drug War. With the use of cocaine on an all time high in Western parts of the world, we wanted to give a voice to people who suffer as a result of the drug trade and who would otherwise be unheard. After visiting Mexico and seeing firsthand the devastating result of the drug war, Kim (my songwriting partner) and I felt moved to write this song.
Q)Your music touches on a range of subjects such as social issues to personal development, is it important to you that there is always a strong song writing / storytelling side to your music and why?
To me its massively important to write about something that has meaning. That's definitely my intention when writing a song, everything else ends up developing from that and a story starts to form. Music is such a powerful, incredible tool to share ideas and communicate thoughts so I think it's important to keep your message strong.
Q)What's next for Lealea Jones?
Just finished the album so a release early next year and a tour to follow is excitingly on the cards!