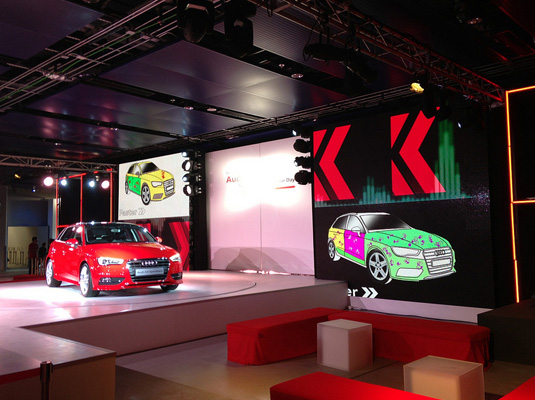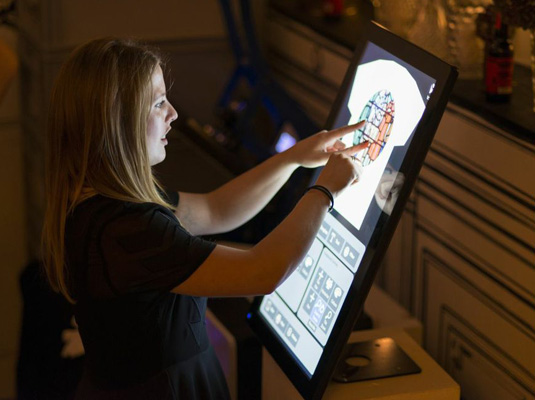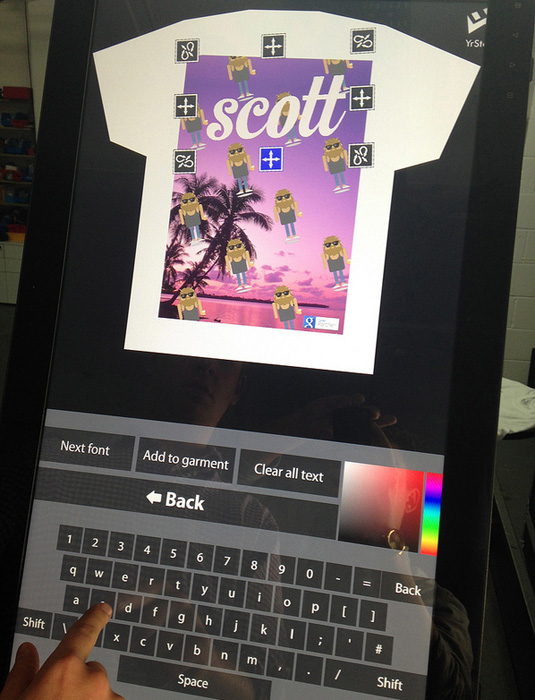 They may not have a slide in their office but the guys behind Luma know how to have fun. Born from the Bristol club scene, Luma was founded by Tim Williams and Tom Hogan. Together they pioneered the first digital graffiti wall, funded by Deborah Meaden and Peter Jones of Dragon's Den.
By bringing digital innovation and interactive technologies to the head of retail experiences and events, Luma's creative technologies empower consumers to fashion the trends and big brands are taking notice. The tech start up has already worked with Nike, Google and MTV (to name a few). Luma turns the old mantra on its head; make people want things make things people want. Ok guys, we're listening.
Q) Tell us a bit about Luma.
We were doing some very cool things for festivals and clubs in Bristol and we knew we could build a company by offering our services to corporate clients. In a short summary of what we do – we add digital excitement to events and retail spaces, engaging guests and customers with brands in new and exciting ways.
Q) What came first the tech or the idea?
Luma is built on the premise that amazing tech exists already; we just find new and exciting ways to use it. So neither came first, they go hand in hand!
Q) This past summer you launched the YR STORE a futuristic pop up shop at Box Park and since then in Topman, how was the pop up experience?
Incredible – YR STORE was a concept that we were going to run for four weeks to promote Luma products. YR STORE allows customers the chance to design their own all-over print t-shirts, sweatshirts and vests – with more garments being added all the time. This isn't about a tech experience; it's not about putting what you want on a garment. YR STORE is a fashion brand where you curate and create one off designs and watch as its printed live in front of you.
The first pop-up went down really well and we saw a market that we hadn't realised would be so exciting to tap into. Customisation and uniqueness are key trends, along with print so we really came in to this area at a great time. We moved from our Carnaby pop-up to Boxpark and then opened the Liberty pop-up for 8 weeks. At the same time, we opened Topman as a permanent concession. We have Selfridges concession opening on 3 March and a couple more stores to be announced.
Q) The technology allows consumers to design and print bespoke t-shirts within minutes as well as virtually try them on. How will this influence the future of retail and design?
The high-street retail experience needs to move on and really engage consumers in new ways and I think we have shown that you can seamlessly integrate digital into physical spaces. We have a lot more that we are working on and I expect other brands and concepts to bring more digital to the high street.
By empowering consumers and allowing them to design their own garments we have created a really innovative supply chain that means we do not have to respond to seasons and can activate trends in seconds, not weeks. I think others will be watching as we grow!
Q) From bespoke clothing to digital graffiti, your technology makes creativity inclusive and damn fun. Was that your initial ambition?
Yes it was. Fun has been the core concept of everything we do. I do not mean fun in the sense that we all sit on pink fluffy sofas and have a slide in the office, we don't, but we enjoy having fun and want to make all our products and services have a core element of fun running through them. I am pretty dismissive of interactive experiences that serve up no excitement to the user – they just aren't engaging. By making things fun we engage people much more, I think that's been to key to our success so far.
Q) How do your hardware and software innovations propel businesses and brands?
Well for that just look at YR STORE, without our tech and innovative thinking the brand wouldn't exist. We complement brand strategies and we are a simple add-on – no need to reinvent the wheel when brands can just use one of our off the shelf solutions.
Q) You've worked with the likes of Nike, MTV and Google. Have you noticed big brands moving away from the 'sell, sell, sell' model and shifting toward more interactive strategies?
Absolutely – it's not moving away from sell, sell, sell though, it's about engaging people in the brand so they feel part of it and included in something amazing. This in turn is likely to foster loyalty to the brand and in turn increase sales and stop consumers shopping with other brands. The brands we work with recognise experience is key to retail and engagement.
Q) As an independent creative company, what has been your most exciting accomplishment so far?
The Nike Fuel Station concept store at Box Park – we designed and built solutions from scratch that seamlessly blended digital and physical to create a super-cool retail space. The end result was amazing and we are very proud.
Q) What has been your favourite project/collaboration to date?
I am biased – I love our YR STORE brand and we have a very exciting future planned with an app and online element coming soon that will push the boundaries of interactive and personalised fashion even further.
Apart from YR STORE, our work with Nike on the Boxpark store was and still is revolutionary in retail – it was an incredible experience and an honour to be part of.
Q) Technology has become a vital part of the creative industry. How will technology continue to influence creative practice in the future?
Tech underpins everything, and not just the creative industry. It's weaved into every strand of life today. Its influence will fluctuate with trends but as today's children grow up expecting to be able to interact with everything, tomorrow's children will demand even more.