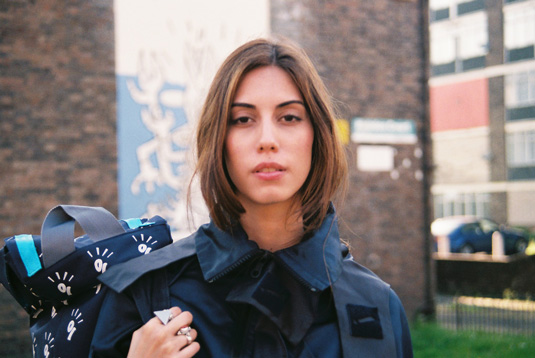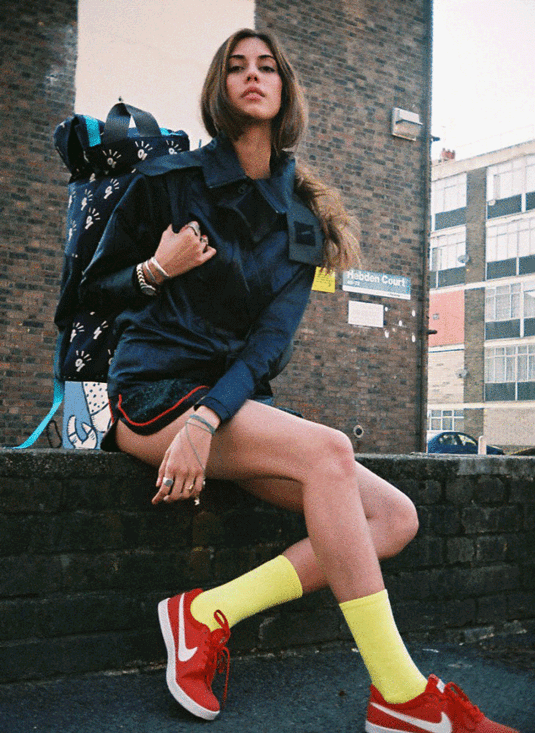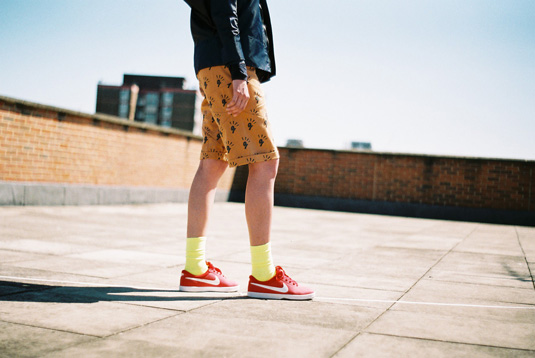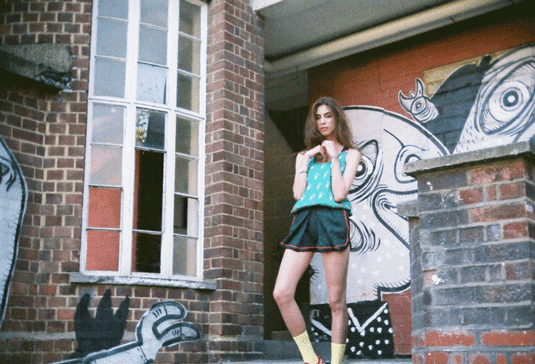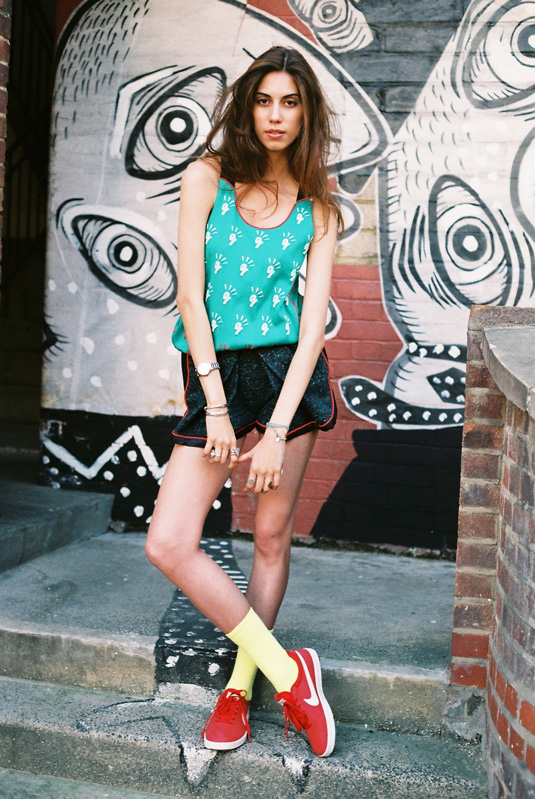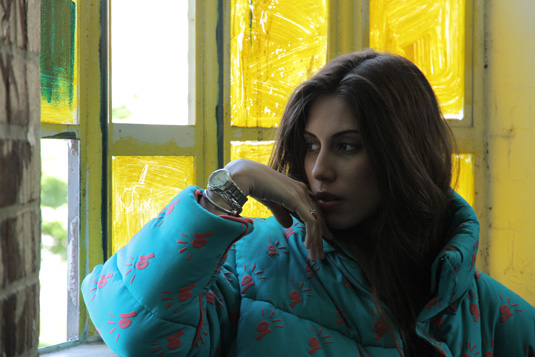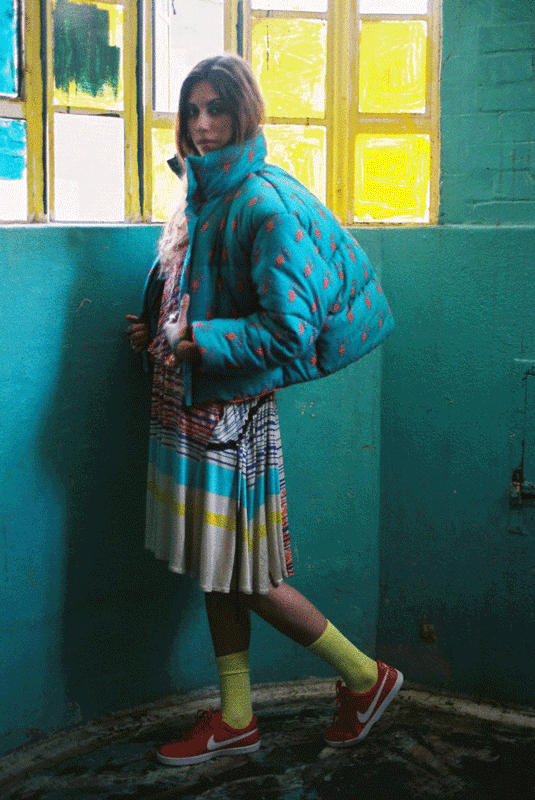 Jessica Rancaño Piper and Ryan Perks – the duo that make-up South Coast girl skater and streetwear brand Man Up Girl! – are shaping up nicely as future leaders of the fashion pack. Since graduating from Kingston University in 2012, the pair have already produced their first collection and featured in fashion mag glitterati such as Vogue after a successful graduate show.
Creatively inspired by Hugh Holland's photography and the Memphis group, Man Up Girl! are set to bring girls skate subculture to the mainstream.
LBB found out more about the collaborative pair and what's behind the labels signature Gifs.
Q) Tell us a bit about Man Up Girl!
We are firm believers that collaborative design is the key. We make fun, functional skate and street-wear for women. The clothes can be worn on, or off the board – they are comfortable and hard wearing enough for everyday use. We're really focused on quality of design, every piece is a menswear staple with a feminine twist, it's really about taking the best of men's work-wear and adapting it for the everyday girl. Our garments are hand-grafted on the south coast with a little help from our friends.
Q) What was the inspiration to set up such a label?
Women's skatewear hasn't evolved how we see it. We wanted to make something intended for women but inspired by masculine form and function. There was something missing, our friends were wearing a mismatch of men's skatewear and beat up essentials. We needed a range that was more focused and complete; something that both acknowledged the past of skateboarding and hinted at the future.
Man up Girl! has really been inspired by the lack of wearable and functional skatewear for women. We wanted our friends to have something in their wardrobe that could tread the line between purpose and style.
Q) Is there a large girl skater community and what has been the reaction since you've launched?
It's been great initially. We're just in the process of completing our first commercial collection and wanted to field test everything, so we've got a couple of girls attempting to shred and destroy most of it!
But we have had a bunch of emails from different people wanting to grab bits and pieces, we're still working towards the launch of our web-store to get the product out there. So keep an eye on the blog to get the heads up!
Q) Due to the level of functionality that your clothes need, what's the process for designing?
We wanted a product that performed in the day and was warm enough for the bleak British evenings. It was a difficult process, the cut of the garments needed to allow for free and unrestricted movement.
We just spent hours watching, filming and photographing our mates skating, highlighting key stress points in the clothing and documenting how everything moved to get an idea of what was missing.
Q) You have the best business name I've heard in yonks, who's responsible for your marketing and how important is it to your business?
Haha, thanks! Glad you like it, we do all the branding in house, we like to keep a really tight rein on all design work so that everything remains clear, concise and true to us. The branding is so important, it's bold and unapologetic. But it's about more than just a brand, our ethos is centered around collaboration between peers and furthermore originality, it just means that friends can be more involved and it also helps to spread the word!
Q) Man up Girl! is also partial to the odd gif or two. Is this something you produce yourselves and is there any significance in using them to showcase your collections?
We are slaves to the Gif! We have spent hours flicking and playing with everything from speed to film just to get the right mood. There's something so nice about creating a physically moving image, Gifs really breathe life into static photos and the slightest movement can transform an image.
The use of Gifs was inspired by the snapshot sequences used to showcase tricks, we wanted to capture the same angles and overall motion you see in skating, it just seemed logical to do this through Gif. It was essential to make sure there was a physical counterpart, the moving images needed to transform from their digital form to something more tactile, a keep sake, so we made a flick look book.
Q) The brand seems all encompassing of a skater girls lifestyle from style to music. Do you envisage the brand selling to a wider audience?
Initially I think it'll probably only appeal to a select few but yeah definitely, the brand is not for any one type of person. We didn't want to limit ourselves at all; we wanted to create a sense of nostalgia for those involved in the scene and also for those just getting to grips with it.
Q) What's next?
We've got some pretty exciting things in the pipeline actually. The next collection is on its way and we're heading to Munich with Huck magazine which we are really looking forward to. Check the blog for where to make an appearance if you find yourself in Munich!