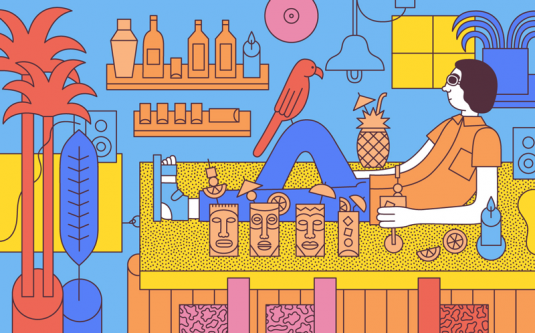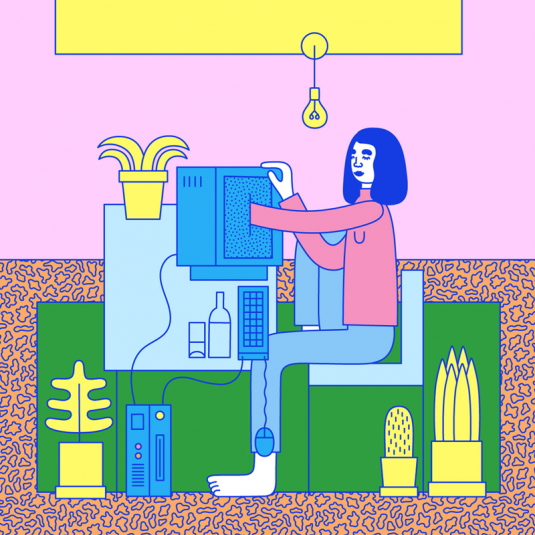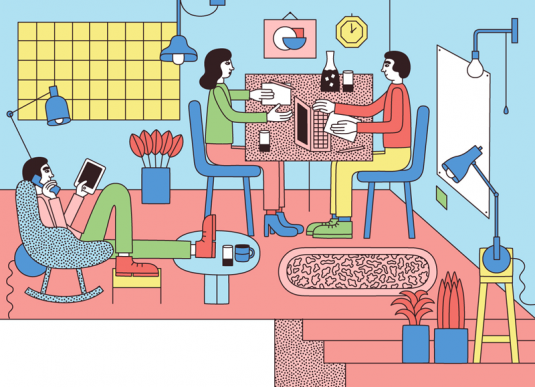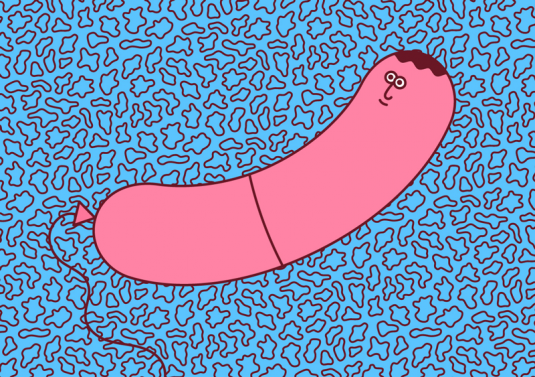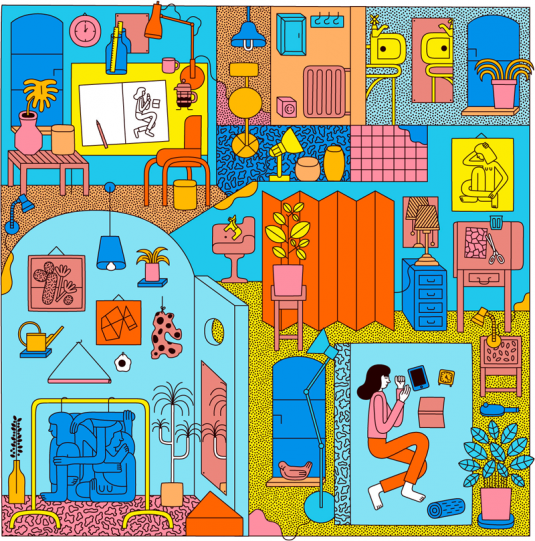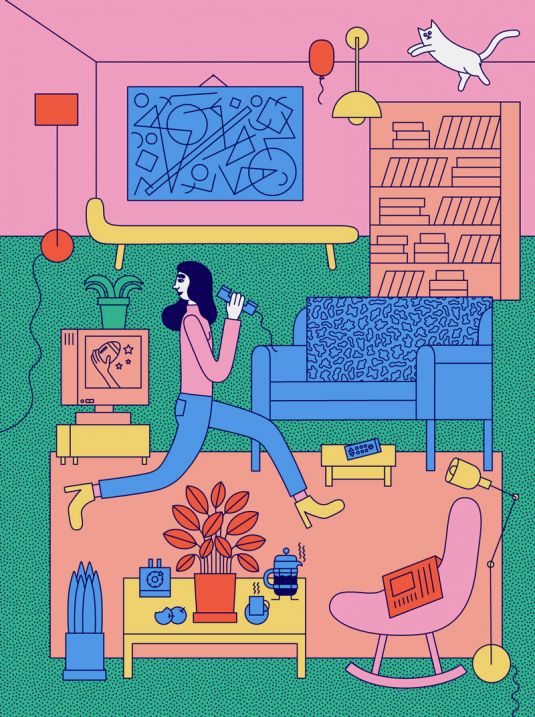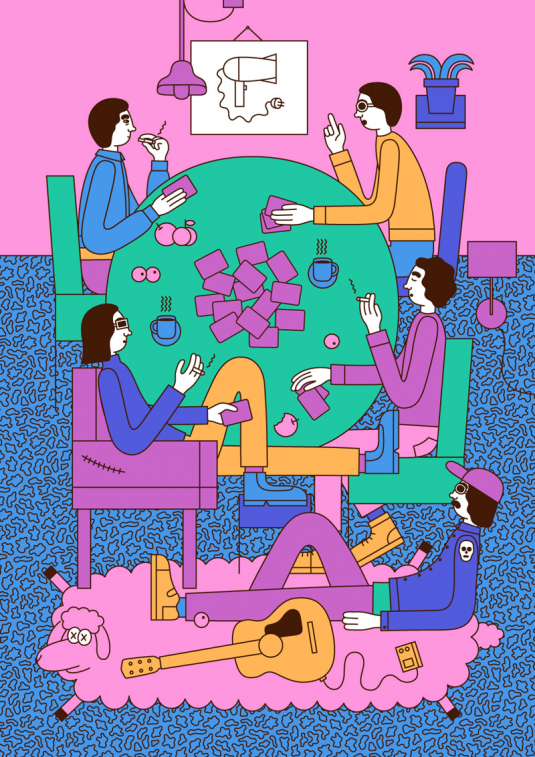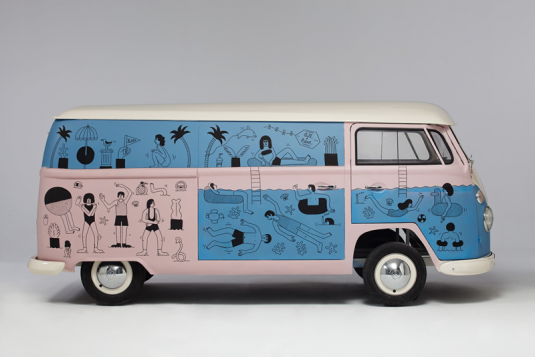 At LBB, we know a winner when we see one. In between graduating from London College of Communication in 2012, and completing a master's degree 2015, the name of illustrator Martina Paukova has since become a verb for word work, innovation and the art of Doing You. Because it's not so important to reinvent the wheel as it is to decide how it spins.
With a variety of cultural counterpoints at her disposal, Martina has set about creating a reputation rooted in a signature style and unmistakable tone of voice. And with commissions from the great, good and downright monolithic of the tech and publishing world, that visual tone of voice is reaching a truly global audience that could be considered 'niche'.
We talk with Martina about strategy, patience, and the importance of 'waiting for the right moment'.
Q) Tell us a bit about yourself and your work…
I come from Slovakia. I have a background in politics and graphic design and currently live and work in London as a freelance illustrator. I have been here for 7 years now, and have recently finished an MA in Visual Arts: Illustration and am currently busying myself mostly with commissions. I work digitally, occasionally screen print; and the next step may be animation! I do mostly editorials with the occasional advertising campaign thrown in. Clients include Pull&Bear, Converse, Google, Guardian or New York Times.
Q) You've developed a distinctive illustrative style. How would you describe it and how do you think it's developed over time?
I usually draw flattened (almost ironed down!) scenes filled with people and furniture — everyday lanky characters with dated hairstyles, busy with small mundane activities. I used to create mostly shapes and objects (and catering products) when I started and I can still remember the conversation I had with my then boyfriend about the want to focus on people – draw people, bend people, show people and their daily whereabouts and bonds; and I went for it.
Quite a new addition to my work in past year was playing with the perspective (flattening everything that could be flattened) and I also learnt to reduce the amount of detail that I used to populate my images with (no nails now); the same goes for colour. So yeah, it did develop and is still developing!
Q) What has been your biggest creative influence and how has it manifested in your work?
Hmm, there is no one major creative influence that I could pinpoint; generally I am interested in a concept of self and the concept of the mundane; I am interested in little choices we make on a daily basis, now, in this overstimulated age we live in. The art movement which first comes to mind when it comes to my work and its message and language will have to be Pop art, which I still find relevant. Pop art mixed with Memphis and bit of a low culture. And eavesdropping.
Q) How important is storytelling to your work?
My whole work revolves about details, characters, objects and scenes that form a story. It can be a minimal amount of ingredients, but a certain narrative is always present.
Q) When and why did you decide to take the freelance path rather than full-time employment?
I have been part time every since I graduated. I think it just never occurred to me to stop drawing and looking for the meaning of life somewhere else. I guess I just got very good at balancing low income, unpaid internships and constant drawing mixed with a handful of unpaid commissions and I am super happy to say that eventually it all started to pay off and still does.
Q) You're represented by Agent Pekka – what advice would you give to freelancers hoping to find and securing an agent?
I had Pekka bookmarked for years, waiting for the "right moment" to send them my work, so when they approached me last summer (to my massive disbelief) I was genuinely happy. All I can say is that Pekka is great. So yes, one should aim high but also be patient. Rather than going for the biggest players was, I approached and got signed up by smaller agencies (Owl Illustration Agency and Phosphor Art). This was a nice learning curve and I got familiar with general agency work know-how, and was also pushed to brush up my portfolio and sharpen my practice. Somehow being with agency inkjets you with a touch of purpose in this over saturated illustration world, and that helps.
Q) Since becoming a freelancer, what's been your highlight so far?
I am happy to say that there was handful of highlights! Being flown to Barcelona to paint on the Pull&Bear van, working for Google or getting signed up with Pekka, it all does feel good and makes one get up in the morning and put the kettle on with that extra touch.
Q) And the hardest thing?
As I am still refusing to give up my part-time job at Central Saint Martins (I teach software), the hardest thing right now is time management and finding the time to actually rest. Work keeps coming, the spine keeps bending and I simply can't (and don't want to) stop. Soon!
Q) Perfectionism in creativity – a limiting force or necessary evil?
A necessary evil I'd say! Perfectionism moulds who you are, perfectionism makes you push that extra inch and develop that particular crease that is only yours. I am a big fan.
Q) What are you obsessed with right now?
Recently I watched lot of documentaries on the history of mental illness, its categories, origins and place in society. I wouldn't call it an obsession, just a momentary interest. I also spent quite a lot of time with Douglas Adams recently, and the good thought processes he provokes.
Q) What was the last book that you read?
Last book I finished was Douglas Coupland's fantastic Shopping in Jail: Ideas Essays and Stories for the Increasingly Real 21st Century. And currently I am half way through a mad novel set in the Dominican Republic by Junot Diaz – The Brief Wondrous Life of Oscar Wao. An absolute favourite of a friend of mine, so I was forced to read.
Q) What's on your current playlist?
Dean Blunt – The Redeemer
Cass McCombs – A Folk Set Apart
Connan Mockasin – Caramel
Q) What's next?
Work work work?