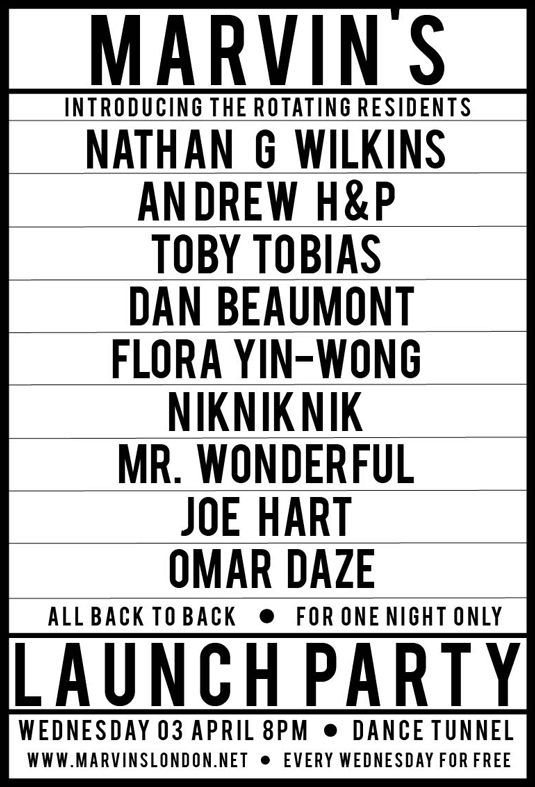 If you do what you love, there's a fair chance that others will feel it too. So drum roll please: Dance Tunnel in Dalston has a new resident to announce, in the form of Marvin's range of handpicked, rotating residents, who every Wednesday will be packing more heat than a malfunctioning electric duvet. Think the A-Team x 2, or Harlem Globetrotters with vinyl and you'll know how this is going down:
NATHAN GREGORY WILKINS (Flex/History Clock) // ANDREW (Huntleys & Palmers) // TOBY TOBIAS (Let's Play House) // DAN BEAUMONT (Dalston Superstore/Batty Bass) // FLORA YIN-WONG (Dazed Digital) // NICK POWELL (House Of Trax/Blogger's Delight) // MR WONDERFUL (Nonsense/NTS Radio) // JOE HART (World Unknown/Bodyhammer/Bloc) // OMAR DAZE (Recession Sound System)
Peep the Marvin's London website that goes live April 1st for more info. There's also a guest list and a Facebook page, but most importantly, there's you. Get involved.
::
Dance Tunnel | 95 Kingsland High Street, London. E8 2PB | Wednesday April 3rd 2013 | 8pm – 1am | Entry cost: Free