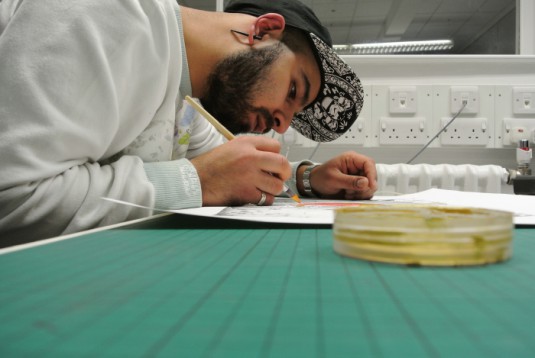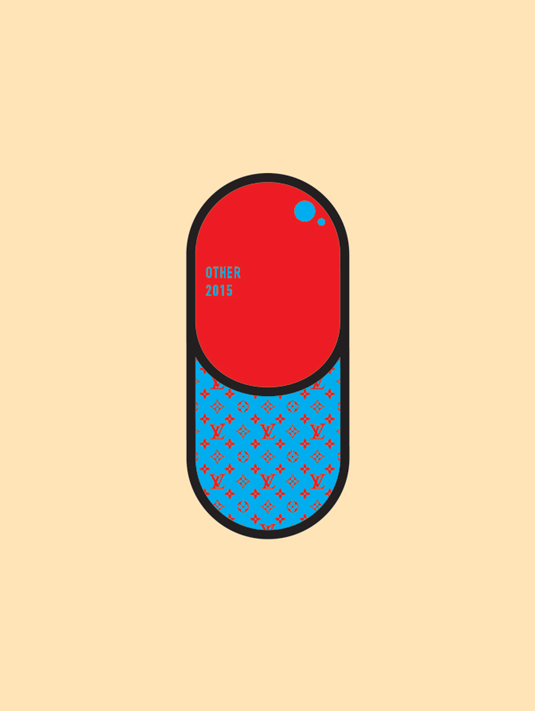 If you've walked along Brick Lane recently or around the Shoreditch area, you couldn't have failed to notice the large multi-coloured pharmaceutical pills, emblazoned with luxury brand names, decorating the city's walls. The provocative artwork, under the moniker of: Confidence, could be categorised as a public health warning; ensuring viewers get a much needed reality check about consumerist habits.
The artist behind the work is Miles Khan. Graphic designer and print technician by trade, Miles has been honing his creative skills across a broad visual communications spectrum to great effect; being both artful as well as endowing a meticulous craft work ethic.
Miles gave us the low down on the concept behind the 'Confidence' pieces, the importance of storytelling in his work and how he cracks a brief.
Q) How would you describe your design ethos?
Always make confident and considered design decisions and keep things as simple as possible, 'simplify, abstract and flatten'. Abstraction for me encourages a clear mind, it gives me a more tuned sense of design direction, prompting me to focus on the essential elements. I scribble down any ideas, no matter how crap they might look at first, ideas get better through 'making' and 'doing', I have to remind myself to stop thinking in my head and translate what I think onto either the computer or sketch pad.
Q) How important is storytelling to your work?
I love a good story myself and everything I design is born from a story or experiences in my life. I would say it is the catalyst that drives me to keep on going, progression in art and design can be so unpredictable; you could be doing great one minute and hit an all-time low the next, but it is the reflection on your experiences and the stories you have that lead you to new and uncharted ideas. It is the one resource and fountain of inspiration you will never run out of, a sustainable source of creative nutrition.
Q: How do you approach a brief? From client-based work to self-initiated projects – is there any distinction in your process? 
The first is to avoid Google Images at all costs. I feel like it plants a visual disease in my head too soon, like aesthetical herpes lol. There are so many more ways to develop your initial research. I prefer getting out going to galleries, exhibitions, taking photos and reading good literature on the subject and not arriving to a visual conclusion to quickly. I just don't think you can't beat good old, grafting, ground work.
When I do need to turn to inspiration during my development phase I tend to visit blogs like, 'It's Nice That' and Design Taxi or I'll go on Behance, the quality of work is good and it can be a good influence.
Self-initiated briefs are difficult because there is no harder critic than yourself. I try to approach it in the same way I approach commercial briefs but when I arrive at a critical point in the design I will show it to someone and they have to say 'I get it', if I have to explain the piece too much and they ask too many questions about what it is, I know I need to go back to the drawing board.
Q) What impact does culture have upon your design process?
I think we live in a great age, where new, diverse and exciting cultures have never been more accessible and easier to appreciate. It is this accessibility that got me engrossed in Japanese culture; leading me to this point in my career. I grew up watching Manga movies with my brother, which saw me get into new cultures in graffiti, graphic design and then typography.
It was Takashi Murakami whose super flat style became the basis of my work. However, being facetious, in another light, I have started to develop this really ignorant and cynical outlook to certain aspects of current contemporary 'western' culture. The whole obsession with 24/7 "accessibility" through smart phones, and people's obsession to maintain their social hierarchy through how they look and the products they buy drives me mad! It is the driving force behind my work. You have one life, why not experience it? I feel like we only exist to prove our existence to an audience.
Q) Has that relationship changed at all whilst working on the Confidence project?
The whole idea of the Pill design is a visual reflection of that cultural frustration, it makes clear that we are a nation obsessed with our egos, how we look to other people, it's all about keeping up appearances.
I think that major changes in technology have given rise to some great new advances in technology, art and music – don't get me wrong – but we are now surrounded in a plethora of adverts and panic buying. I mean, there are people who have no idea (geographically) where my mum comes from in Slovenia but I bet they'll know when Black Friday sales are on. It is a never ending cycle, because I depend on this love/hate relationship for my work to have meaning.
Q) As a visual communicator, do you feel a sense of responsibility for the type of imagery you put out to the world? If so, how would you define that responsibility?
I think the responsibility that falls on the shoulders of graphic designers is often over looked and underrated. Without effective designers and visual communicators, the world would fall into chaos. I know that might sound a bit dramatic but my job, no, my duty first and foremost is to make my message clear and effective, not only that, but considered and absolutely conscious of who is going to see it and why. For example can you imagine if I took on a job at the council and I created a shocking set of signs with a dodgy typeface, navy blue picture on black background directing you to the hospital…. at night… and your wife is pregnant…? Yeah I can't see that ending very well lol.
Q) What level of consideration do you give your audience when creating your work? Do you target anyone specifically?
With my audience I'm either delivering a clear message with an aesthetic value behind it or I'm producing something that anyone can just appreciate and say, 'I like that, that's nice'.
I always want my audience to appreciate my work and admire what I do. But the truth is, I have been drawing, designing and doing graffiti for over 8-9 years now and never really cared what people have thought, but now that my work has finally got the chance to shine… it's those same like-minded, creative people I want the appreciation from. People who have struggled to get where they are, not born with a silver spoon in their mouth. The irony in my graphic art is that it's the very people I am mocking, the wealthy and pretentious that buy my work, haha.
The most memorable purchase made [of my work] was a large pill print to this really posh, Swiss art collector lady, dressed up to the 9's, who wanted to know more about my methods and when I explained what it was about, it was pretty awkward. She was a manifestation of my notion.
Q) You're creating work. You're selling work. What are the most important skills or qualities you have needed in order to transition into a creative entrepreneur?
Perseverance and passion!
Like I said previously, I have been drawing, designing, sculpting and building for so many years and I didn't do it because I wanted to get paid. I did it because I had a genuine love for the arts, learning new techniques, trying new things and expressing myself creatively. I got a bollocking all the time from my mum; telling me that doing all this shit on the streets and spending all this time drawing won't get me anywhere. Everything and everyone around me was telling me to stop. All that aside, if I had to pinpoint one trait that was pivotal to my success, it would have to be the socialising factor: the networking, meeting people, going to exhibitions and sharing ideas with friends.
You combine quality networking with good manners and perseverance and you've got yourself a foundation for entrepreneurship.
Q) How did the Other Gallery collaboration come about?
Euan from OTHER met my good friend and screen printing buddy Rhys Brown who works for Charlie in the Pure Evil gallery. After some very loose conversations, Rhys invited me to meet 'this guy' in Soho one evening. I was very sceptical at first because, it all sounded too good to be true, meet a random dude who wants to see my work and help me make something of myself as an emerging artist for practically nothing??
I would hear a lot of crap from different curators and art agencies I'd met before telling me that my work was great and they'd help me along, but a lot of them are full of it and nothing ever came of it. But that evening when me and Rhys went to meet Euan it was clear from the offset he was interested in us as artists and as a person, he was a cool guy and we got on really well. It was nice not to be treated like a walking bank for once. We sat and chatted over a couple of beers for at least an hour and I hadn't even brought any work out yet; Euan went on to tell us about what he is trying to do at OTHER and the vision he has with his partner Ash, I immediately took to it. I knew I had to be a part of the journey with them. Between Euan and Ash we all had a good understanding of each other's abilities and goals, communication is transparent throughout and they have a genuine love for the work we do.
Q) Can you possibly describe the next step in your personal design evolution? In other words: what's next?
I want to do some collaborations with other artists and start playing with strong typographic messages that challenge what people consider a dilemma in modern culture. I'll still be mocking people's obsession with their egos and self-worth but making the medium the message. I want to start printing on mirrors and reflective surfaces just to remind people that my work is giving you the opportunity to look deeper into yourself and question your priorities.
I think the ultimate goal for me with the next series I produce, will make the everyday person question, what is a luxury? A luxury doesn't have to be materialistic, time could be a luxury can it not? You can have a nice car and lots of money but you might not enough time to enjoy it.