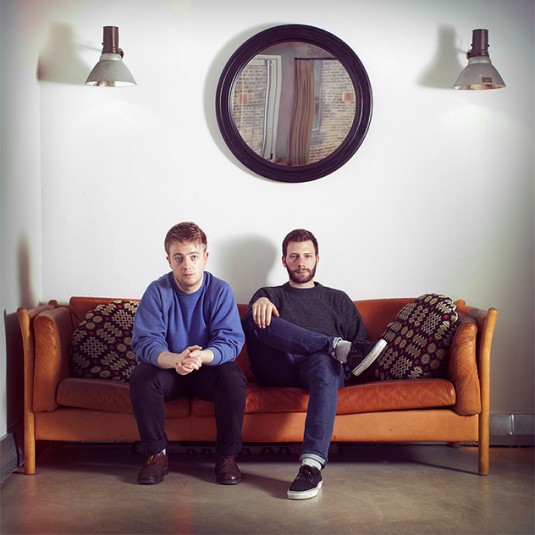 The nature of 'industry' requires products, businesses and even people to fit neatly into prescribed boxes, for the purposes of efficient marketing and the easy sell. But the problem with culture is that it's not always that easy to package up and run off down the factory line.
Cue Mount Kimbie aka Dominic Maker and Kai Campos. Since forming in 2008 the multi-instrumentalist duo have been branded as innovators by music press because of their sonic influence of the club scene, and despite their refusal to sit comfortably in one genre. Also known for their love of field recordings, ambient textures and live sound, MK continue to go from strength to strength.
Their last album Cold Spring Fault Less Youth released this year was signed to Warp Records. We caught up with these experimental fellas to find out some more about how they do, what they do.
Q) You met whilst at university, what was the initial impetus to work together and make music? How did it come about?
Through financial poverty and a wealth of free time. Two of the cornerstones of the education system.
Q) What was the transition from the recreational pursuit of creating music to embarking on a craft / career? What was the defining point for you?
Moving to London was a big catalyst, seeing a lot of life very close up and deciding that the difference between me having music as a hobby and having music as something which resulted in putting out records was me actually just making records. Overnight switch that changed the way I thought about music for the better.
Q) Now that you're in the full throws and nitty gritty of the music bizz, what advice have you been given that has resonated with you? And knowing what you know now, what insight would you share with developing artists?
Don't put sub-standard work out in to the world – just keep on working – you know when you're on to something that you believe in. Don't let your ego be seduced by the first person that shows interest in what you're doing. Don't worry about finding an audience, if you believe in what you're doing it will find you. Don't think it's a 'hustle'; it's not. And don't listen to advice.
Q) Your music seems to be going through a natural trajectory in regards to reflecting your tastes and experiences. Do you constantly write / produce music – inspired by the moment – or is it a process of producing in a specific space, time and head space?
Constantly think about music, constantly recording little clips or archive bit of sound but when it comes to writing I really need to have a fair bit of time stretching out in front of me. I feel like it's the only way to really figure out how I want to move forward in a natural way.
Q) How much are you influenced creatively by external factors and wider issues such as culture and politics?
I've never sat down to write a song about 'this thing'. It's a different approach but to me music has always been a completely different thing to that. I think all art is inherently political and informed by a greater shared consciousness but it should at least aim to explain or define or just be something that you can't entirely explain as being about one thing.
Q) There is a turn in the cultural tide in the UK, where the 'underground' is inhabiting a more central space (for example the success of Boiler Room to the recent Warp Friday Late at the Tate or your upcoming ASOS gig) why do you think this is?
I'm not sure what it means to be 'underground' in this day. I think the wider public who don't have the inclination to spend most of their time obsessing over music and no longer are reliant on a very small number of outlets to find information easily and quickly. It's almost doing away with the notion of underground, which is a good thing.
Q) With each record released Mount Kimbie is making an imprint on the cultural landscape. What excites you about your future journey both personally and in terms of creating your musical legacy?
You want to speak to people. And ideally you want to inspire people as well. It's though that (no matter how small), that what you have done bears relevance and is more than just an ego-massage. I don't look forward to much; I'm excited at the prospect of being able to carry on doing this.
Q) What's next?
Probably album 3. It feels like a lot has happened since we started doing this and we're ready to move on again and you learn so much with the making of each record that the thought of having another go is very exciting.
::
Catch Mount Kimbie on Thursday 12 December from 6pm (GMT), as part of ASOS's All Nighter along with Jessie Ware, Is Tropical and Elphino
Photography by Sophia Spring