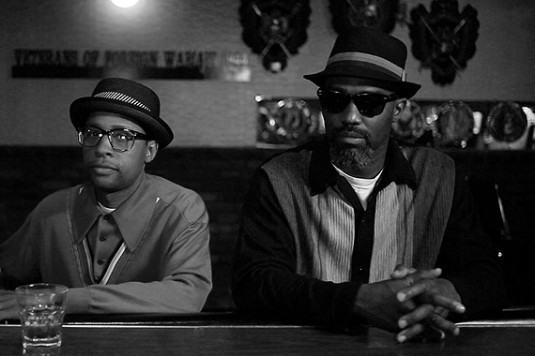 The R'n'B genre has been through a few sonic incarnations since its inception in the 1940's, some notably superior to others. The good stuff has always managed to keep the vital ingredient of 'soul' in abundance. Myron & E have developed a distinctive sound reminiscent of soul music's golden age that sits happily within the contemporary musical landscape.
Neither Myron or Eric are new to the music game. Both have had separate careers before forming in 2008. Since collaborating M & E have gone on to wow crowds at SXSW and release their debut album Broadway in July, via Stones Throw.
Q) Tell us about yourselves, what's life like where you're from? And as a side note – Myron – are you related to Robert Glasper?
Myron: Well as you already know my name is Myron Glasper and no I'm not related to Robert Glasper. Born and raised in Los Angeles Ca. Specifically South Central, a rough and tough part of town with lots of gang activity, drugs and prostitution, to say the least. Luckily I got involved in sports at the young age of 7 which kept me out of the mean streets of L.A. for a long time. I was aware of the dangers but my infatuation and obsession with sports (mostly American football) kept me focused on playing and not the gang and drug life. This was my first love, before I even knew about my musical talents.
Eric: I grew up in Newark New Jersey. That place is and always be like the 6th borough of NYC or like the bastard child of NYC. It's a tough place! Straight Up Ghetto! Music is all I have ever done. I work in the IT field in addition to doing music but music was there before that.
Q) How did you both get into music?
Myron: I got into music because I was asked to be in a singing group while at track practice in junior college. [I'm] Mostly self-taught, but I've learnt different singing techniques. I play a little piano and guitar by ear but that's it.
Eric: Playing records at family functions as a kid, then a friend introduced me to a local DJ who thought me how to really spin records. Singing and producing I'm self thought but have been taking instrument and singing lessons lately.
Q) You met through Californian hip hop group Blackalicious, but you've gone on to develop a very different and distinctive soul sound, what inspired that change?
Myron: Yes, we met while touring with Blackalicious. The way it came together was by default. I showed up at E's house one day, sat down to co-write "Cold Game" and later "Can't Let You Get Away" and the rest is history in the making. I would describe our sound/music as retro soul with newer more up to date modern melodies and vocal arrangements.
Eric: I would call our musical style New Old Soul and it all just sort of happened. Hard to pin point it, but through my travels as a DJ I meet the Soul Investigators and they liked my voice. Years after our first meeting I contacted them about doing some live music for a hip hop label I was signed to and they agreed to do the music but only if I would sing on a track for them. Then one day shortly after that Myron came by my house and I asked him to sing on the track with me and the next thing you know we are in Helsinki recording an album.
Q) Is there a look or style that you associate with Myron & E?
Myron: So far as a look I feel like we're still growing and evolving in that area.
Eric: We don't, we just know we don't want to look like we are from the 60's or 70's. The sound of the music is retro enough without trying to dress the part. We like to keep it simple. Classy but not over the top.
Q) The video for If I Gave You My Love, has a quintessential downtown LA aesthetic, how did the concept come together?
Myron: The look/style for "If I Gave You My Love" came together after discussion with Eric Coleman (Director). For that video the look was decided on, but it doesn't define the entire image for Myron & E.
Eric: We were styled by a LA stylist John Carlos De Luna aka Barrio Dandy. We knew the shoot was at The Southern Soul Spinners party in LA so we got clothes to fit the same atmosphere of the party. Stuff that's a little bit throw back but casual.
Q) Besides music are you creative in other ways, artists by day graffiti writers by night maybe…
Myron: Creatively outside of music I like to browse around fashion and write story/movie concepts. I got into drawing as a child but didn't keep with it.
Eric: Hahahaha nah no graph writing for me ! Music is my sole creative outlet! DJ'ing singing, producing learning a new instrument.
Q) Tell us about your new album Broadway, it has that 'music to drive around in a convertible with the top down vibe', tell us about it?
Myron: Broadway came together in bits and pieces with the bulk being done in Helsinki, Finland. We basically chose the tracks that sat right with our spirit, wrote from the heart with personal experience and conviction and went and got to it. We didn't want it to be just boy meets girl, achy-breaky heart love stuff so we wrote a couple tunes that deal with other true to life endeavours. We just wanted to put together something nice.
Eric: We are glad the record came out in the summer because it has a summer vibe! With Broadway we tried to make a record that you would want to put on year after year when the summer comes back around.
Q) Lastly, when are you bringing your soulful vibe to the UK?
As far as the UK we'll be there around in Fall / Winter, the end of November beginning of December. Hope all is grand in your land!
::
Myron & E with the Soul Investigators will be performing at the Jazz Cafe London, 7pm, Wednesday 4th December 2013