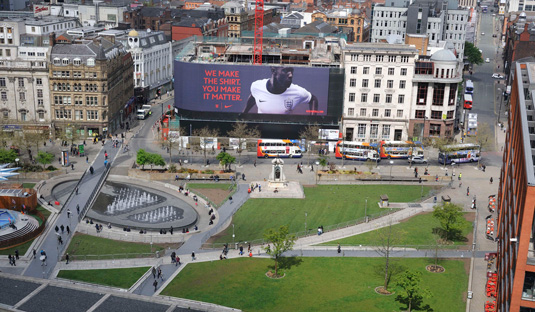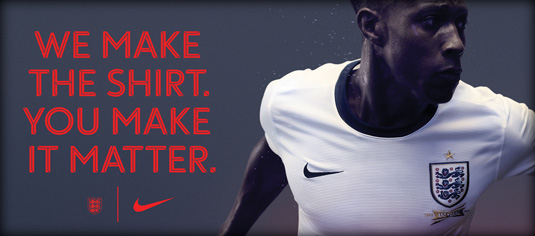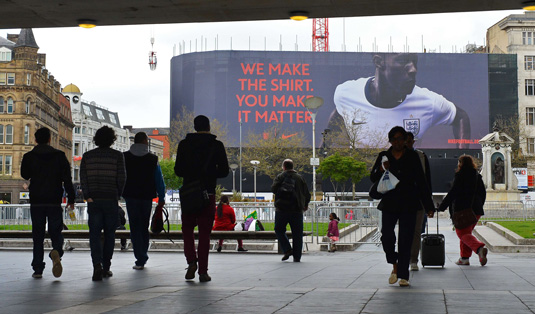 Those of you with extended knowledge of football trivia will remember the ridiculously skilful – and much maligned – Joe Cole being considered 'too continental' by both the British press and subsequent managers, the ridiculously prolific Andy Cole and Ian Wright for being 'too similar' and Arsenal's Tony Adams posing in what appeared to be a Roman soldiers outfit, complete with chariot and – you guessed it – three lions.
In fact, it wasn't long ago that John Terry was considered the face of English football. Fast forward a few years and we come to the hasty call up of Manchester Utd's Danny Welbeck for fear of him taking up the Ghana Football Federation's offer to permanently sail on the Black Star Line.
All of these factoids make last week's unveiling of the largest poster site outside London especially poignant. blowUP media's 508 square metre poster site in Manchester's Piccadilly Gardens represents the only OOH (Out-of-home, or 'outdoor advertising') to be used as part of Nike's new England team kit launch campaign. It also features hometown boy Mr. Welbeck – making this as targeted as any integrated / online banner.
Yes this new shirt closely resembles Germany's 1966 World Cup kit and yes, the home version of the kit is pretty much identical to England's 1966 World Cup winning kit. Given that day at Wembley represents England's finest footballing moment to date, it's possible to see these design decisions as merely covering off the bases.
Nike's campaign sets out what we'll refer to as a more nuanced approach to national identity; certainly the type not seen in previous campaign work for the England football team. When setting out a new stall, the statement needs to be both bold and clearly identifiable. As far as media placements go, it doesn't get much bolder than this.