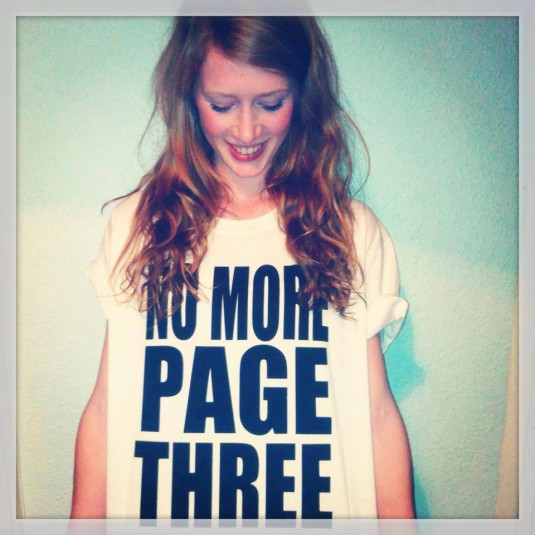 The act of activism has got organised. Social campaigners now have the opportunity to galvanise and rally support with a sophisticated toolkit. From platforms such as Change.org to Avaaz, to producing campaign content and more traditional methods such as demonstrating, campaigning has become both an accessible, mainstream activity.
This is leading to small incremental changes and failing that, contributing to narratives shaped by mainstream media. One campaign managing to gain momentum in the UK whilst reflecting this cultural zeitgeist is No More Page Three (NMP3).
Set up by actress and writer Lucy Holmes, the campaign is aiming to stop the publishing of Page Three – an image of a topless woman – being served up for breakfast alongside the news by The Sun – Britain's top selling tabloid .
The campaign has gained high profile support from MP's and celebrities such as Russell Brand, as well as numerous mediated articles. The No More Page Three team have even managed to engage Rupert Murdoch via a twitter response, with a hint that a halfway measure may be implemented, replacing Page Three models with "glamorous fashionistas".
Probably not the result the No More Page Three team are aiming for, however, the campaign goes on. We caught up with NMP3 communications volunteer Angie Towers, to find more about the campaign and their strategy.
Q) Former Sun Editor Dominic Mohan is quoted as saying the Page 3 is an "innocuous British institution", why is the eradication of Page 3 an important issue for wider society?
We think the way that the UK media portrays women is an important issue and that Page 3 is an icon of sexism. We believe that newspapers shouldn't reinforce sexism any more than they should reinforce racism or homophobia.
Q) You have targeted one of the most powerful corporations – Newscorp – in the world. What were your initial thoughts when considering such a prospect? [Was it 'feel the fear' and do it anyway?]
Lucy set up No More Page Three during the London 2012 Olympics. We were in what she calls an 'equality bubble' in terms of the representation of men's and women's sports due to the Olympics, for once the genders were being equally represented by the media, how glorious!! (Considering that womens sport only makes up for 5% of media coverage).
She bought a copy of The Sun following the 'Super Saturday' where lots of gold medals were won, she picked that particular paper because of its' reputation for sports coverage. Whilst leafing through it she discovered that Page three wasn't there and that the page had been taken up by the male and female athletes sporting achievements, thinking the feature had been dropped as a sign of respect to the Olympians she was later dismayed to find it on page 11. To add insult to injury the image of the woman on P11 was larger than the image of Jessica Ennis who had just won gold for her country. She describes that moment as being a 'huge slap in the face; A reminder that it's a man's world'.  So she wrote to the editor at the time Dominic Mohan, who never responded, and so began No More Page Three.
She didn't feel any fear, only a huge sense that this was wrong in 2012 and the passion to want to change it, and that's what our lovely campaign is fuelled on, Passion!
Q) Since beginning the campaign in August 2013, at what point did you feel it was picking up momentum and striking a chord with the public?
We feel like that every day in HQ! The signatures on the petition keep coming in, the tweets keep coming and more and more businesses and charities want to add themselves to our letter to say they support our objectives. We've had cross party support in both Scottish Parliament and the Welsh Assembly, Caroline Lucas wore one of tees IN PARLIAMENT!
It is generally very high octane and I don't think there has ever been a quiet moment! You can read more about the highlights of 2013 here.
Q) The campaign has successfully garnered high profile support from individuals and press. How did you go about raising awareness of the campaign strategically?
Really it has been led by the supporters. People feel very strongly about this issue and want to help us, we've had some amazing artwork created, comedy sketches filmed, and songs written by some amazing people, which has helped boost our profile and most importantly open up the conversation about the representation of women in the media.
We have also managed to raise nearly £10,000 to sponsor different women's sporting teams and individuals, again this was all donated by our supporters, amazing eh?
Q) The No More Page 3 campaign tackles a complex web of ideas & ideals such as 'personal freedom', class, patriarchy and commerce to name a few. How challenging has it been to navigate and create a coherent message that addresses all of these potential issues and perspectives?
It's very difficult, but I think the question itself helps to demonstrate the relevance of the campaign in lots of ways! We have dedicated a whole section of our website to the FAQ's, as we call them, to help people better understand our objectives for that very reason, it's a complex issue and it's important to be clear.
Q) You are tackling the issue of female representation from a mediated perspective within a patriarchal institution. What's your perspective about women that consciously choose to partake in creating that form of imagery? Where do the responsibilities lie?
The editorial decision to place these pictures out of context in a newspaper lies with the Sun and its editorial team, which is why the petition is appealing to them. We don't aim to dissuade any glamour models from pursuing their career but we do think sexualized images should be in adult publications. We all have a responsibility to fight stereotypes in the 21st century.
Q) Overt sexual imagery is now part and parcel of western 21st century living – from pop stars to the internet porn – is this a trend that can ever be reverted?  And if so, how?
Hopefully! There are so many great campaigns springing up and Feminist societies in schools and universities. It generally feels like women and young girls have had enough of these narrow stereotypes being considered the norm, and their voices are getting louder and louder!
 Q)  Feminism is once again becoming a mainstream issue, what do you think Feminism means in the 21st century?
The same thing it has always meant; gender equality. We are just fighting different battles now, that's all.
Q) What's next for the No More Page 3 campaign?
We have lots of exciting things up our sleeves but we can't spill the beans… So watch this space.