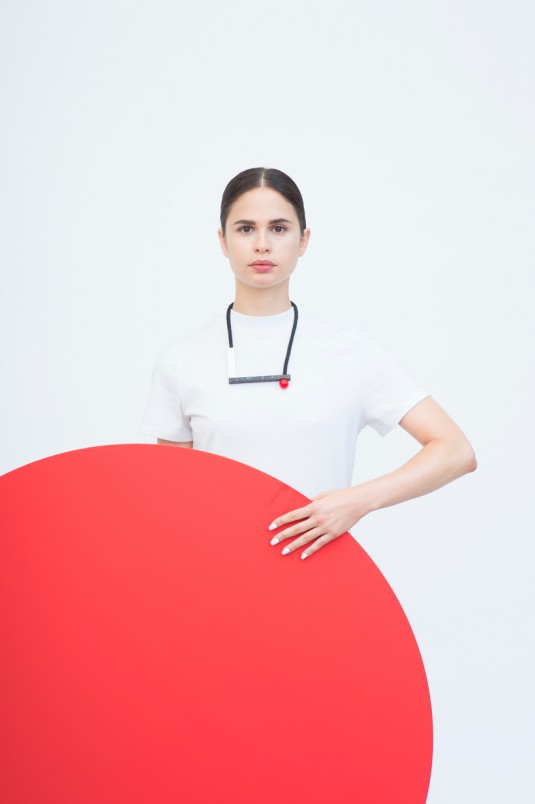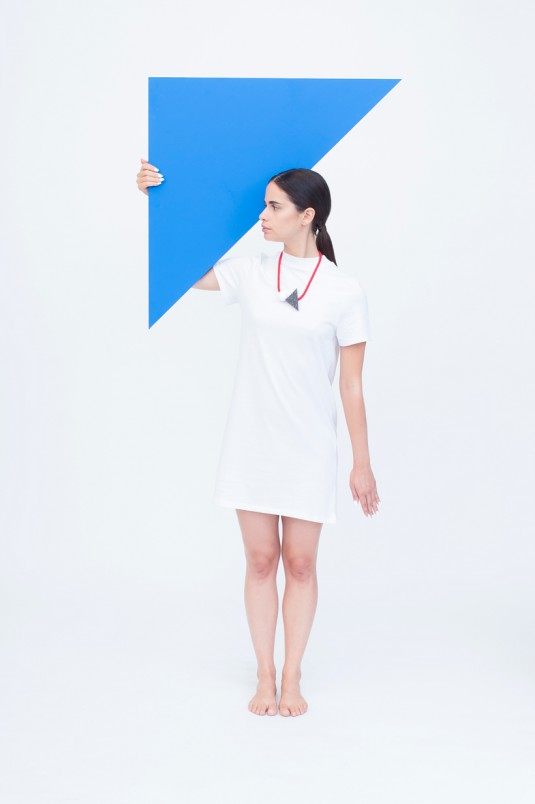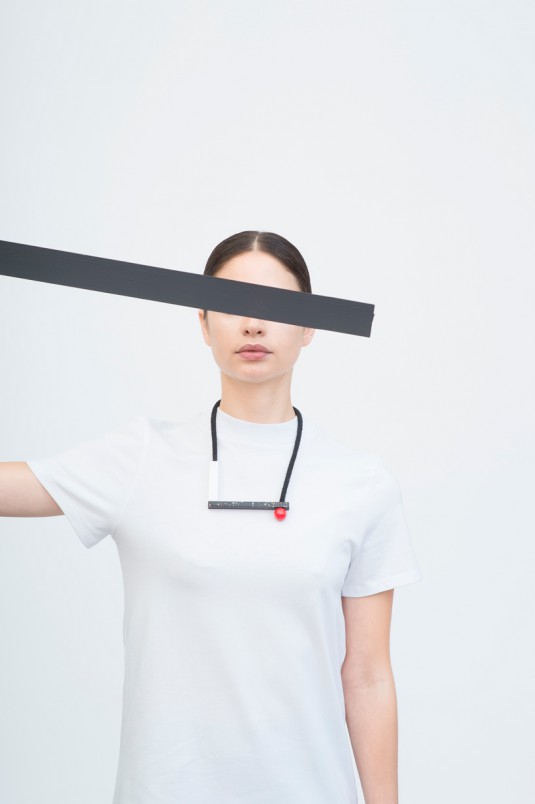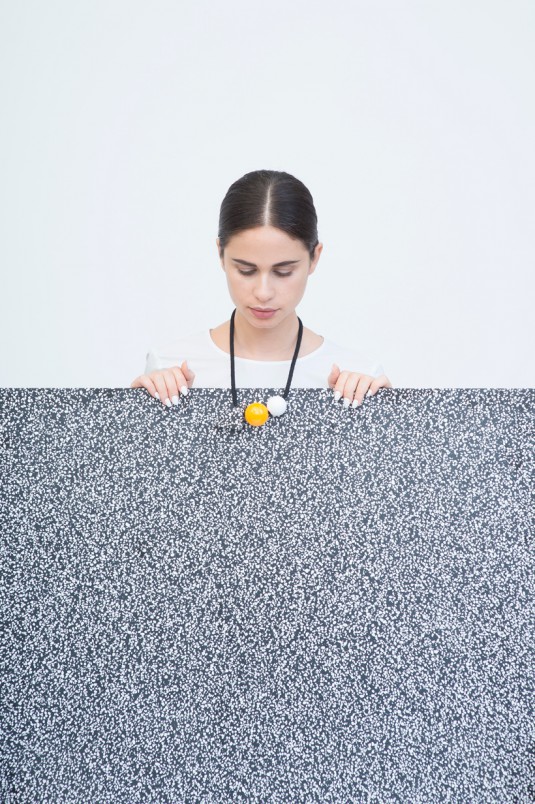 One We Made Earlier is a contemporary jewellery brand that specialises in colourful geometric shapes and statement necklaces. The nascent label was set up by husband and wife team Emma and Rob Orchardson in 2013.
Collaborative in all things, the designer / makers have successfully created a business that works alongside their busy lives of parents to two young children, whilst steadily building up a range of notable national and international stockists, and managing their online shop.
With all that going on, it's easy to understand how chuffed we were to catch up with Emma to find out more about their day-to-day running of their label, how they divide responsibilities to the importance of creating a strong identity.
Q) How would you describe your brand in 5 words?
Playful, bold, colourful, minimal, striking.
Q) One We Made Earlier has a distinct look and feel to the brand. How did this come about? And what inspired this particular direction?
Well firstly, thank you – that is a nice compliment. I think we have created our 'look' through a constant honing of our range and keeping to a limited palette of materials which we use in varying ways. Also of course through trying to stay focused on making things that consistently excite us. That seems to be a good indicator as to whether something is right to develop further.
Q) How would you describe your design ethos? And how does it manifest in your work?
Again, perhaps it comes down to placing importance on making things that we feel motivated and excited about in the first place. Our hope is that this helps bring a kind of energy and vitality to what we make, and translates into products people might find enjoyment in.
Q) Since setting up the studio, what has been your most exciting accomplishment so far and the most challenging?
Exciting – probably seeing our necklaces stocked in shops that we have always loved visiting since we moved to London – like the Design Museum Shop and nice boutiques like Triangle Store Hackney. It has also been great being part of London Design Festival through exhibiting at Designjunction over the past two years – We'll be there again in September.
Challenging – Juggling all aspects of the business and family life! As we are making the pieces ourselves, we go through very busy times when we have a lot of orders on. It is also a challenge to make time to experiment with new ideas. We tend to have lots of ideas bubbling, but not enough hours to realise them!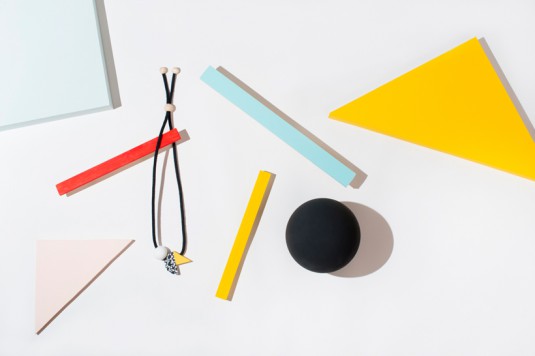 Q) As a husband & wife team, how did you both set about managing both the creative and organisational process of running a business? Did you have set roles and responsibilities?
The idea of starting One We Made Earlier came about as we wanted to draw on common interests and collaborate on a project together. I guess we share a similar sense of aesthetic and the idea of working together was (and still is!) quite exciting.
We do have defined roles, but at times they blur! I work full time in the business during school hours, often returning to work when the children are in bed. I hand finish the necklace parts, construct each piece and deal with all the admin and marketing around the business.
Rob cuts and drills all of the shapes for the necklaces but also works as a contemporary artist exhibiting work and making sculptures for public spaces. We design the necklaces together through playful experimentation with materials.
Q) What are the current challenges and opportunities for independent designers launching their own labels?
I guess it feels like it is quite simple to set yourself up and sell items online these days. The challenge is to stand out from the mass of products and create a strong identity around your brand. This might be through using social media well and through using consistent branding and packaging that makes your brand memorable. I think it is good to use online channels for selling, but also to show your work in flesh through shows or exhibitions so people can touch or try on your product and meet the designer behind the brand. I get the feeling that customers are more and more keen to 'meet the maker' with so much time being spent staring at the virtual world these days.
Q) What advice would you give other creatives wanting to start their own independent ventures?
It's always good to try your ideas out on friends and gather as much feedback as possible from people around you to help define your product. Then get going on social media streams to create a buzz around what you are selling. Sometimes it is good to give yourself a deadline or something to aim for. When we first started, we tested the waters a little by taking on a stall at a local market — it was great for feedback and we met our first customers some of whom are still expanding their necklace collections!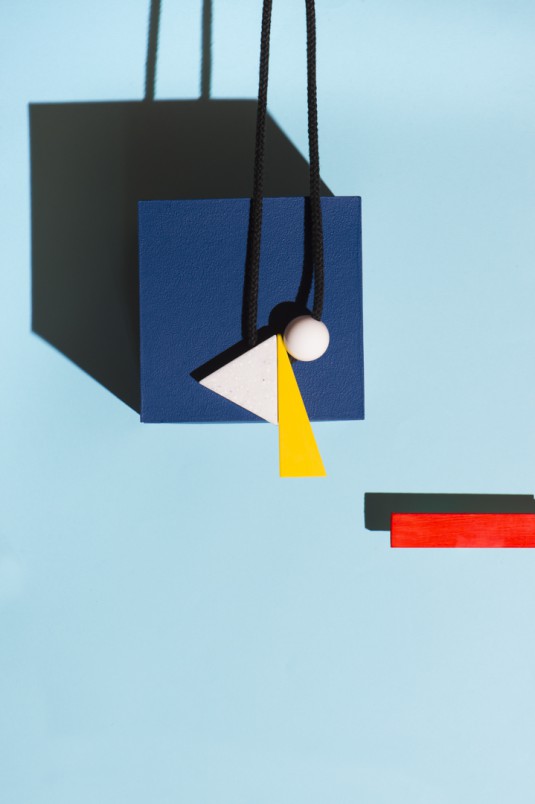 Q) Perfectionism in creativity – a limiting force or necessary evil?
Very difficult to answer! We love to offer a well-finished and good quality product so I guess perfectionism is quite necessary…but when something is handmade there will never be complete perfection! I guess it can be limiting — but why settle for something mediocre!? I think it all probably depends on what is being created!
Q) What was the last book that you read?
Having young children and a crazy work / life balance unfortunately doesn't leave much room for relaxed reading! Browsing through books, magazines and exhibition catalogues is often the form reading takes these days. However, I recently read the book The Art Of Creative Thinking by Rod Judkins. It reminded me how fortunate we are to have experienced an art college education. Without necessarily knowing it, we are helped to see the world in a slightly different way — to stop and look more, to consider the details and to visualise and generate ideas to solve problems. A good read and a book that it is possible to dip in and out of!
Q) What's on your current playlist?
Quite varied and hard to pin down! Among other things, this week we have listened to Yo La Tengo…Talking Heads…Beta Band…Django Django…Hot Chip…Will Oldham…Modonut…Kenny Dorham…Cornelius…The Cure…Herbie Hancock…Grizzly Bear…Lee Morgan…Tortoise…Bach…Beastie Boys…Portishead…Radiohead…Sufjan Stevens…Feist…Neil Young…Joy Division…John Coltrane…Oscar Peterson…Miles Davis…Brian Eno…we like to mix things up!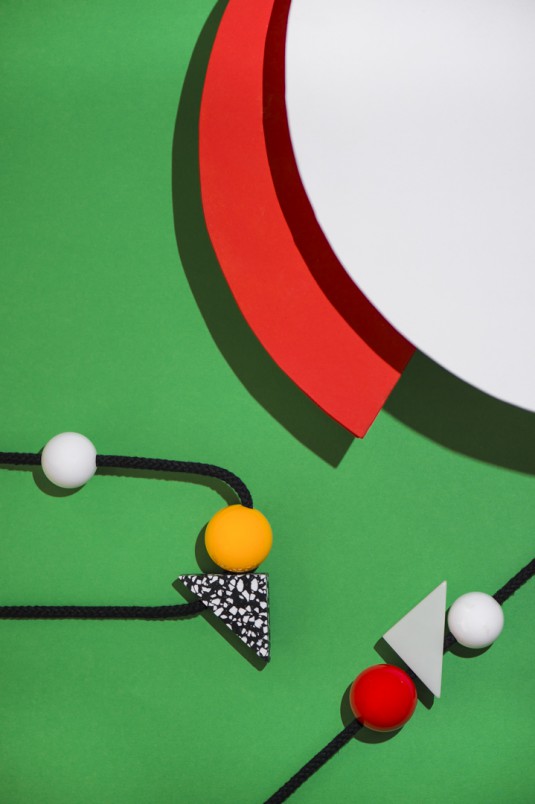 Products shots by Yeshen Venema //  Lifestyle shots by Garry Maclennan
Deprecated: Function get_magic_quotes_gpc() is deprecated in /customers/3/8/6/letsbebrief.co.uk/httpd.www/wp-includes/formatting.php on line 4387
Notice: compact(): Undefined variable: limits in /customers/3/8/6/letsbebrief.co.uk/httpd.www/wp-includes/class-wp-comment-query.php on line 853 Notice: compact(): Undefined variable: groupby in /customers/3/8/6/letsbebrief.co.uk/httpd.www/wp-includes/class-wp-comment-query.php on line 853 Notice: compact(): Undefined variable: groupby in /customers/3/8/6/letsbebrief.co.uk/httpd.www/wp-includes/class-wp-comment-query.php on line 853 Notice: Theme without comments.php is
since version 3.0.0 with no alternative available. Please include a comments.php template in your theme. in /customers/3/8/6/letsbebrief.co.uk/httpd.www/wp-includes/functions.php on line 4024 Deprecated: Function get_magic_quotes_gpc() is deprecated in /customers/3/8/6/letsbebrief.co.uk/httpd.www/wp-includes/formatting.php on line 4387 Deprecated: Function get_magic_quotes_gpc() is deprecated in /customers/3/8/6/letsbebrief.co.uk/httpd.www/wp-includes/formatting.php on line 4387 Deprecated: Function get_magic_quotes_gpc() is deprecated in /customers/3/8/6/letsbebrief.co.uk/httpd.www/wp-includes/formatting.php on line 4387