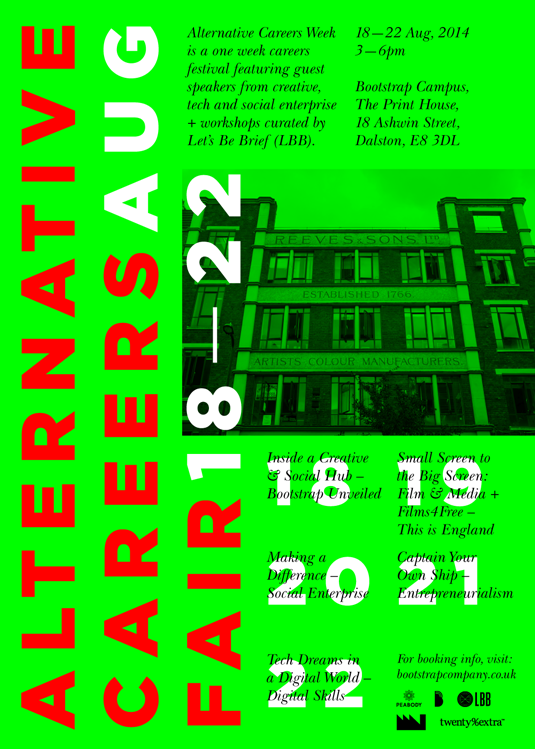 We know it can be tough working out what to do next, but don't panic! The Bootstrap Alternative Careers Fair is the place for you. Come down and learn about creative industries and setting up your own business.
This workshop is reserved for young people from East London who are starting out – and need some help, inspiration and guidance to get where they need to go.
The Alternative Careers Fair is thinking about what work will be like in the 21st century. Together with Bootstrap & Peabody, LBB will be leading a week-long programme to provide opportunities for young people from Hackney and East London to develop their professional skills and knowledge through a series of workshops, training and employment opportunities:
Monday 18 Aug // Join us for a tour of the Bootstrap work and event spaces and meet a diverse range of Bootstrap tenants, including Mamachari Bikes & Bootstrap Bees. Learn what they do, and how they do it.
Tuesday 19 Aug // Gain a 360˚ perspective on the film and modern media industry. Hear from independent filmmaker George Pank as he talks about his career path and new film All This Mayhem and visit Everything is Okay in situ in their studio. We'll also hear from a music PR company Echo Empire to understand how social media has impacted modern media.
Wednesday 20 Aug // Hackney is home to some of the most innovative social enterprises around. You will learn how social enterprises manage to deliver positive social impacts and funding, with insights from Natalie Campbell of A Very Good Company and Bootstrap CEO Sara Turnbull.
Thursday 21 Aug // Do you want to set-up your own business? Join LBB in a workshop session that will help you build your brand proposition and get ready for market.
Friday 22 Aug // The 21st Century workplace is demanding a new range of skillsets. Get up to speed with our tech session. In this workshop we'll look at how best to prepare for work in the digital and tech industries as well as the various job opportunities.
::
Alternative Careers Fair — Peabody x Bootstrap x LBB // Monday 18 Aug 2014 at 14:45 – Friday 22 Aug 2014 at 18:00 // Please sign up for a ticket for each day individually