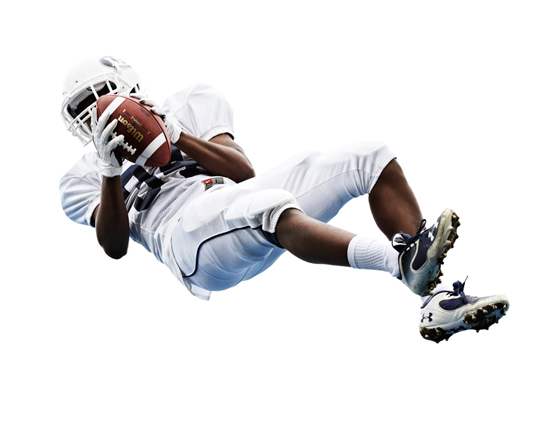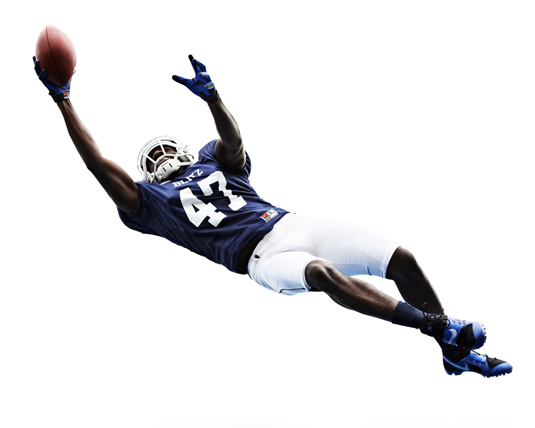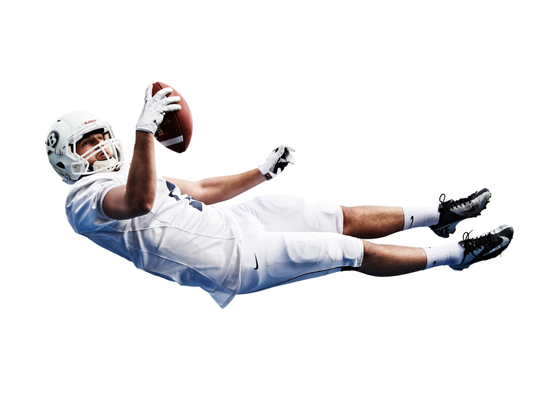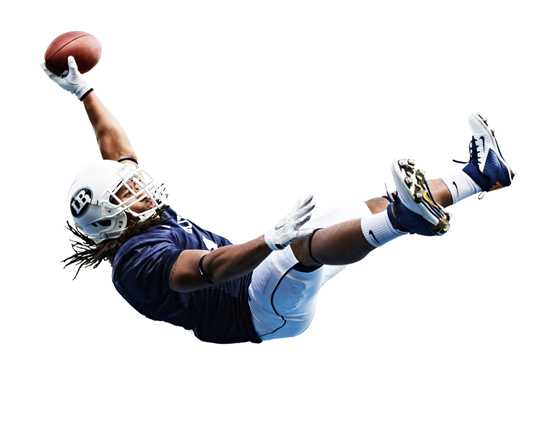 Poetry; balletic grace; lightness of touch: all the images that photographer Philip Haynes' Airborne series manages to conjure up of the Gridiron game.
With commissions from the likes of Puma, Mens Health, Converse and Guiness under his belt, you'd think there wouldn't be much time for personal projects, but Philip is clearly willing to go that extra yard. Join us as we go Airborne with Mr. Haynes, with a Q&A.
Q) What was your inroad into photography?
At 6th form I studied art, graphic design and photography, from there I went on to Norwich School of Art & Design (NSAD) where I completed a foundation course in art & design. It was here that I developed an interest for photography through a commercial application of graphic design. NSAD ran a three year BA Honors degree in graphic design which I managed to secure a place on, after the first year you chose a specialism and I chose photography.
The course was built around the principles of it being commercial, whether you specialised in photography, graphic design, illustration, animation or publishing you were taught how to apply your skills in a real working way.
This helped me no end and developed my love for advertising, couple that with my courses affiliation to the Association of Photographers and the romantic stories that I encountered there and I was hooked.
All through university I was assisting local photographers, from graduating I moved straight down to London to assist top ad photographers I had engaged with whilst studying. Not everyone enjoys the advertising world but I love it. I thrive of briefs that are built around a creative idea. It is naturally how I think when I look at advertising so it goes hand in hand.
Q) The physicality / emotion of sport features heavily in your portfolio of work. How do you describe your approach to capturing that spectacle?
When I realised I wanted to work in photography the first thing I thought of was sports. I have spent my life surrounded by sports. Watching, playing, listening, talking about, etc…
I love sport; it captivates me. I have massive amounts of respect for the amount of effort it takes to be a top sportsman, the sacrifice and torment they suffer can be huge.
I feel different to my peers who shoot sports just as a job in that unlike most of them I live for sports. As I mentioned before, I could sit and watch / talk about sports all day long. It is a massive passion of mine and because of this I feel it allows me to connect with my subjects more.
I know about them and what they do, when I ask them questions about their sports I actually care and want to know the answer, as it will undoubtedly help me to get a better shot. It also helps them feel more comfortable if it isn't just another photo shoot they have to turn up to. Most athletes have strong personalities and if you can match them then there is a balance, you cannot be in awe of your sporting heroes when shooting them. You have to treat them as normal people and get on with it.
I like awkward crops, I like to get in close and wide and really enhance the moment I am focusing on. It is about enhancing the sense of power and elegance that sports can create.
I describe the work that I produce as 'creative sports and portraits', in that I don't go to live sporting events and shoot people playing, I develop ideas I wish to create. Then I engage with the right sporting characters and direct them in the way I wish to see them. This project involved working with the London Blitz who are the most successful UK based American football team.
Q) Which sports do you play / watch?
Another reason I really pushed myself in to shooting creative sports imagery is that I suffered a series of nasty knee injuries playing football that culminated in my dislocating my knee cap and tearing ligaments, so that was the end of my sports career!
Q) Legend has it that Isaac Newton gave birth to the Theory of Relativity while sitting under an apple tree. What was the genesis of the 'Airborne' series?
The idea behind 'Airborne' was to explore the elegance of American football. It was about capturing that moment in time where the sheer power of the game is frozen in a surreal twist whereby the players appear to be floating. American football is not a massively followed or played sport in the UK, so it fascinated me as a sport that I didn't really know much about, but one which really caught my attention through the amounts of kinetic energy that are created and needed to be successful at it. Most people would perceive it as just being about the big hits, but it is an incredibly tactical game to play out.
I see it as being like a chess game being played out with huge warriors, like chess it requires skills and forward thinking. So the concept of these huge players seemingly floating peacefully in the air so gracefully just felt like the perfect way to reflect my understanding of American football.
Q) Were these images taken during live game situations? If so, which of them do you recall with the greatest degree of clarity?
The idea was pre planned and staged. We shot outside on the running track at the teams ground and used a safety mat for them to fall on, I was laying flat on the floor looking up at them with a 70-200mm lens to flatten them out.
I feel this was the right way for me to interpret the sport, to me this images have become surreal images of beautiful moments in time. When I look at them I imagine myself floating in the air catching the ball and it makes me wonder what they might of been thinking at that exact moment in time.
Q) Airborne is a fresh-out-the-box personal project. Do you see this as a statement of intent re: your future commercial work?
I always set out to make work that satisfies my own critical judgment, my work is about exploring the power of colour as much as it is about the power of movement. If I were to look towards the future it would be to continue creating striking imagery that captures both beautifully explorative colours and pure human power. I am exceptionally critical of my work when shooting. If I don't believe the image is real then it isn't right.
Others might like it but I will push and develop it until I feel it is right, this comes back to my love of sports. If it doesn't look like it could be happening then it isn't right. I love to get up and in the face of the athlete and quite often shoot on wide lenses to create a sense of the frame being like that of the viewer being in the heart of the game watching things unfold before them.
Being that I am based in the UK it would be great to step in to the North American markets shooting powerful sports such as American football, ice hockey and basketball that don't really feature much in the UK.